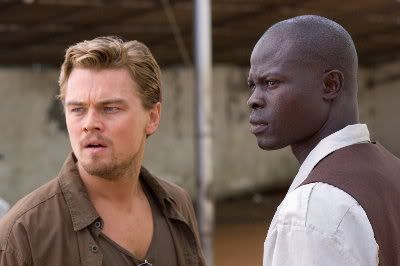 Leonardo DiCaprio was out to lunch in Africa with Djimon Hounsou, his costar in the upcoming film "Blood Diamond." Djimon Hounsou is the hot guy who starred in "Amistad" and played the tormented artist in "In America." A man approached Hounsou with a gun and seemed to want to shoot him for no reason. Dicaprio stepped in front of the shooter, causing him to run away! Leo earns even more points by refusing to talk about the incident, which only adds to the mystique: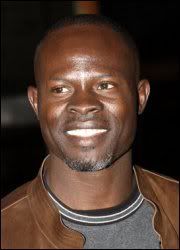 Hounsou remains puzzled as to why the gunman took exception to him while he was filming the new action film in Mozambique, but he's sure he'd be wounded or dead if it wasn't for the heroics of DiCaprio.

He explains, "He stood in the way of somebody who was trying to shoot me."

"We went to eat somewhere and apparently somebody was threatening to kill me there. Leo said, 'Well, you're gonna have to go through me.'"

That was enough to make the gunman think twice and he fled the scene, leading a grateful Hounsou pouring praise on his pal.

Modest DiCaprio has refused to even discuss the matter during promotional interviews for the new film. He will only talk about his great friendship with Hounsou.

He explains, "We became like brothers on this movie… We were together for six months."
Leo, one of People's sexiest men alive, is also donating to help a South African orphanage where he met a girl who touched his heart. He says he wants to help her and the other orphans but that "he's not married" and does not intend to have children of his own at this point.
Thanks to Viv for sending me this article.
Leo and Djimon are shown from a scene in "Blood Diamond," above. Header image from About.com.