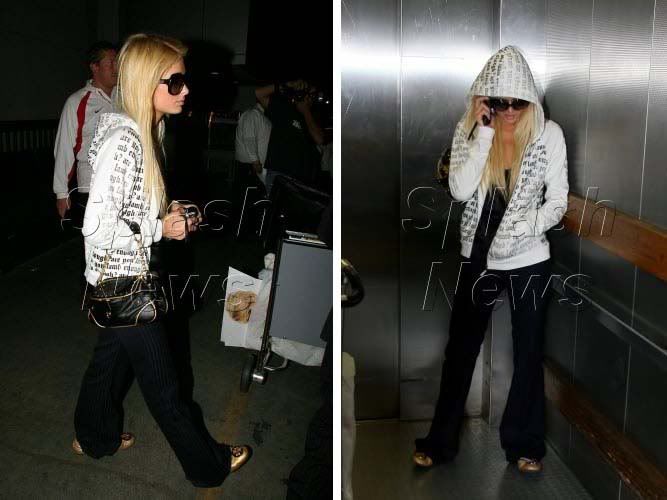 Paris loves closing down parties while lip synching to her album. Janet Jackson left her own birthday/album release party in disgust when Paris tried to steal her limelight with an impromptu performance.
Jay-Z was pretty tired after playing 7 gigs in 24 hours and it's doubtful that he cared when Paris took to the stage after his recent show in Vegas. She kept checking her face in the mirror and turned her back to Jay-Z while he performed. Afterwards she gave all the remaining bemused concert-goers a little something to remember her by:
The partying heiress was performing in Las Vegas, when she "puked" on stage, according to crooner Joshua Radin.

Radin was visiting Vegas with the cast of "Scrubs" and went to a nightclub to hear Jay-Z perform.

"Paris Hilton …was sitting next to me the whole night. Seriously, next to me, like our legs were touching for a good 5 hours," Radin wrote on his MySpace site. "Now don't get the wrong idea. She never once said hello, nor even looked in my direction. Five hours. And it was unreal to watch. She must have pulled a compact out of her bag every 6 minutes to stare at herself and pose while Jay-Z was performing 18 inches from us."

When Jay-Z left the stage, according to Radin, it was Hilton's moment. "Paris, who had been swilling straight vodka from [a] Grey Goose bottle for hours, gets up on stage, has the people in charge throw her 'record' on the house stereo for her to lip sync two of her songs," writes Radin. "She gets up on the stage, pukes, leaves. . . I find the music business charming."
Paris is shown leaving Vegas with a massive hangover in a picture courtesy of Splash News. She may have failed to lip synch on stage, but she was successful at getting Britney Spears to take her pants off. That's something.