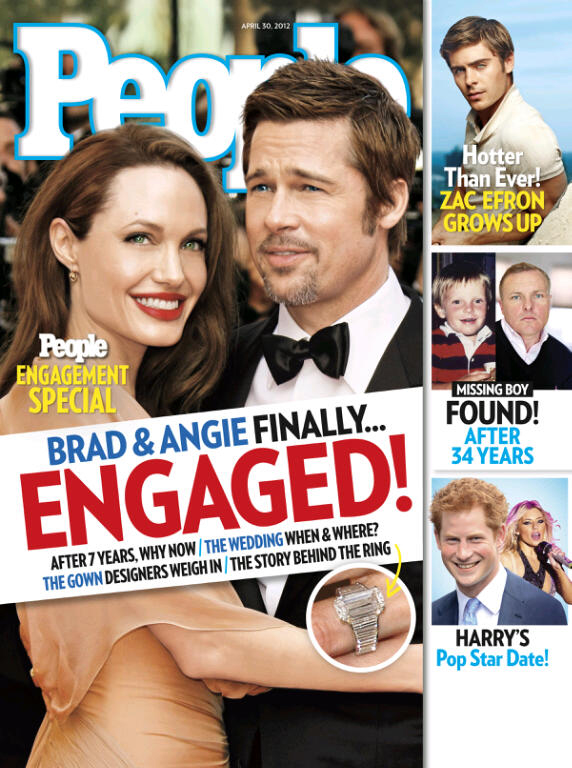 I like the inside-the-media stories, especially in regards to celebrity/gossip media outlets. I enjoy trying to figure out what is and is not "worthy" of a "special edition" or a "double issue". What makes it on the cover of any given tabloid? How do they decide? Well, People Magazine's choices are always fascinating. Last week, their cover story was about that dude William Levy, who is competing on Dancing With the Stars. Levy must have a great publicist, because many outlets are really trying to make this "WHO?" nobody "happen". I hope that last week's People issue sold very poorly – and I think it did. Which explains why People's staff worked throughout the weekend to put together a "special edition" for Brad Pitt and Angelina Jolie's engagement. Like, when was the last time People put out a special edition days before the usual Wednesday release? I suspect the last time involved Prince William's engagement… or the royal wedding last year. So there's your comparison – Brad and Angelina are American royalty, at least according to People Magazine, and their engagement is worthy of a special edition.
When the time finally came for Brad Pitt and Angelina Jolie to make a promise for their future, Pitt made sure to do it right.

"Brad had the vision" for the custom-cut engagement ring, Beverly Hills jeweler Procop tells PEOPLE in this week's engagement special cover story. Check out the stunning sparkler – with diamonds set on a band of yellow gold – in a close-up photo.

An independent expert tells PEOPLE that the ring could weigh in at more than 10 carats total, with a price tag of $1 million.

Jolie, 36, quietly debuted the ring at a private event at the Los Angeles County Museum of Art on April 11.

After seven years and six kids together, the couple decided that they were ready to begin their next chapter together. "They've reached a stage where their family has jelled," says a source who has spent time with them.

For much more on Brad and Angelina's engagement, including wedding dress sketches from top bridal designers and an inside look at the couple's relationship, pick up this week's issue of PEOPLE.
[From People Magazine]
Yes, more photos of Angelina's ring have come out, and it's much different than I originally thought. From the side angle, I thought it was just one large emerald-cut diamond with maybe some smaller diamonds at the base. But this is one decent-sized "oblong-shaped" diamond, with smaller diamonds making a "tiered" effect. Procop told People Magazine that the surrounding diamonds are "ribbed" and weigh in at 10 carats – "The side diamonds are specially cut to encircle her finger. Each diamond is of the highest gem quality." As Procop said before, Brad worked on this ring for a YEAR. Good God. Procop continues, "Brad had a specific vision for this ring, which he realized over a yearlong collaboration. He wanted every aspect of it to be perfect, so I was able to locate a diamond of the finest quality and cut it to an exact custom size and shape to suite Angelina's hand. Brad was always heavily involved, overseeing every aspect of the creative design evolution. Each diamond is of the highest gem quality."
And Angelina's ring costs more than the ring he designed for Jennifer Aniston (hers was reportedly worth $500,000). Although People is now saying Angelina's ring costs $1 million, I wouldn't be surprised if it was more than that, judging solely by the quality of diamonds used, plus all of the special effort Brad took in co-designing it. What I'm saying is that if (God forbid) Angelina ever auctioned this ring, it would go for much more than $1 million.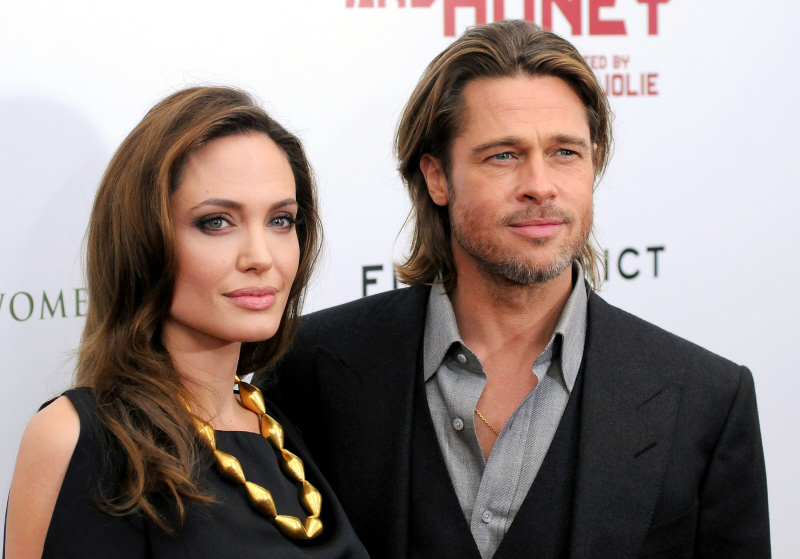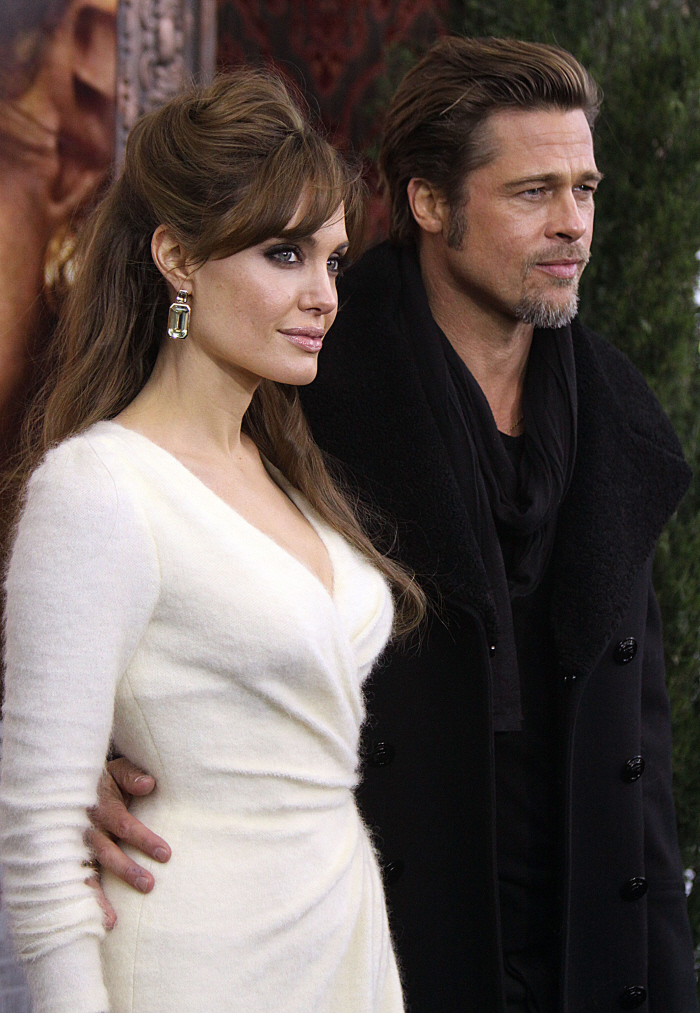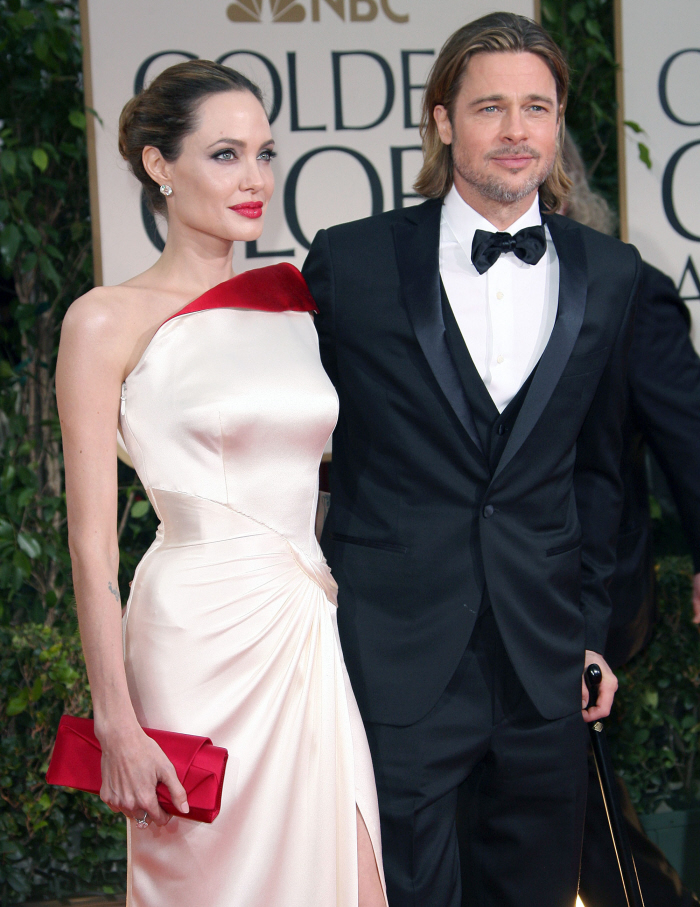 Photos courtesy of People Magazine, WENN.