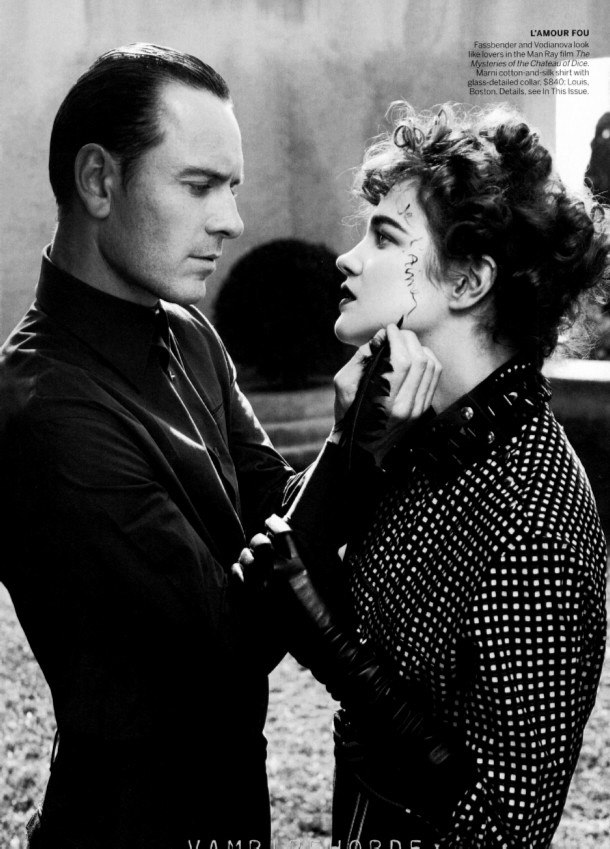 I love when I Michael Fassbender story just falls into my lap! Ah, Fassbender – you are my one and only. Someday, my precious. First things first. Fassy has a photo shoot in the May issue of Vogue Mag – the one with Scarlett Johansson on the cover. Fassy is paired with Natalia Vodianova for a Craig McDean photo shoot. I'm not insanely in-love with these shots, but hey – anything to make me forget those photo call pics from last week. Fassy looks very Germanic in the Vogue shots – and not in a good way. He looks like he could co-host "Sprockets".
Next up – the people marketing Prometheus are geniuses. They've released teasers and trailers and little clips here and there, whetting the appetite slowly and steadily, priming us for the big event without it being overkill and without it being too secretive. The studio just released this "commercial" for androids – featuring Fassy's "David" android character. Prepare yourselves – this commercial is extremely creepy, and at one point I wanted to cry. At another point, I wanted to order my very own Fassbender sex android, though, but maybe that's just me.
Fassy (and Ridley Scott) have made it clear that one of the inspirations for "David" is Peter O'Toole in Lawrence of Arabia (T.E. Lawrence). I can definitely see it – and now I'm kind of bummed that I've never seen the resemblance between Fassbender and O'Toole before. Both Irishmen who excelled at English accents, both sexy, both famous boozehounds, both of them exceedingly talented. I think it's the blonde hair that really puts Fassy into O'Toole territory.
Oh, and the "David, what makes you sad?" part – OMG. So… that's a hint at the plot, right? Is David a bad robot like Ash? Or a good robot like Bishop? Chronologically, David would have come before Ash and Bishop. And I'm thinking that he's more like Ash. But Fassy just broke my heart when the tear rolled down his cheek – "Cruelty." GAH!!!!! I love this man so much.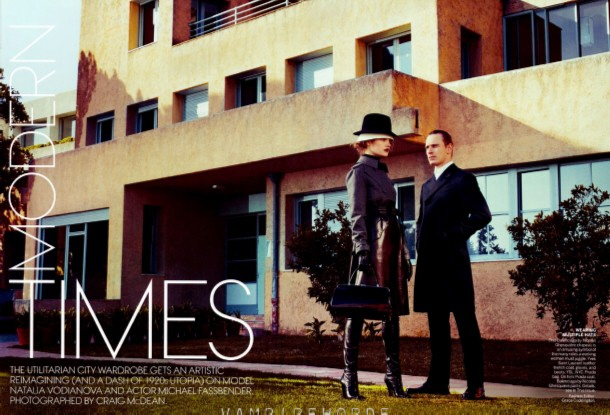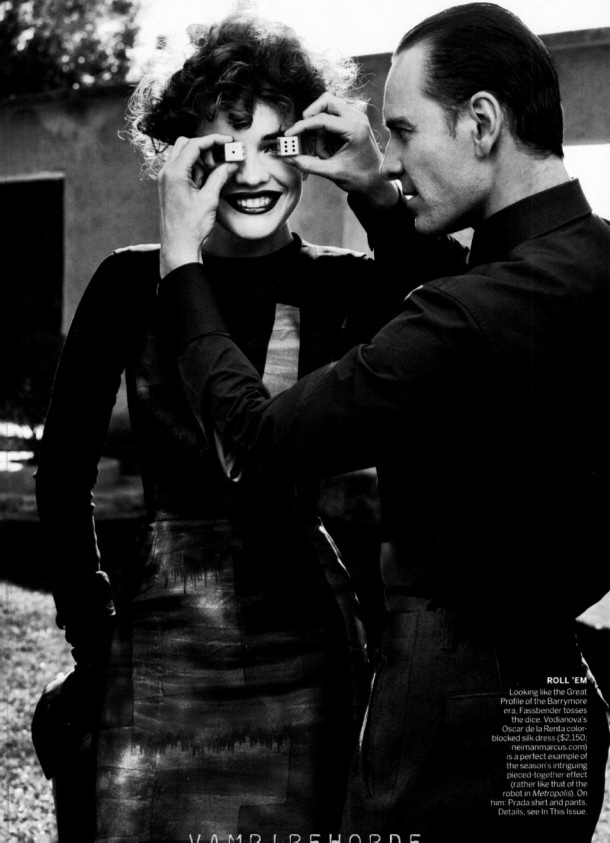 Vogue photos courtesy of Topcoat Fashion.