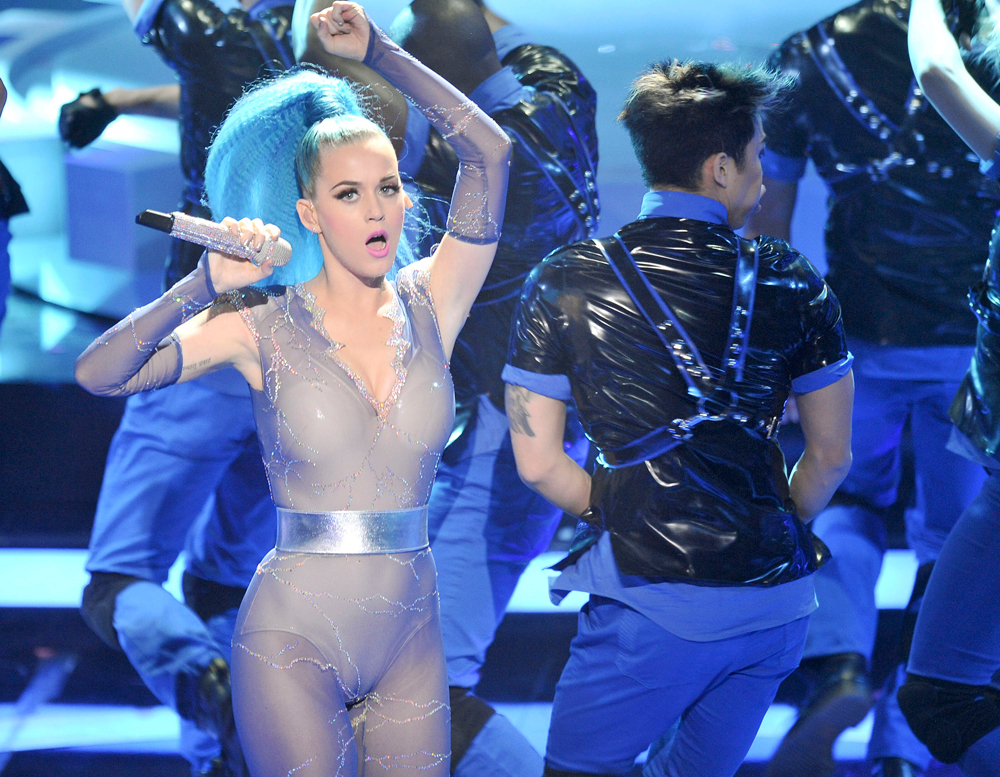 I knew this day was inevitable — Katy Perry has been bitten by the acting bug and decided that she's got the talent and wherewithal to be an actress, possibly even a "serious" actress. Never mind that the acting skills demonstrated in Katy's "Part of Me" video (the one where she joins the Marines) was laughably lousy; but in her defense, no one ever expects Oscar-caliber stuff in a music video, right? Well apparently, Katy is taking herself seriously on that note, and her ego has also been bolstered by a cameo in Get Him to the Greek (in which she made out with not-yet-husband Russell Brand) and a role as the voice of slutty Smurfette in last summer's The Smurfs.
I guess since Katy is now participating within her own 3-D concert movie, perhaps some producers are getting the bright idea that it's not that big of a stretch to toss her into a romantic comedy and see if an audience shows up to put their butts in seats. Indeed, Katy was even almost hired for a role in The Help, and she was "upset" that the role didn't work out due to scheduling conflicts. Can you imagine? Well Katy can definitely imagine, and according to this week's Enquirer, she's now begging Kristen Wiig to write her a perfect script and help her get started as a true Hollywood ingenue: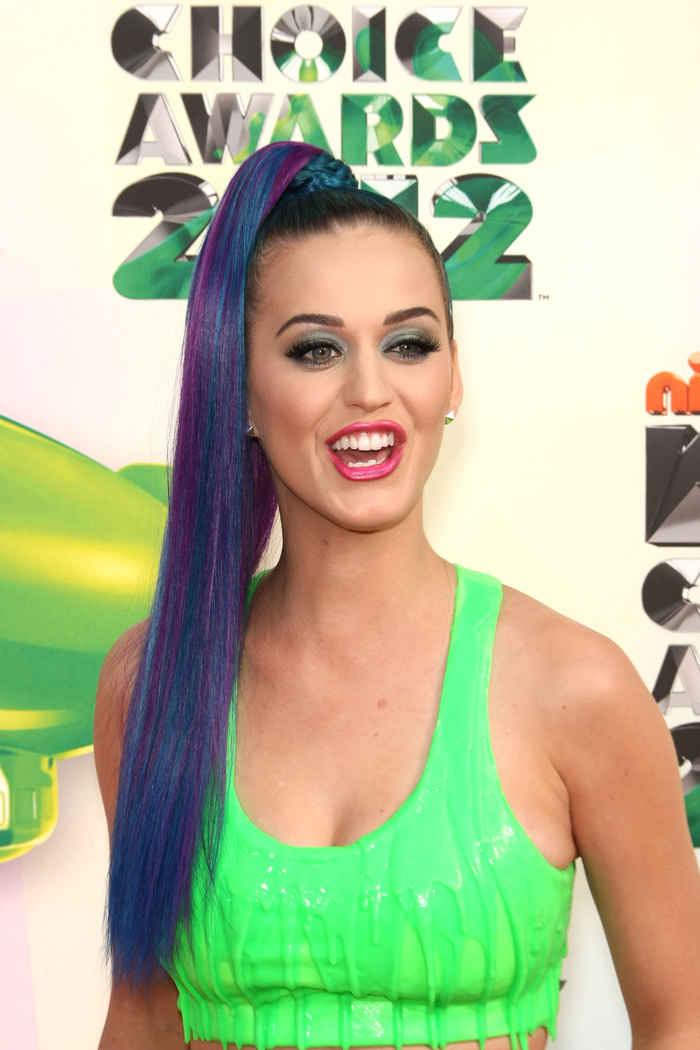 Quirky singing sensation Katy Perry is planning to hit a new high note in her career…as a movie star.

The songbird known for her wild fashion style and revolving hair colors has already branched out by being a spokesperson for Proactiv skin care products, and she now wants to add "leading lady" to her resume.

"Even people who don't know Katy's music know her form her Proactiv ad campaign," said a close source. "With her photogenic face, producers are confident she'll be able to make the jump from the recording studio to the big screen."

To accomplish her new goal, Katy has enlisted the help of "Saturday Night Live" star Kristen Wiig.

She's betting that Kristen, who's also won raves for her acting and scripting of the movie hit, Bridesmaids, can help katy reinvent herself in the wake of her split from comic actor Russell Brand, say insiers.

The "Part of Me" singer and the "SNL" funnylady have been fast friends since Katy hosted the late-night comedy show in December.

"Katy is plotting a huge image and career makeover," revealed the source. "Coming off a painful divorce from Russell, she wants to start fresh. She feels like she's reached her full potential as a musician. She is looking for new challenges and is begging Kristen to write a comedy for her."

The 27-year-old pop idol has already had some minor screen roles. But with Kristen's help, she's hoping to make movie magic, and if a role calls for showing a lot of skin, Katy's all for it.

"Although Katy is a real-life preacher's daughter, she's not shy," said the source. "She's never had a problem showing off her ample assets."
[From Enquirer, print edition, April 30, 2012]
This will probably happen in some shape or form even if Kristen says, "Sorry, no dice." All that movie producers really care about are dollar signs, and acting ability matters very much in the grand scheme of starting out in Hollywood. However, once people realize that Katy is merely a "pretty face" (and a very made-up one at that, she'll be a goner after one or two movies. In other words, Katy probably shouldn't give up her mindless music anytime soon. Yes, she is very pretty though.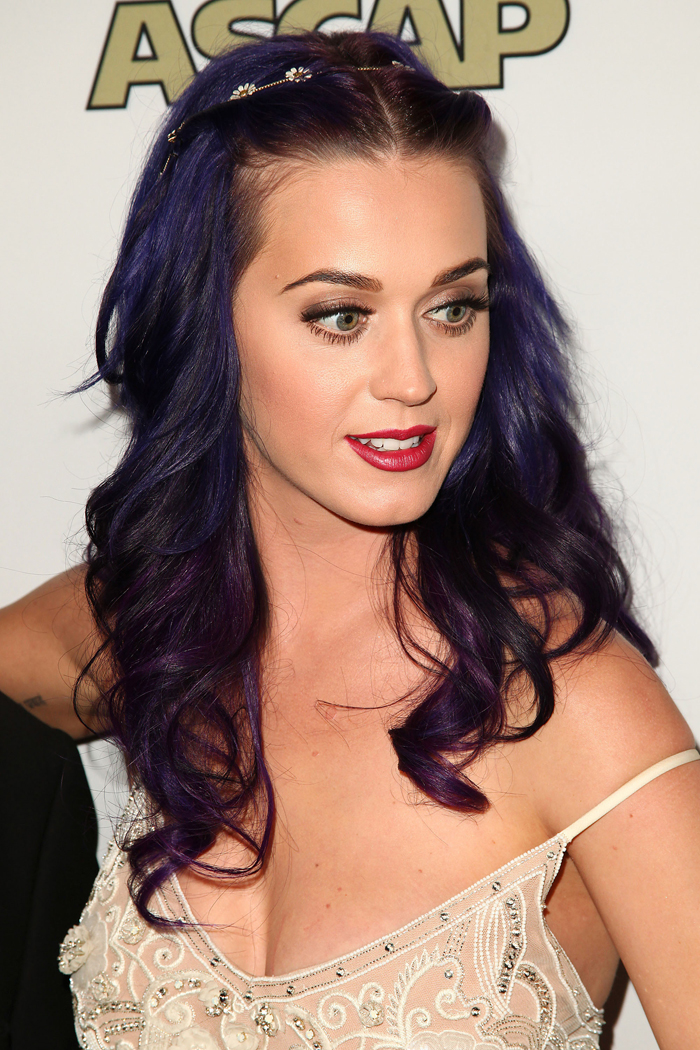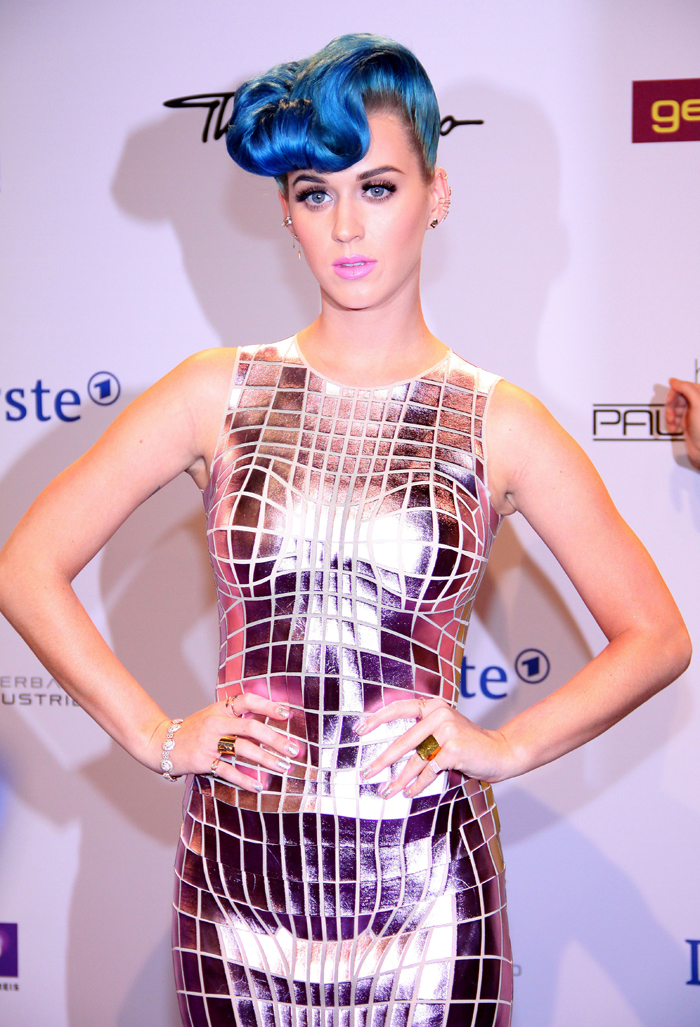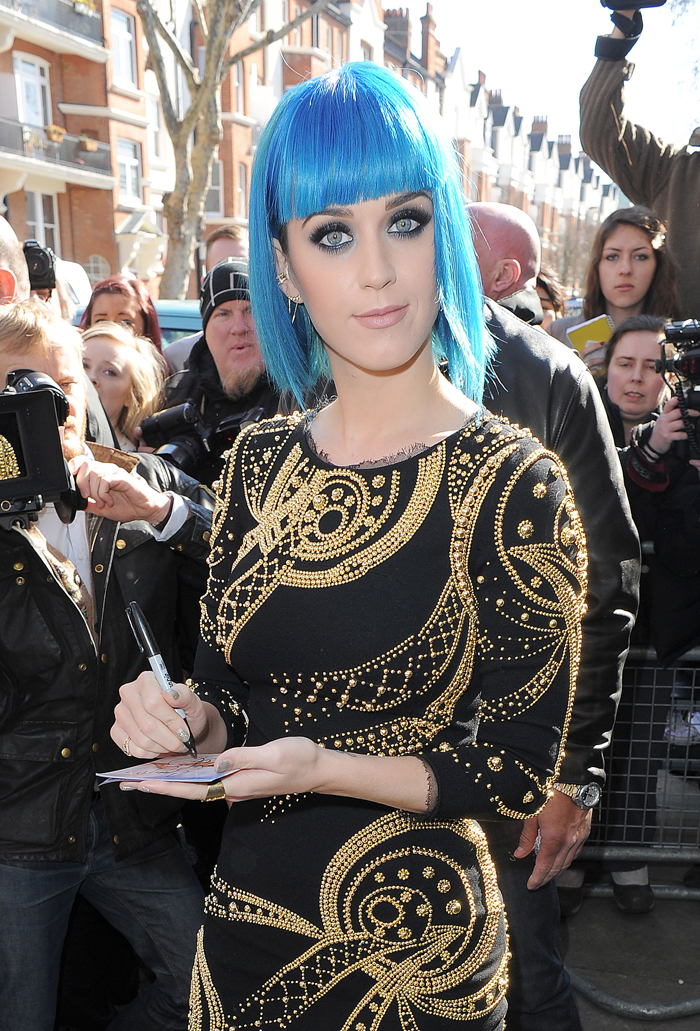 Photos courtesy of WENN