Right before 3:00, the camera pans to Chaz and he looks nonplussed. At 3:50 he looks deflated after his mom's long speech. The woman in this video is congresswoman Mary Bono Mack, the late Sonny Bono's widow who took his place in Congress after he passed from a skiing accident in 1998. She looks mortified, right?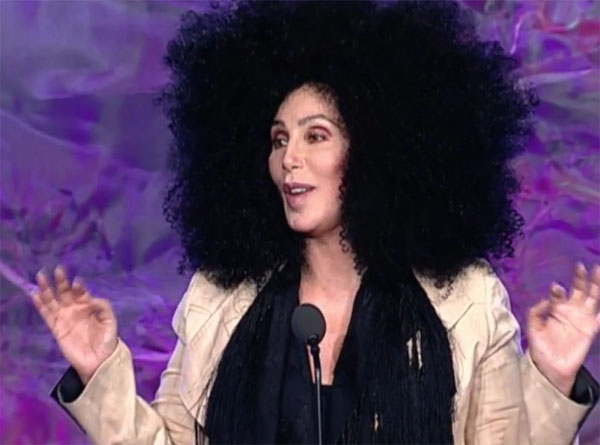 Small steps with Cher. The last few times we've seen the diva doing press, for her movie Burlesque, she was wearing barely-there dresses including a recreation of her "Turn Back Time" video outfit. At Saturday's GLAAD Media Awards ceremony, where Cher's son Chaz Bono was honored with an award for his documentary, Becoming Chaz, Cher wore a giant afro wig that she must have purchased from a novelty store. She was covered up though, which was definitely an improvement for her. Cher gave a funny but embarrassing speech introducing Chaz, explaining that she was "completely freaked out" back when Chaz told her he was a lesbian. "Those were the good old days," she quipped. She also shared some cringe-inducing anecdotes:
"When Chaz was little she only had black friends. So my sister and I were positive that she was going to marry Ricky…
'We love Ricky and he's so adorable. That will be cool they've have the cutest babies.' And then, later I decided 'This isn't going to happen she and Ricky aren't going to get together.'"
Cher then went on to gush about Chaz, saying he "has the most courage of anyone I know." In his acceptance speech, Chaz admitted he was a little speechless after his mom's introduction, and then talked about working for GLAAD around the time Ellen Degeneres came out. It was a good reminder of how far the LGBT community has come. Here's more, thanks to ET:
Cher kept her GLAAD Media Awards appearance so secret even her son Chaz Bono was shocked to see her at the ceremony on Saturday night in Los Angeles.

The Grammy winner presented her son with the Stephen F. Kolzak Award for his OWN documentary, Becoming Chaz.

"I don't have anything prepared because I was so nervous, because my pronouns for my child just jump all over the friggin' place," joked Cher, who referred to Chaz as "she" several times throughout her speech. She went on to praise her child, saying, "Chaz has the most courage of anyone I know."

The music icon later tweeted, "I really surprised Chaz! HE was adorable, said 'wow mom i was so surprised i forgot what i was going 2say!'"

The Stephen F. Kolzak Award is given to a gay, lesbian, bisexual or transgender entertainer for promoting equality. Modern Family's Jesse Tyler Ferguson and The Hunger Games star Josh Hutcherson were also in attendance for the event. They accepted outstanding comedy series and the Vanguard Award for increasing "visibility and understanding of the LGBT community," respectively.
[From ET Online]
Good for Cher for coming to the GLAAD Awards for Chaz. She's admitted having trouble coming to terms with her son as a transgender person, but she's been there for him that's for sure.
Other GLAAD Award winners included Josh Hutcherson of The Hunger Games, "Modern Family," for comedy series, and Beginners, for wide release film.
Here is Benecio Del Toro presenting the Vanguard Award to Josh Hutcherson, 19, for his work with Straight But Not Narrow. Josh explained that he had two great uncles, both of who were gay and passed away from AIDS around the time he was born. He got a little choked up when he said "they were a huge influence to my mom and everything that she is. My mom is a huge influence to me and everything that I am. They are very much a part of me and everything I believe in…. I'm so sick of saying the words gay and lesbian, they're just people." What a great kid he is. I have a much higher opinion of him after seeing this speech.

Here are Glee's Max Adler and Grant Gustin introducing the family of Jamey Rodemeyer, a 14 year-old boy from Williamsville, NY (outside Buffalo) who committed suicide after posting an "It Gets Better" video on YouTube. This made me cry for this family.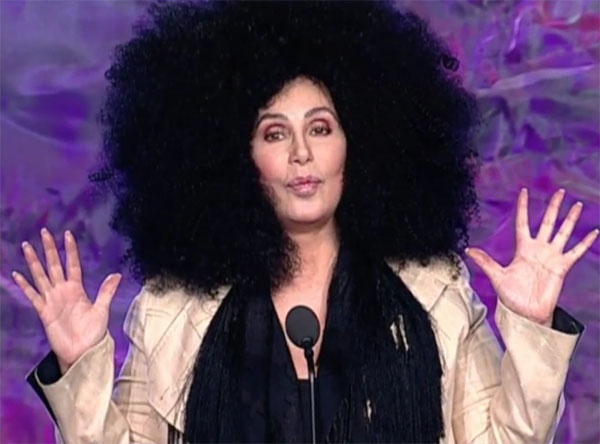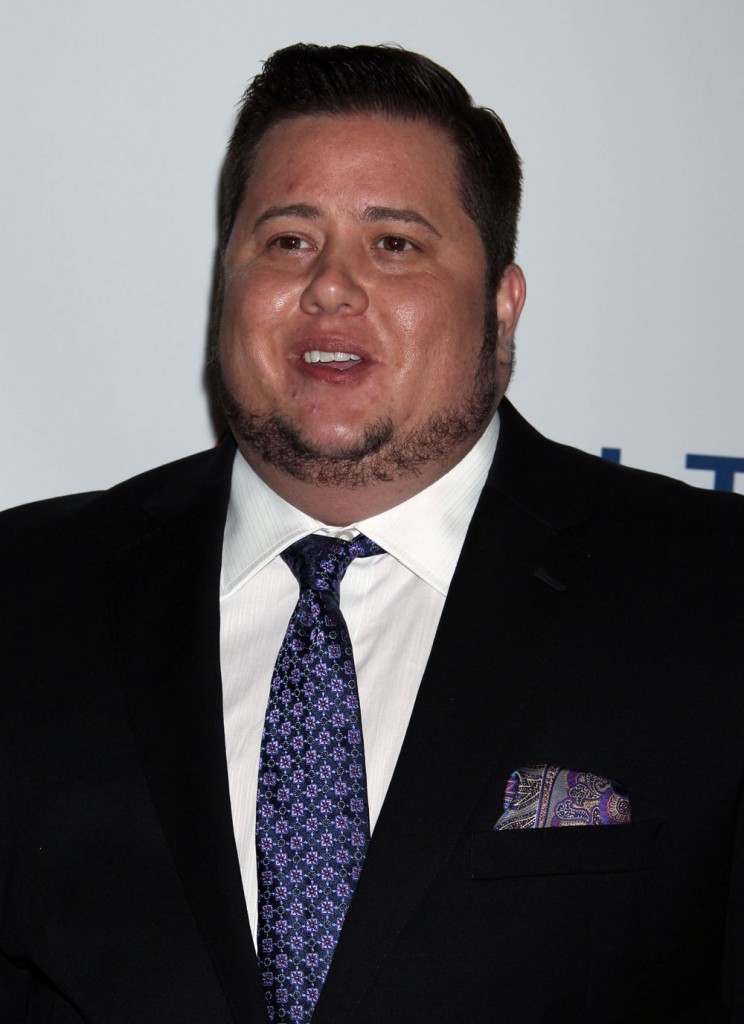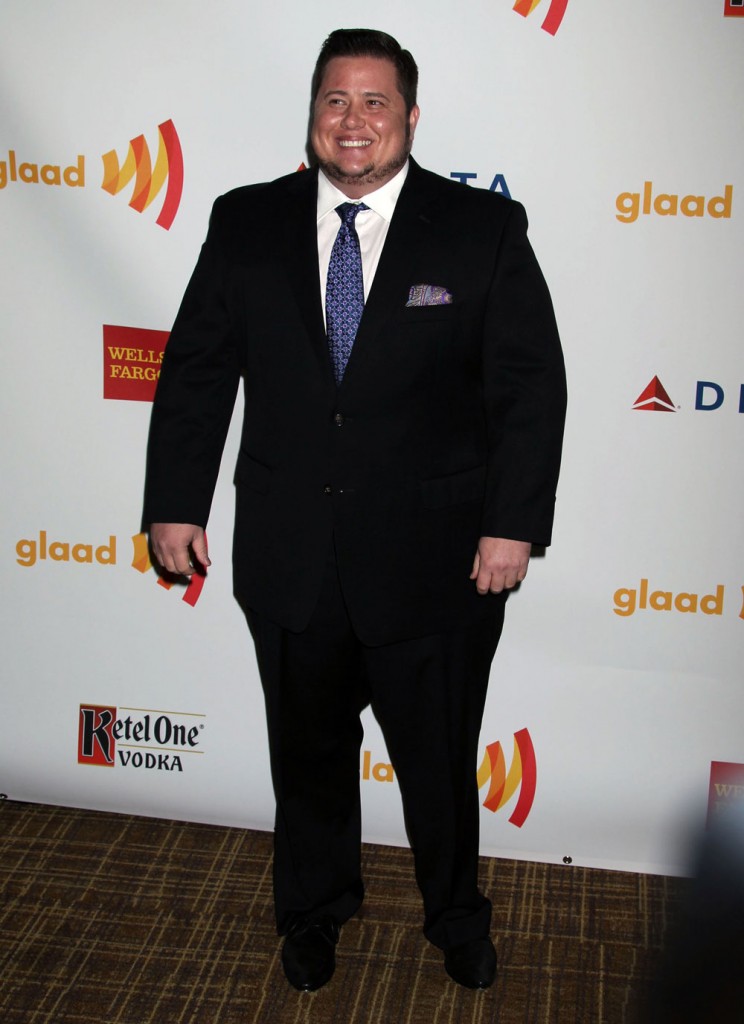 Chaz Bono photos credit: FameFlynet, Inc.