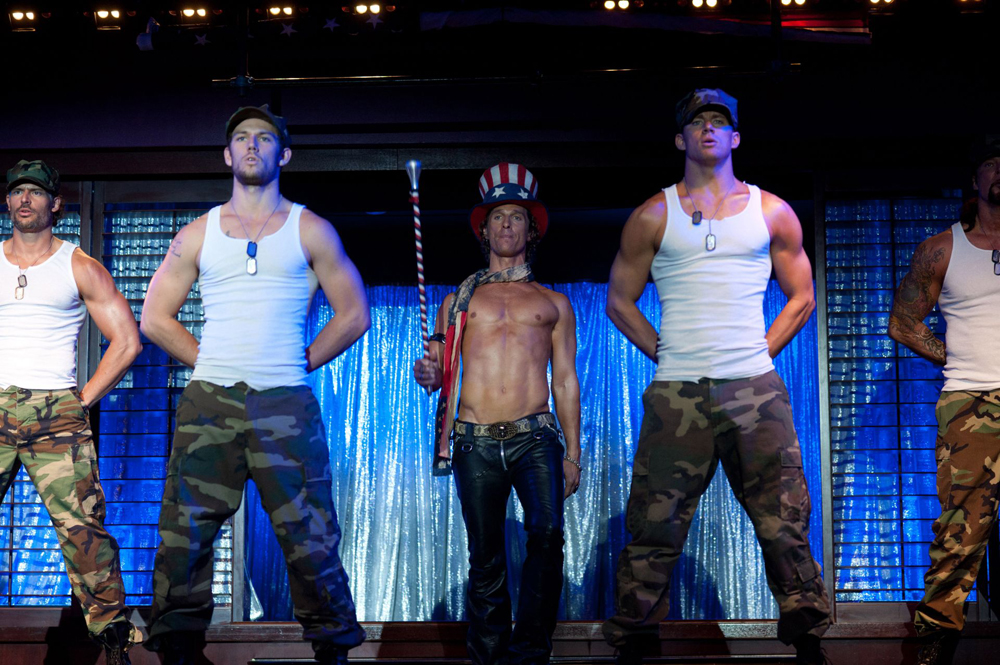 When I first heard about Steven Soderbergh's upcoming Magic Mike movie, I have to admit to feeling less than enthused. After all, I have had exactly two encounters with male strippers, who were both very sleazy and not at all hot. The first one, a guy named "Boogie," pulled the "cop" routine and made a half-hearted show at grilling party attendees for pot possession before whipping out a boombox and gyrating to "Everybody Dance Now." The second one, a dude with a "Pizza Slut" shirt that called himself "Joe Diggity," chased me around the house when I refused to get close to him and then (much to the delight of my fellow partygoers, whom I have not forgiven to this date) tried to put his wang on me. It was not a good moment in my life at all.
Anyway, I was pleasantly surprised by the Magic Mike trailer itself, which has a very sexy-sweet vibe going on and features the likes of Channing Tatum, Matthew McConaughey, and Joe Manganiello taking it off for da ladies. Like Kaiser, I also felt my former McConaughey lust rise to the surface, which is a good thing since I thought it was mostly dead after writing a real-time review of Surfer Dude a few years ago. Yes, I can still get it up for McConaughey! Thank you, Mr. Soderbergh. Also, Matthew has discussed his assless chaps for the movie, and he claims to have designed them himself:
With Steven Soderbergh's male stripper epic Magic Mike coming in just a few months, we're hearing a lot of buzz about Matthew McConaughey's supporting performance as the club owner who employs Channing Tatum and the rest of the cast of male hardbodies. Last night at the premiere of his new film Bernie, we asked McConaughey to tell us a little bit more about his character, and the talk soon turned to his wardrobe. Specifically, would McConaughey like to address the tip Vulture recently received that he spends several scenes of the movie in assless chaps? "You got to go check it out in a theater and find out, man," he laughed, admitting, "I did design some special pants." As far as additional research went, "Channing and I met early on and went by one male revue strip club in New Orleans and I was there for about an hour, and that was enough," McConaughey said. "For me, that character in Magic Mike was a combination of Clockwork Orange and Jim Morrison. So I'll leave it at that." A droog crossed with the Lizard King? Color us intrigued.
[From Vulture]
I would really like to have seen Channing and Matthew kicking it in a male stripper club and trying to look casual about it all. I'm sure the club owners got a kick out of it too. There's also an addendum to this story on the People site, which adds some tidbits about Matthew's Dallas character, and he also talks about why he wants to marry his lady, Camilla Alves:
In Magic Mike, which opens June 29, McConaughey plays Dallas, the enterprising strip club owner. "Dallas wants to take over, world domination with his male revue," said the actor. "It was fun and very, very corny."

But McConaughey's most recent undertaking is a lot more PG. The star, who with fiancée Camila Alves has two toddlers — Levi, 3, and Vida, 2 — said he's currently working on a children's movie.

The tots are reportedly also a big reason on why McConaughey and Alves are tying the knot after six years together. (He proposed last December.) "I think it's great for the kids," Alves has said. "Mama's going to have the same last name as they have, so that's neat."
[From People]
That doesn't sound entirely romantic — to marry merely for surname consistency, does it? However, I think Matthew is understating things and that he's found his true match in Camilla. They obviously love the hell out of each other, and she doesn't mind that he occasionally goes without showering for weeks at a time and enjoys living in Airstream trailers for extended periods as well. I hope they get married soon and last forever … but I'd still like to borrow McConaughey for a night or two.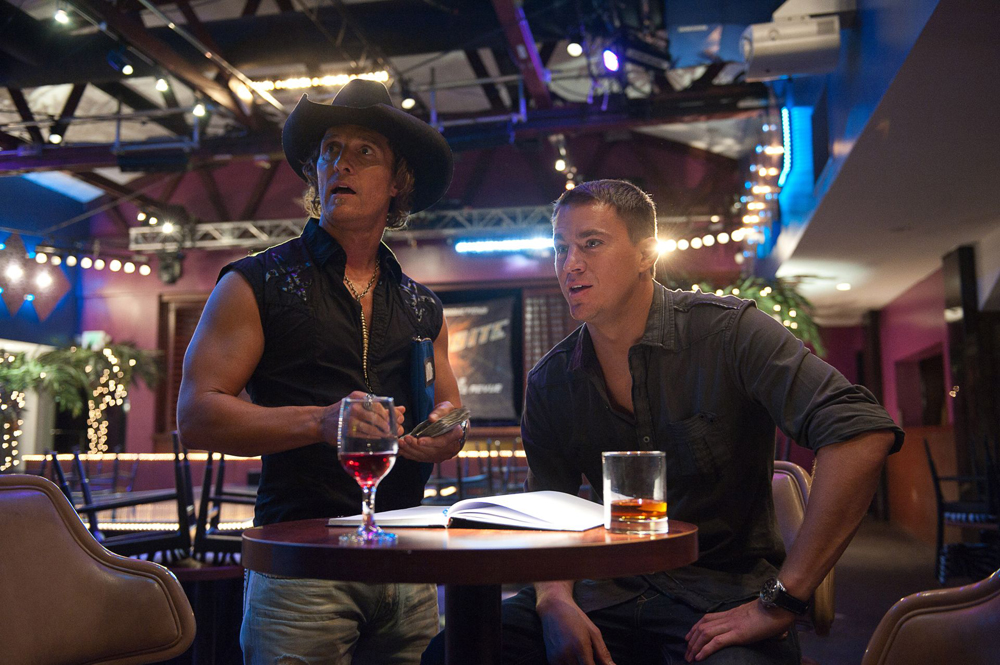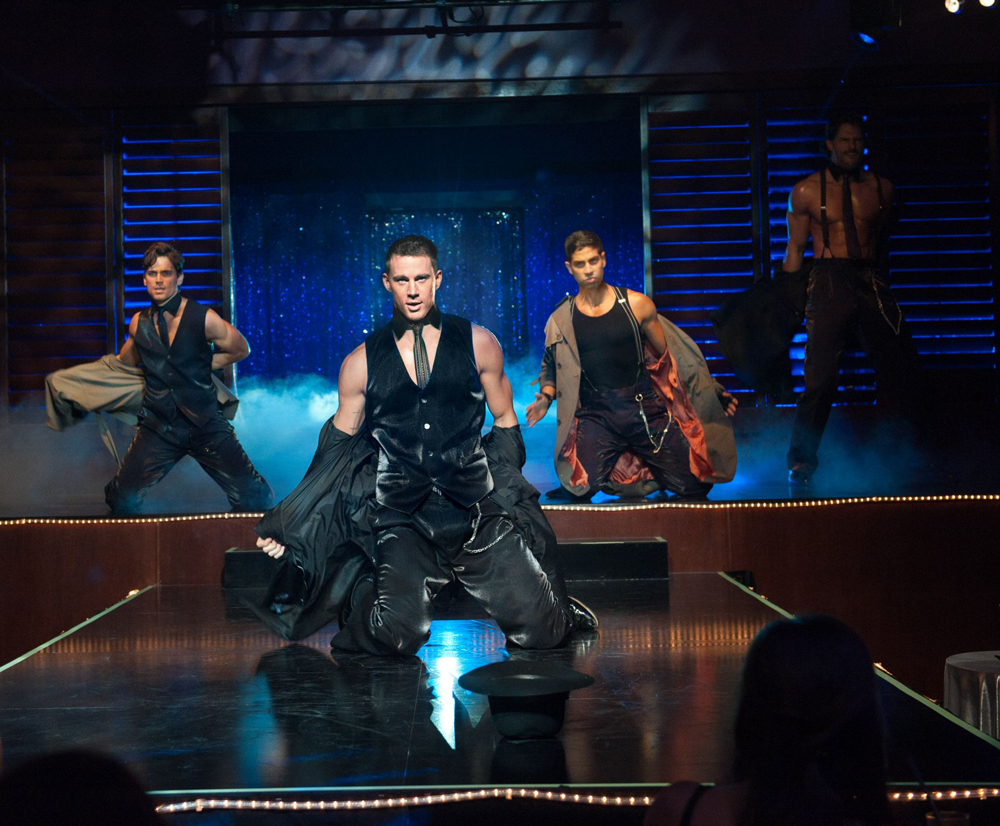 Photos courtesy of AllMoviePhoto