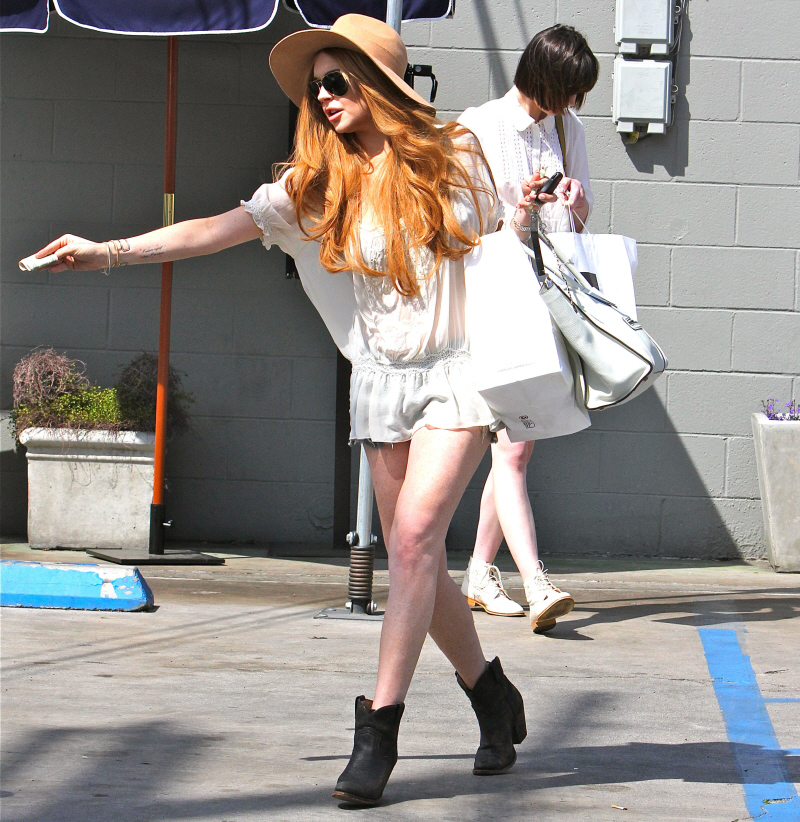 At this point, I don't even have words for the cracktastrophe known only as The Cracken. Yesterday, we discussed the early reports that Lindsay had simply shown up LATE for her first day of work in something like five years. (Incidentally, I'm not counting "cracked-out model" as "work" – I'm only talking about work as an actress.) Although Team Crack tried to sugarcoat Lindsay Lohan's tardiness and unprofessionalism, the truth is even worse than originally assumed. Us Weekly reports (exclusively) that Lindsay showed up SIX HOURS LATE. Not six minutes. Not an hour. SIX HOURS. F^$*(#
Looks like Lindsay Lohan is already viewed as an outcast at McKinley High. Filming her May 15 guest appearance as a judge at the annual Nationals performance episode, Lohan, 25, angered Glee's cast and crew when she showed up six hours late to shoot her scenes Wednesday.

"She came to set with a million demands and was not prepared to work," a source tells Us Weekly of Lohan, who will appear alongside Rex Lee and Perez Hilton in the episode.

Among Lohan's megawatt demands for her guest starring role: A pimped out trailer! "One of her demands has to do with her trailer size," hints the insider. "The cast is already worked to death and then she puts everything behind. She is a diva!"

One of the irate cast members was none other than Dot Marie Jones, who plays Coach Beiste on the FOX series.

"Gonna be a long day!! Some ppl show up late and just throw a wrench in things. Not cool!" Jones tweeted [and later deleted]. "I'd rather be an hour early (I was) than 5 minutes late."
[From Us Weekly]
So… basically, Lindsay only had to work for two days, and she threw a huge diva temper tantrum about her trailer, AND she showed up six hours late AND she was unprepared. Oh, but it gets worse. After the initial reports of her tardiness on Wednesday, LL's rep Steve Honig couldn't even manage to lie for her, only confirming to E! News, "I am on the set with Lindsay right now, and everything is going well and on schedule." Except that everything was a cracktastrophe, as usual. E! News got the scoop that the Cracken was "incredibly late" – so late, in fact, that production had to "send a car to the Chateau Marmont to pick her up and bring her to set." Wait, I thought she wasn't living at the Marmont anymore? Another crack lie?!?
What else…? Sources say "Lindsay was a total nightmare" on Wednesday: "She was three hours late in the morning, and when she did finally arrive, she just didn't want to be there. She did not want to work. She had not memorized her lines, and she kept disappearing so no one could find her." The cast started calling her "That Girl" and a source says "She has rubbed them all up the wrong way by being so disrespectful of everyone else's schedule." Poor Steve Honig had to defend LL yet again, claiming the tardiness was a "misunderstanding" about her call time. Honig then threw LL a giant pity party because all of these stories are "a classic example of people trying to bash Lindsay. She busted her ass yesterday and is back on set again today." Dear Steve Honig: your client is a crackhead. It's not our fault.
One more Cracken story – she wants to get back with Leonardo DiCaprio, according to In Touch Weekly. Leo and Lindsay allegedly hooked up a few times back in 2008-09, but he doesn't want anything to do with her these days:
Lindsay Lohan, 25, has been accused of not being in touch with reality on occasion, and this may just prove it. Lohan has been pursuing Leonardo DiCaprio, 37, nonstop over the last few weeks for both business and pleasure, according to a source.

"She has been texting Leo constantly, asking him to get together," says the insider. "They used to hook up a long time ago, and she wants to get back together with him. She also hopes that he will get her some auditions as well."

Shockingly (or not so), he is not interested.
[From In Touch Weekly, print edition]
Such a mess. But don't pity her. She thrives on pity. In Lindsay's mind, she's a cracked-out martyr. In reality, she's just a violent addict and an unprofessional a–hole.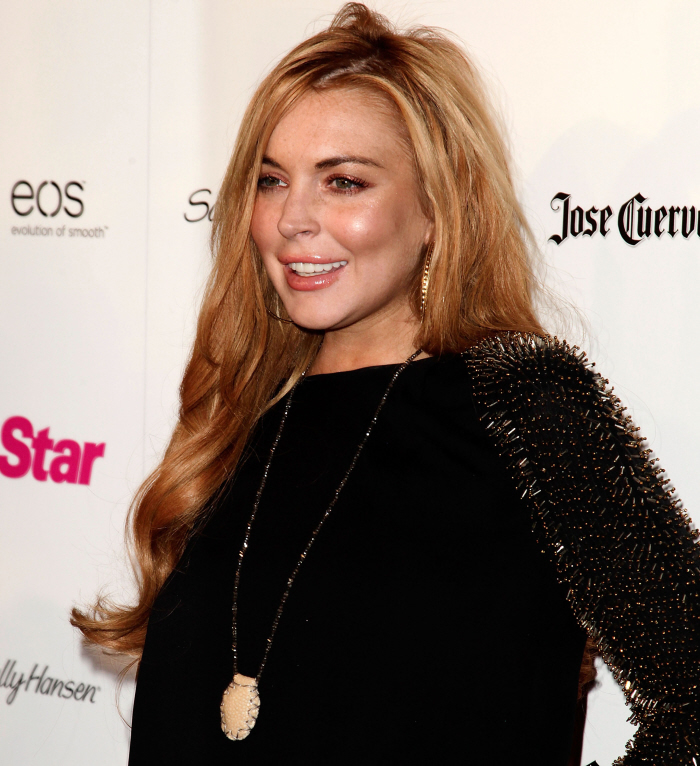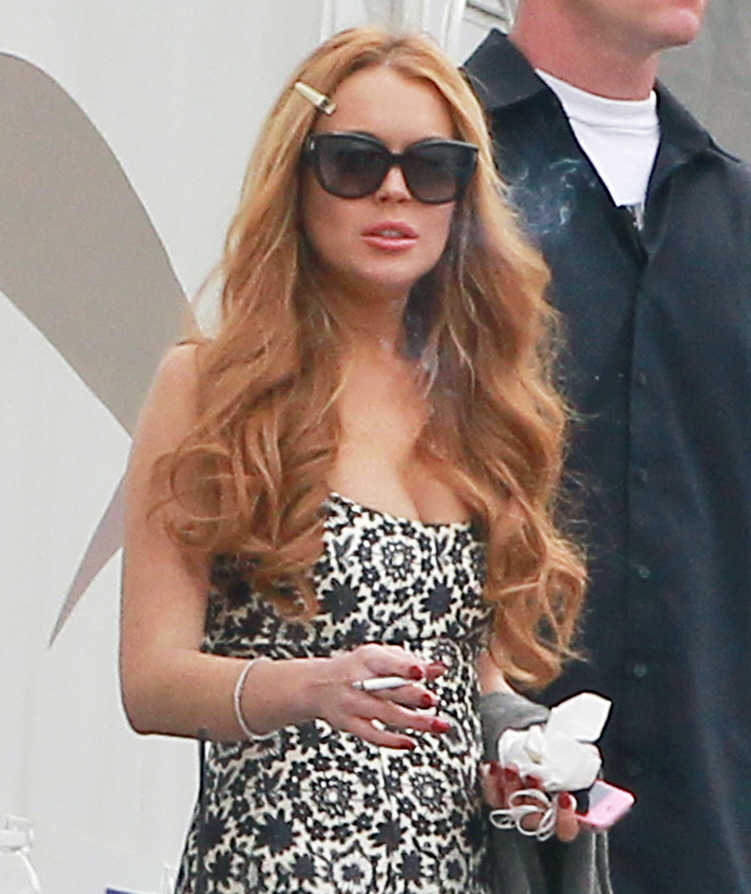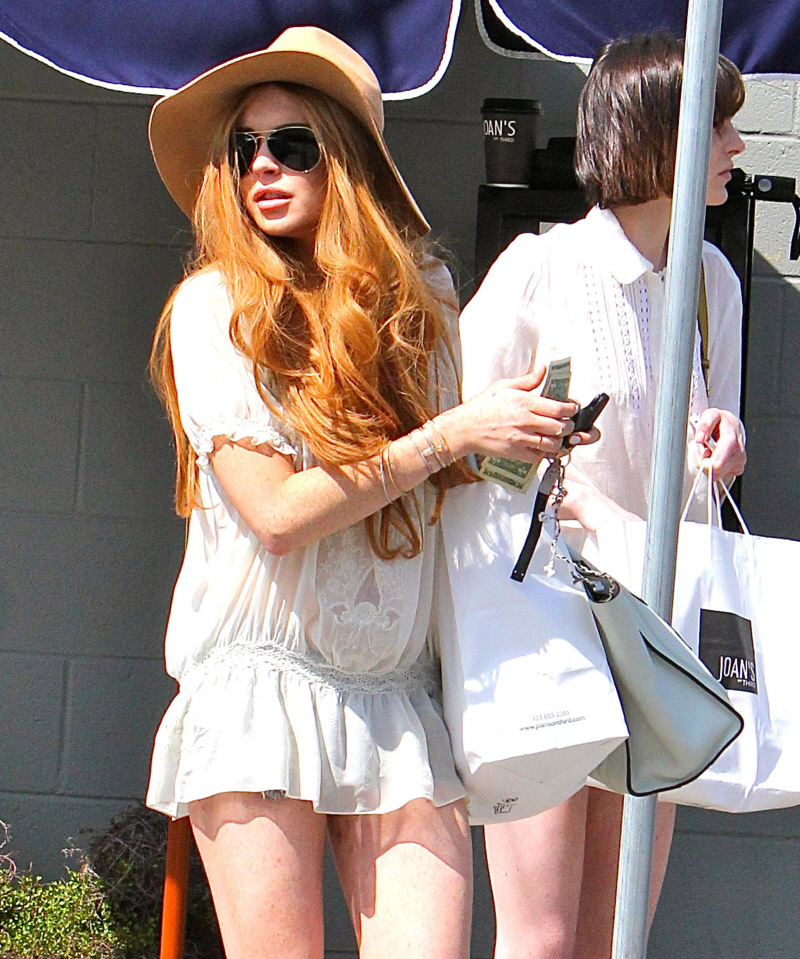 Photos courtesy of WENN, Fame/Flynet and PCN.