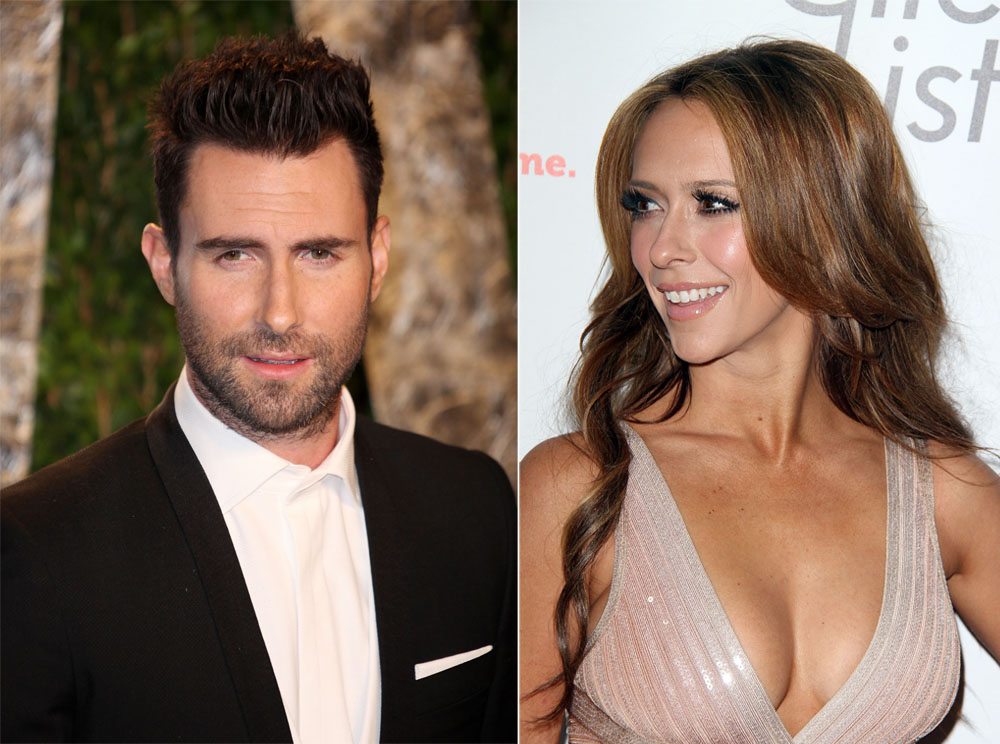 When Jennifer Love Hewitt declared on Ellen earlier this month that she was hoping to date the newly-single Adam Levine, a lot of us shook our heads. Conventional wisdom (which isn't always right, but still) dictates that you play it cool when you want a guy to like you and somehow get his interest without making it clear that you're dying to date him. I don't believe that women should never ask men out, I just think that asking a famous guy out on a national television show is kind of recipe for rejection. Well that's pretty much what happened, unsurprisingly. Levine previously called Love Hewitt's admission "very flattering and very sweet" with the subtext being that he wouldn't take her up on it. Well Levine was on Ellen today and when Ellen pressed him on the issue he said "no" without using that word. Slick playas like Adam know just how to slide out of something without hitting you over the head with it. Here's what happened, thanks to US Weekly:
"I heard about that. That was aggressive," Levine joked on The Ellen DeGeneres Show Thursday. "It was really sweet and flattering. Beautiful life, you know, when a beautiful woman says nice things about you."

When host Ellen DeGenres, 54, offered to set them up, Levine laughed and said, "I'm cool." The musician, after all, is still recovering from his recent breakup with Sports Illustrated model Anne Vyalitsyna.

While one source previously told Us Weekly that Levine was "blindsided" and "heartbroken" by his breakup with Vyalitsyna, another explained that he "wasn't ready" to marry her. Levine further explained his hesitancy to settle down in Paper's May issue.

"I want to study marriage. I want to learn about it I want to know it," he said. "I want to figure out whether or not I want to do it. I'm not just going to leap into it, because that's not good for anybody."
[From US Weekly]
I like how Levine was like "that was aggressive," and then recovered nicely by throwing some compliments in there and going with the "flattering" angle again. He knows what he's doing. In terms of the "study marriage" stuff he said in that other interview, sure. That's guy code for "no way am I getting tied down." I bet that even if he finds THE model who doesn't put up with his crap and drives him crazy, he'll knock her up before he marries her. He just seems like the type who isn't about to make it official no matter what.
Love Hewitt hopefully won't be too heartbroken. She's probably hooking up with her co-star Colin Egglesfield now, and is over her infatuation with Adam. At least until Colin realizes that she leaked the news of their romance to the press. Or maybe he's the type to eat up the publicity. He normally doesn't get much.
Here's Love Hewitt with her bff Rebecca Field at a Cystic Fibrosis Foundation benefit on 4-22-12. credit: GG/FameFlynet Pictures. She's also seen out on 4-18 in LA outside a TV studio. (Fuschia jacket.) Credit: Greg Tidwell, PacificCoastNews.com