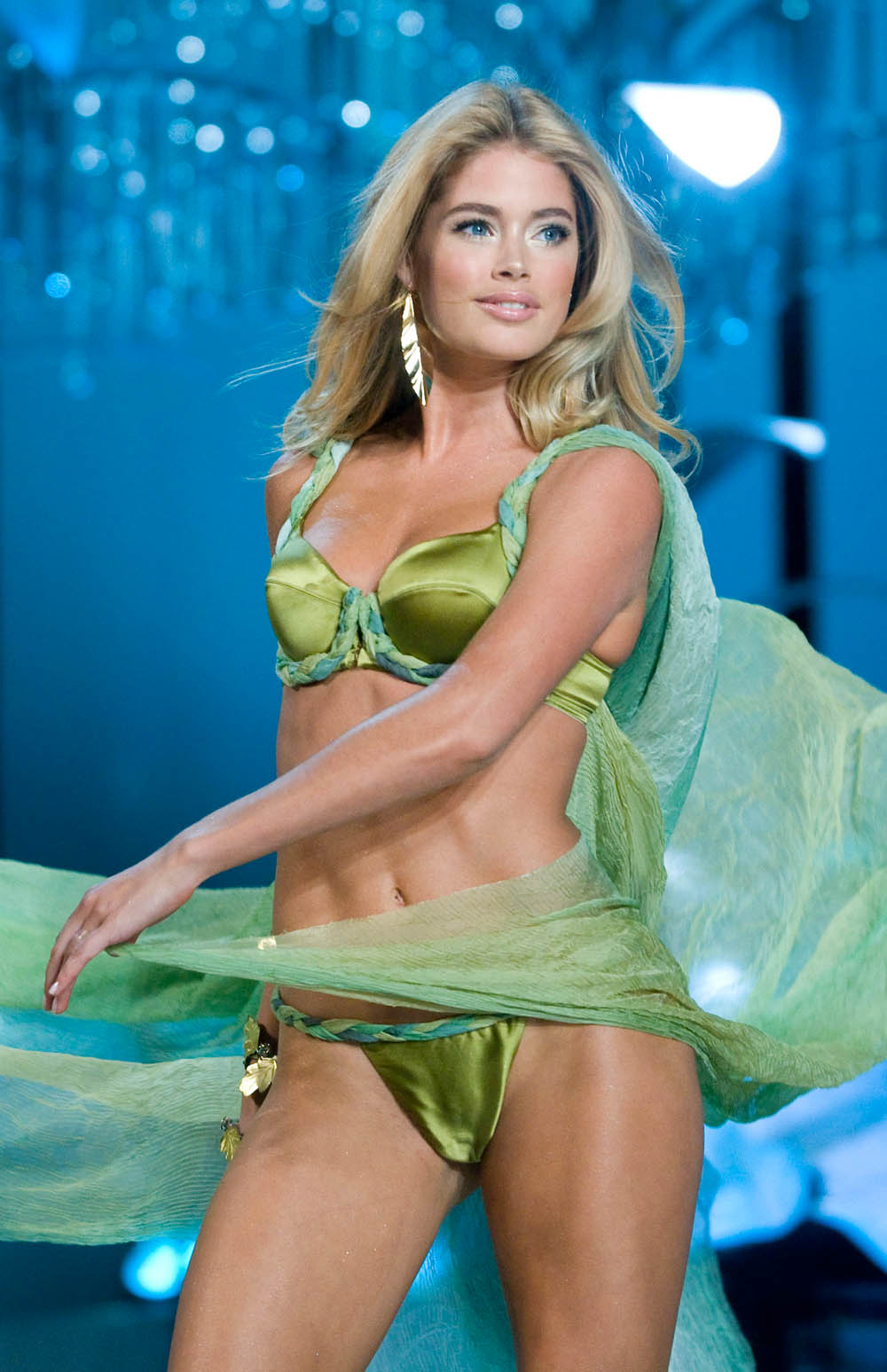 You've got to hand it to the PR team behind the Victoria's Secret's annual fashion show. They made a non-event, consisting of little more than a bunch of models walking down a catwalk in their underwear, into a nationally televised obsession – complete with rock stars, after parties, gossip and plenty of photo opps. It's become the Super Bowl of underpants.
This year's models included senior stateswoman of sexy Heidi Klum, mother of three who rocked the runway (I try to hate her for it, but I can't), along with Miranda Kerr, Selita Ebanks, Doetzen Kroes, Marissa Miller and Alessandra Ambrosio.
Victoria's Secret brought the sexy to South Beach Saturday at their annual fashion show, featuring Angels' Heidi Klum, Alessandria Ambrosia, Miranda Kerr, Karolina Kurkova and more supermodels strutting their stuff.

While Diddy, Terrence Howard, Paris Hilton, Kim Kardashian, Lenny Kravitz, Martha Stewart and John Stamos all scored front row seats to the show and Usher's performance at the Fontainebleau Resort, Aubrey O'Day was relegated to fifth row status. During the show, models catwalked carefully, as the runway was filled with broken glass.

"I already cut my foot once in rehearsal!" Karolina told me backstage before she hit the stage. Luckily, the leggy model worked the runway with no problem during the real thing. And once the sexy show ended, the serious partying began…

At the official afterparty at LIV, Diddy, Terrence Howard and the VS models had their own VIP area on the stage, while all other stars in attendance had to settle for tables on the dance floor stocked with bottles of Belvedere.

As for the rumor Miranda Kerr is engaged to Orlando Bloom, insiders insist it's not true. The adorable Aussie chatted up Stavros Niarchos with no bling on her ringfinger.

Former friends Paris and Kim had tables directly across from each other, and it seems like Kim's got more famous friends these days. While Paris was joined only by her BFF candidates, Kim had her sister Kourteney, Kristin Cavallari, Mario Lopez all hanging out with her.

Heidi Klum opted to avoid the packed club, instead heading to Blade with hubby Seal. The lovey dovey duo held hands and sipped champagne as they hung with Usher and Lenny Kravitz. And although A-Rod skipped the VS show, he made a late night appearance at Blade.
[From E!Online]
The thing to keep in mind here is that once you strip away the partying, celebs and TV cameras, it's really a glorified version of the Victoria's Secret catalog. In the end, they want us to buy stuff. So, let's take a look at the garments themselves and see if they're worth the hype. There were some very pretty underthings showcased on the runway, but since it's a fashion show, of course the visuals were amped up with angel wings, giant capes an other weird accessories that you can't get at the mall, and probably wouldn't be able to fit in your closet. My favorite was the green bra and panty set worn by Doetzen Kroes – it's a great color and I'd definitely buy it. Of course, there are a few "WTF?" moments where it looks like the stylist just threw a bunch of products on a girl hoping to get as much commercial exposure as possible.
Images from the 2008 Victoria's Secret Fashion show, including a live performance by Usher. Because when you think of lingerie, don't you think of Usher? Photo credits:WENN.