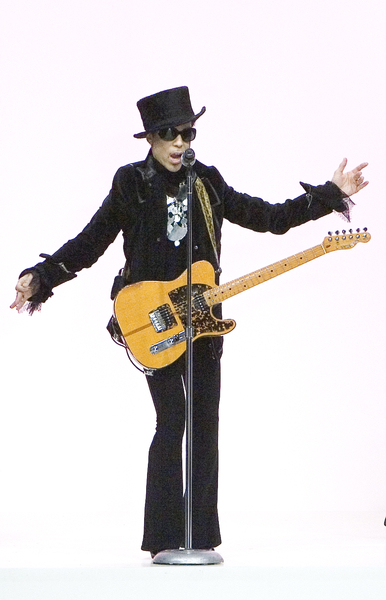 Seven years ago Prince became a Jehovah's Witness. Though to the best of my knowledge, most people had stopped talking about Prince by then so it didn't exactly make headlines. The New Yorker has an interesting short interview with him where he talks about his religion and how it applies to his life. Turns out Prince isn't one of those fancy, spoiled celebrity Jehovah's Witnesses who thinks he should be treated better than everyone else. Granted there aren't a whole lot of Jehovah's Witnesses that are celebs (the Jackson family comes to mind, but that's about it), but Prince gets out there just like everyone else is supposed to.
YES, that's Prince going door-to-door in LA to preach the word of the Jehovah's Witnesses. The purple-loving pop star tells this week's New Yorker that since he joined the Christian denomination two years ago, he's started leaving his gated community to knock on doors and proselytize. "Sometimes people act surprised, but mostly they're totally cool about it," says Prince. The "When Doves Cry" singer adds that he sees his conversion as more of "a realization. It's like Morpheus and Neo in 'The Matrix.' "
[From Page Six]
I've got to admit I'd find it pretty funny if Prince came to my door. And while I generally won't listen to anyone interrupting me at home to talk about religion, I'd probably let the guy in out of sheer curiosity. I don't imagine he gets turned away nearly as often as other people do. I'd also have to make some really bad "Purple Rain" jokes, 'cause it'd be pretty hard to resist.
Prince talked a bit more about his religious and social views, and the difference between red and blue states.
Recently, Prince hosted an executive works for Philip Anschutz, the Christian businessman whose company owns the Staples Center. "We started talking red and blue," Prince said. "People with money—money like that—are not affected by the stock market, and they're not freaking out over anything. They're just watching. So here's how it is: you've got the Republicans, and basically they want to live according to this." He pointed to a Bible. "But there's the problem of interpretation, and you've got some churches, some people, basically doing things and saying it comes from here, but it doesn't. And then on the opposite end of the spectrum you've got blue, you've got the Democrats, and they're, like, 'You can do whatever you want.' Gay marriage, whatever. But neither of them is right."

When asked about his perspective on social issues—gay marriage, abortion—Prince tapped his Bible and said, "God came to earth and saw people sticking it wherever and doing it with whatever, and he just cleared it all out. He was, like, 'Enough.' "
[From the New Yorker]
I don't think that last part is going to make him many new fans. Prince is a conundrum. He seems like the sort who'd be open-minded and liberal, but that quote certainly doesn't come off that way. In the context of the article it also doesn't come off as excessively judgmental or anything, but it's still not what I expected to hear the guy say. He holds some unusual views that could make him quite unpopular in Hollywood. That and the knocking on people's doors at dinnertime. Neither will make him a lot of friends.
Here's Prince during London fashion week in 2007. Images thanks to PR Photos.