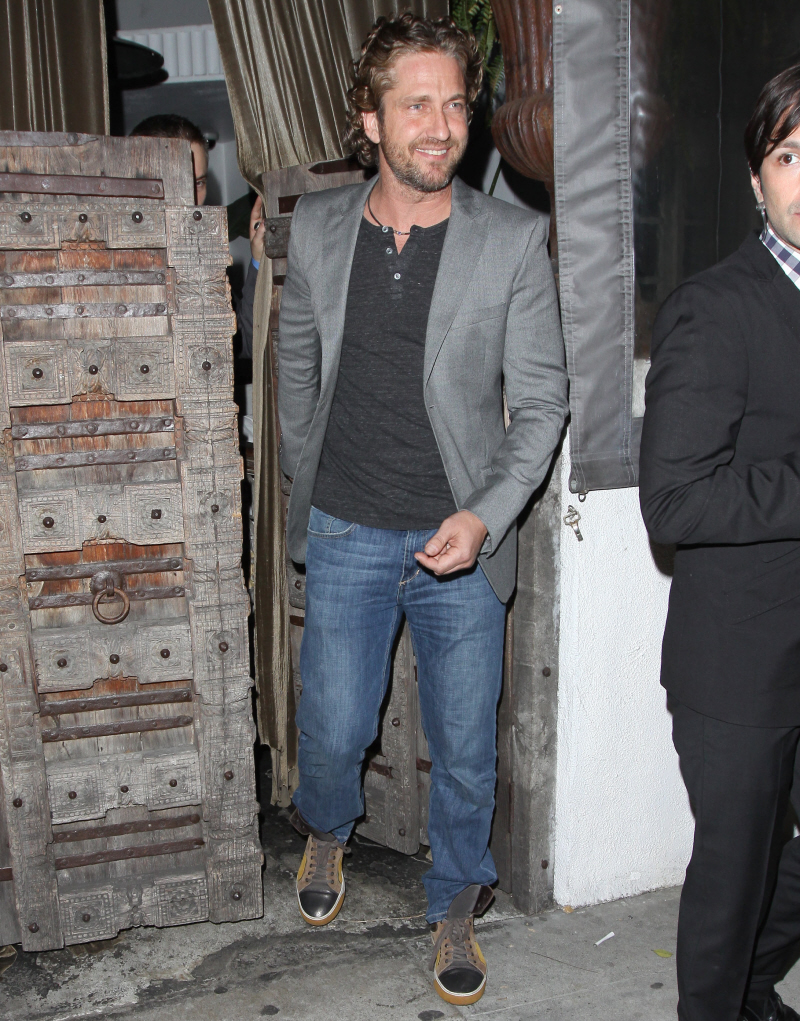 Hmm… I feel like Gerard Butler is trying to convince us that he's okay. After spending his post-rehab time going from party to party, event to event, looking worse and worse and reportedly still enjoying some alcoholic beverages, Gerard Butler took his sleaze to a new level at Coachella. Page Six claimed that Butler probably/maybe hooked up with a "mystery brunette" in a Porta-Potty. And then several other outlets claimed Gerry was all kinds of wasted at Coachella too. But now there seems to be a concerted campaign to make Gerry look like he's "settling down". First, People Mag reported this:
Always the ladies man, Gerard Butler had no problem finding a woman to occupy his time on Tuesday when he headed out to Agency night club in Hollywood with two guy pals.

"I'm not sure where his friends wandered off to, but this mystery brunette definitely had his full attention as Gerard stayed by her side the entire time he was at his table," an onlooker tells PEOPLE. "They were flirting and dancing to the DJs."

Although he appeared to be enjoying himself, he seemingly did so without alcohol.

"I don't think he was drinking," the source says. "He was carrying bottled water that he casually sipped."
Another "mystery brunette". Or perhaps the same one? Why do they keep referring to Gerard's one-night-stands as "mystery brunettes"? Is it because he doesn't even remember their names? Because they all look alike? Or because this is actually the same mystery brunette? It's just a theory I have – I have nothing to back that up. Anyway, E! had a similar report too – Gerard was at Agency, he was "seen cozying up to a mystery brunette… Butler and his mystery gal were flirting while enjoying the DJ's music and hanging out with his groups of friends. Butler wasn't drinking, but rather sipping on water." E! News also says that they didn't leave together… which is fine. Gerry tries not to leave nightclubs with his pieces. I'm guessing they made a plan to met up later at his place. Either that or he banged this girl in the bathroom of the nightclub. Right?
I guess the important thing is that Gerry wasn't wasted, and we're supposed to believe that he just falls in love really easily and everything is fine and of course he's never banged a chick in a Porta-Potty. OF COURSE NOT.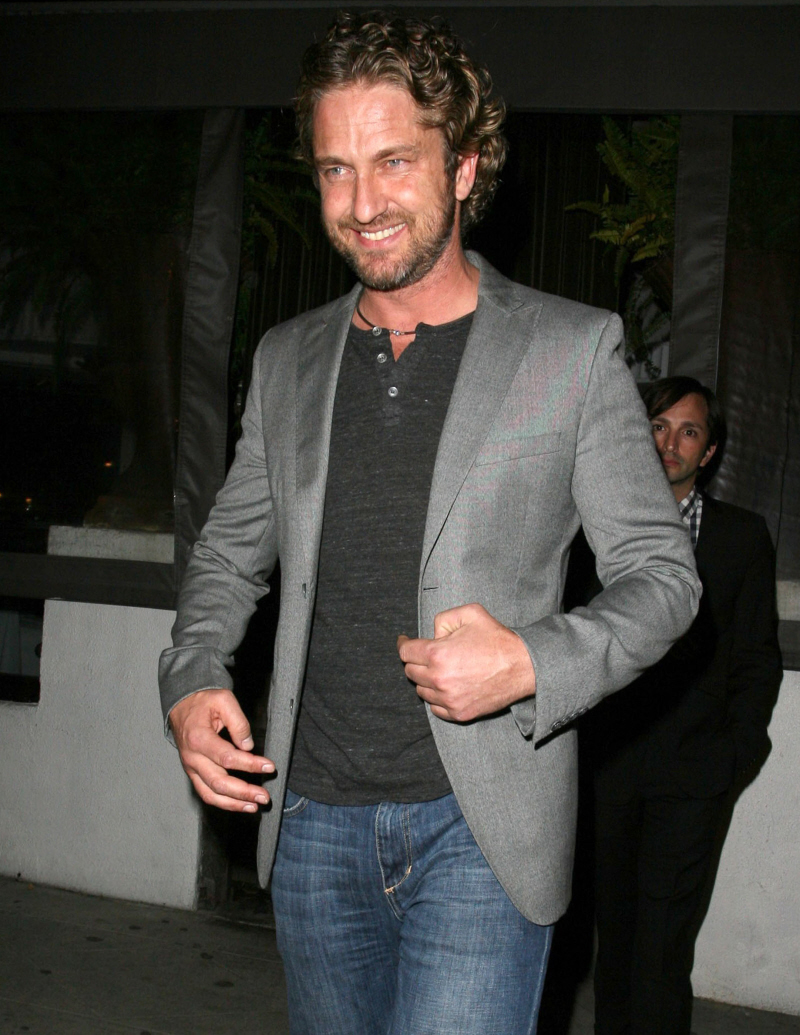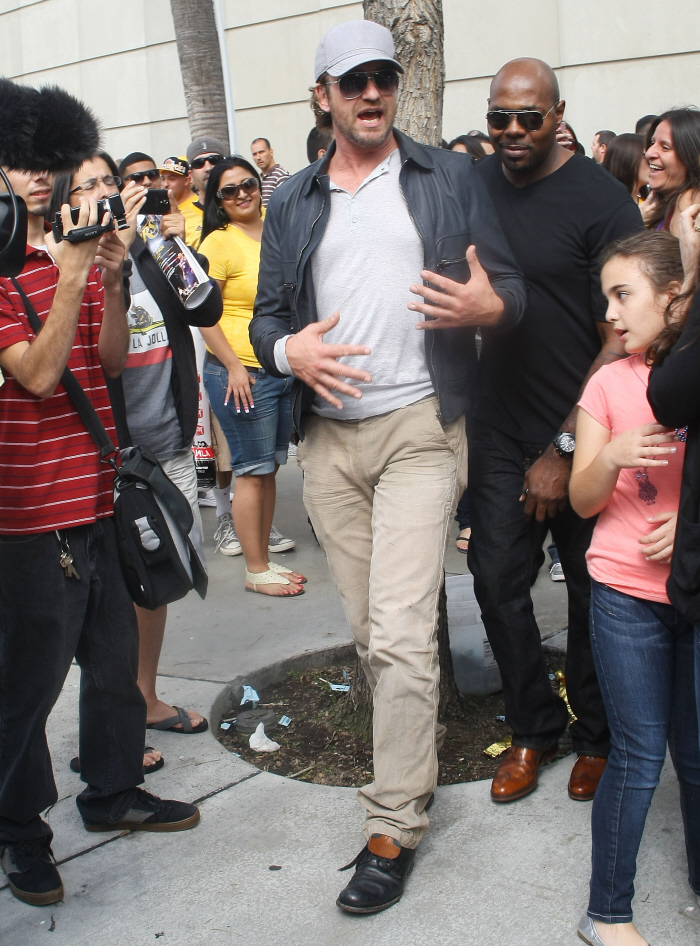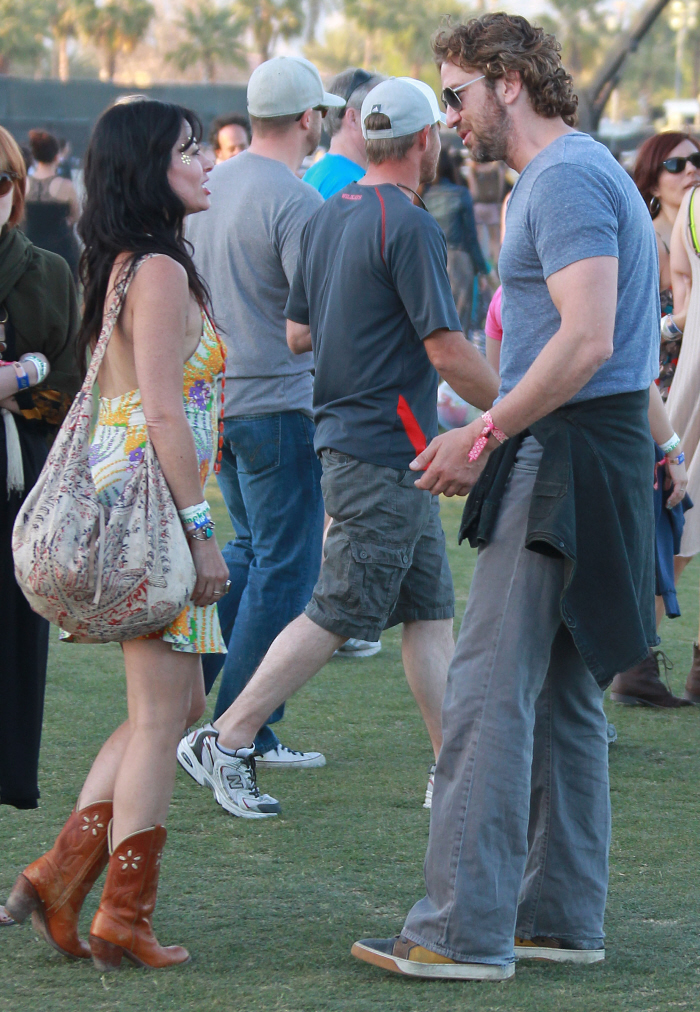 Photos courtesy of WENN, Fame/Flynet.