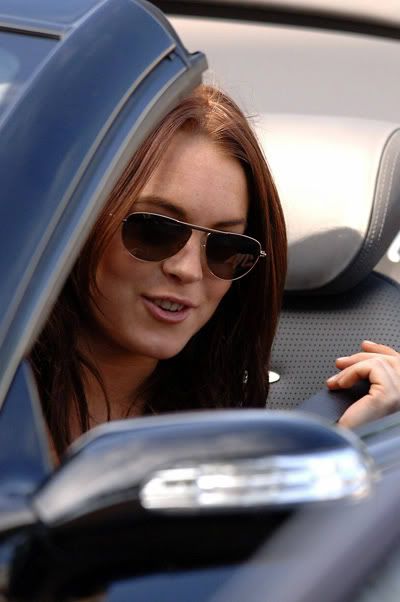 For Lindsay Lohan's sake, we hope she's talking on the phone through a headset hidden under her hair and not just making adoring faces at herself in her car's sideview mirror. (If she's checking herself out while on the phone, that's somewhat more acceptable since her lips are moving because she's talking, not from making kissy faces.)
TV viewers don't love Lohan as much as she loves herself; her last hosting appearance on Saturday Night Live scored a lower Nielsen rating than Jack Black or Steve Martin's recent hosting gigs. Saturday Night Live is just a show whose time is over, though, and the poor ratings may have more to do with the show's terrible writing and bad jokes.
There's a "friend of a friend" type rumor that Lohan was seen shooting smack between her toes at some party. It lists the source a "gawker," but the article is not on gawker's website. It seems made up entirely to us.
Here is Lohan looking in her car mirror and walking in Beverly Hills.