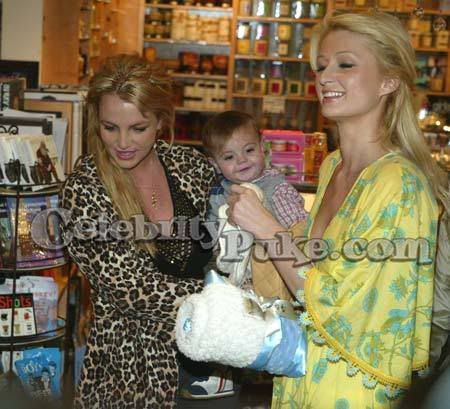 Britney Spears has pretty much squandered all the goodwill points she gained for surprising K-Fed with divorce papers by hanging out with Paris Hilton constantly. In fact she doesn't seem to have gone home to her multimillion dollar mansion in several days. She was spotted out in the same T-Shirt and shoes for a few days in a row, and was even seen buying new toys for her tots, with paparazzi agency x17 reporting that she is staying at a friends house and doesn't want to return to her Malibu mansion with its lingering memories and weed stench of FedEx.
X17 notes that Britney was seen looking friendly with a new guy, who turned out to be an agent at the William Morris agency. He was not too recognizable, having gained a few lbs since he was last photographed with her. He seems to have reunited with Britney after a party at Paris' house, and was seen out with her stocking up on children's items and getting takeout lunch.
As for where Britney's children are, little Jayden James is still a faceless mystery but Britney doesn't seem to be foisting them off on the nanny full time. She told one of x17′s paparazzo that she had to get back to her babies. She was also seen out shopping with 14 month-old Sean Preston and Paris Hilton.
There is only one other 20-something psuedo-celebrity that could drag Britney down more than Paris and that's Lindsay Lohan. Arizona Cardinals quarterback Matt Leinart dropped Paris at his teammate's urging, and someone should tell Britney that hanging out with Paris could hurt her career as much as K-Fed did. I guess self-sabotaging habits die hard.
Case in point: Britney's vag slip. (I would publish it here but x17 sent me a cease and desist a while ago.) She's learning a lot from Paris lately, or maybe she just needs clean underwear and would rather go commando.
Pictures courtesy of Celebrity Puke and Splash News Online. All used with permission.
More pictures of Britney, Paris and Sean Preston are after the jump.