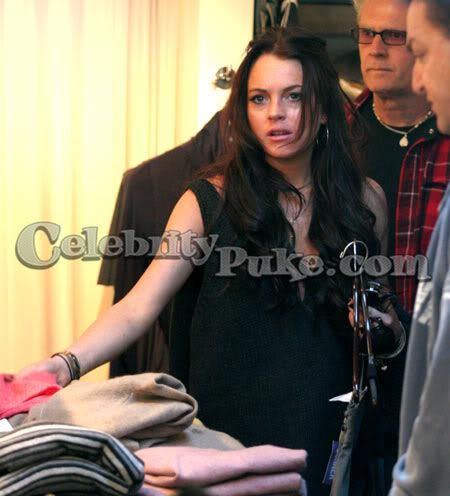 Lindsay Lohan is looking rough and a little bloated lately. I'm not saying she's fat by any means, she just seems like she's been neglecting her health and it shows on her face and frame. She's got that worn out look that comes with constant partying.
There have been a lot of stories about Lindsay this past week, and I just haven't covered them because she's a train wreck and seems to be going downhill fast.
Last night Lindsay told paparazzi agency X17 that Paris Hilton hit her arm. They have a video of her showing a faint bruise on her inner arm and saying the Paris was at a party at Lindsay's friend's house and that "she hit me with a drink and poured it all over me, and it hurts and it's not OK."
She also said "I'm sorry for everyone that thinks I'm crazy. I'm not, I'm just trying to act."
Lindsay, you're protesting too much. Let's review the reasons why people think she's crazy this week. We're not including the fact that Lindsay flashes her kitty to the paps all the time, and is probably pissed that Britney is now using her tried and true strategy to greater effect.
Britney and Paris might be vag-slipping weave-wearing trash sisters, but Lohan is of another breed entirely. She needs to call Ben Affleck and figure out how to lay low and reinvent herself while finding joy in the simpler things in life. There's a rumor that she's dying to play Stevie Nicks in an upcoming biopic, and considering that Nicks is a singer who admitted to a debilitating cocaine habit, it seems like a role Lohan would excel in. If she wants to get any other acting gigs, she needs to move out of Hollywood and go to rehab and therapy.
Pictures from Splash News Online and Celebrity Puke. Used with permission. Celebrity Puke wrote the jowls thing on Lindsay's picture.