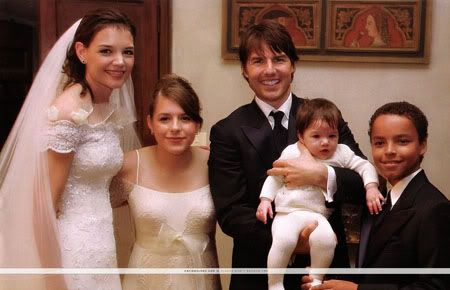 Janet Charlton reports that newly-tub Tom Cruise needed a he-girdle to keep his tummy sucked in during his wedding to Katie Holmes. I don't know if I believe this because it seems like something that could be easily made up, but it also sounds entirely plausible considering that he's gained some weight recently.
Here's a juicy little secret that Tom Cruise might kill us for telling you. Oh well, here we go- Tom was wearing a GIRDLE under his tuxedo at his wedding! In case you haven't noticed, Tom packed on around twenty pounds in the past few months before the big event. He says he's a "nervous eater." And he's had a lot to be nervous about – his exit from Paramount and his high octane marriage. When Tom arrived in Rome, we hear that Giorgio Armani was apoplectic because the wedding tux was too small. Armani personally tended to all the fittings while Tom's pants were let out and various details were adjusted. Tom wanted to look svelte so he didn't protest when Giorgio suggested girdling Tom's midsection so the jacket would fall properly. The corset was sewn into Tom's undergarment. Everyone was sworn to secrecy, but those Armani employees love to gossip, and are we grateful for THAT!
Tom saying that he's a "nervous eater" makes him seem rather feminine, and coupled with that this girdle tale is priceless.
He also probably wore some kind of lifts to his wedding since he appeared to be the same height as Katie, making the girdle story seem more likely.
Tom and Katie are now on their honeymoon in the Maldives on a friend's yacht, and have brought little Suri and the head of Scientology along.
Pictures from KatieHolmes.com