Visit msnbc.com for breaking news, world news, and news about the economy
It's been almost three years since Farrah Fawcett died, but that time frame seems off to me somehow, like she passed either just a year ago or over five years ago. I'm not sure how to explain it. Well since Farrah has passed her family has been truly struggling, especially her son, Redmond, who has been in and out of jail and rehab. Redmond's dad Ryan was a piss poor parent to to say the least. Ryan and Redmond, now 27, were arrested for drug possession, including meth, in 2008 before Farrah passed. Redmond had to get a pass from jail to attend his mother's funeral, and he went in shackles and a jumpsuit. Ryan also had a domestic abuse incident in 2007 against his older son, Redmond's half brother Griffin. Griffin later claimed that Ryan first introduced him to cocaine when he was just 11 years old, and that Ryan regularly did drugs with Redmond. He also said that Ryan often cheated on Farrah and that he was so sweet to her later in life because he was hoping to be put in her will. (He wasn't, Farrah's estate went to charity and to Redmond.)
Ryan has a new memoir out chronicling his life with Farrah. He's also suffering from prostate cancer, he was just diagnosed, and leukemia, which he's had for years. Ryan was on The Today Show this morning, having canceled yesterday's interview after a panic attack. He said it was his first panic attack. During the interview he seemed very pitiful and kind of lost. You could tell he was having trouble explaining himself and that he was unprepared to answer questions about the book. He hedged and changed the subject quite a few times. Here's more on what he said about his kids, thanks to Radar:
In a sad segment on Tuesday's Today Show, one-time Hollywood hunk Ryan O'Neal came off as a broken man, admitting his failure as a parents and his profound loneliness without longtime love Farrah Fawcett, as he himself now battles cancer.

Ryan — who abruptly left the show's New York set for a scheduled chat Monday — said he'd "just broke out into a terrible sweat.

"You wouldn't have wanted me," Ryan said, looking tired with a bandage on his nose after a recent procedure.

Asked if he'd indeed had a panic attack, O'Neal said he assumed he did, though he "never had one before."

The subject of his kids came up and it made for extremely uncomfortable TV: The father-of-four — Patrick, Tatum, Griffin and Redmond — was honest in assessing his accountability in the the addiction issues of the latter three, and past jail histories of the latter two.

"Were you a bad parent?" Lauer asked the Love Story star, who said contritely, "Looks like it, doesn't it? Sure looks like it … I suppose I was."

Ryan said he "wasn't trained" to be a father, and can't continue to be held accountable with his children all adults.

"Griffin is 45, Tatum is 49, who's the other one? Redmond is 27. They have to take hold of their own existences."

He joked, "Even with those kids … I never suffered a panic attack."
[From Radar]
Radar didn't recap the things that Ryan said about Farrah. That was truly hard to watch. Lauer questioned Ryan about allegations he made about Farrah in the book, that she was obsessed with her appearance as she got older, and that she suffered from mood swings. He hedged and skirted around the questions, and I found it particularly sad the way he addressed the question about her moods. That's at about 4:20 in the video above:
On if Farrah sought treatment for mood swings
"No. I felt that she was uncomfortable with me and that maybe I had grown boring to her. It was tough."
See, he didn't really answer the question at all and turned it around to where he was some kind of victim. At about 5:10 Ryan looked confused and said that "she loved me, she said so. She said so. I couldn't write a book if she hadn't." It seemed kind of heartbreaking. He just looked down the whole time and barely looked at Matt Lauer in the eye.
I got the impression that O'Neal used a ghostwriter for the most of the book and didn't realize everything that was in it. He came across as ashamed about his life and not sure how to explain things. I also got the impression that he felt sorry for himself, and that his grief over Farrah was something of a put on. I'm not saying he didn't love her deeply, just that it seemed like he was trying to get us to feel for him. Maybe he's just very sick and confused, though.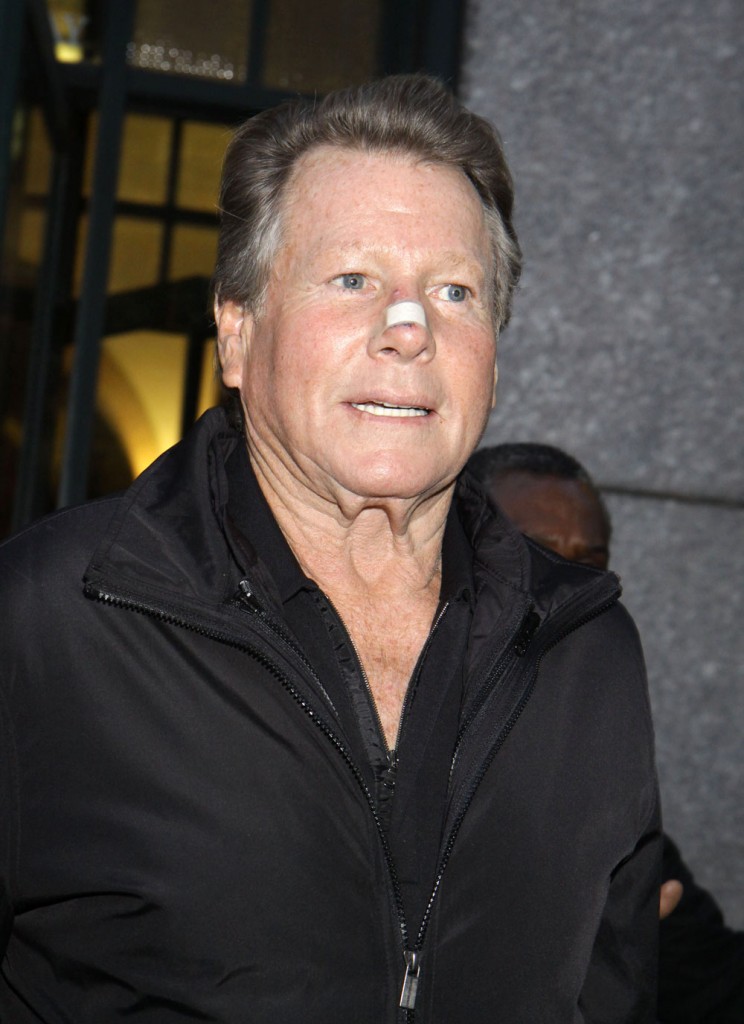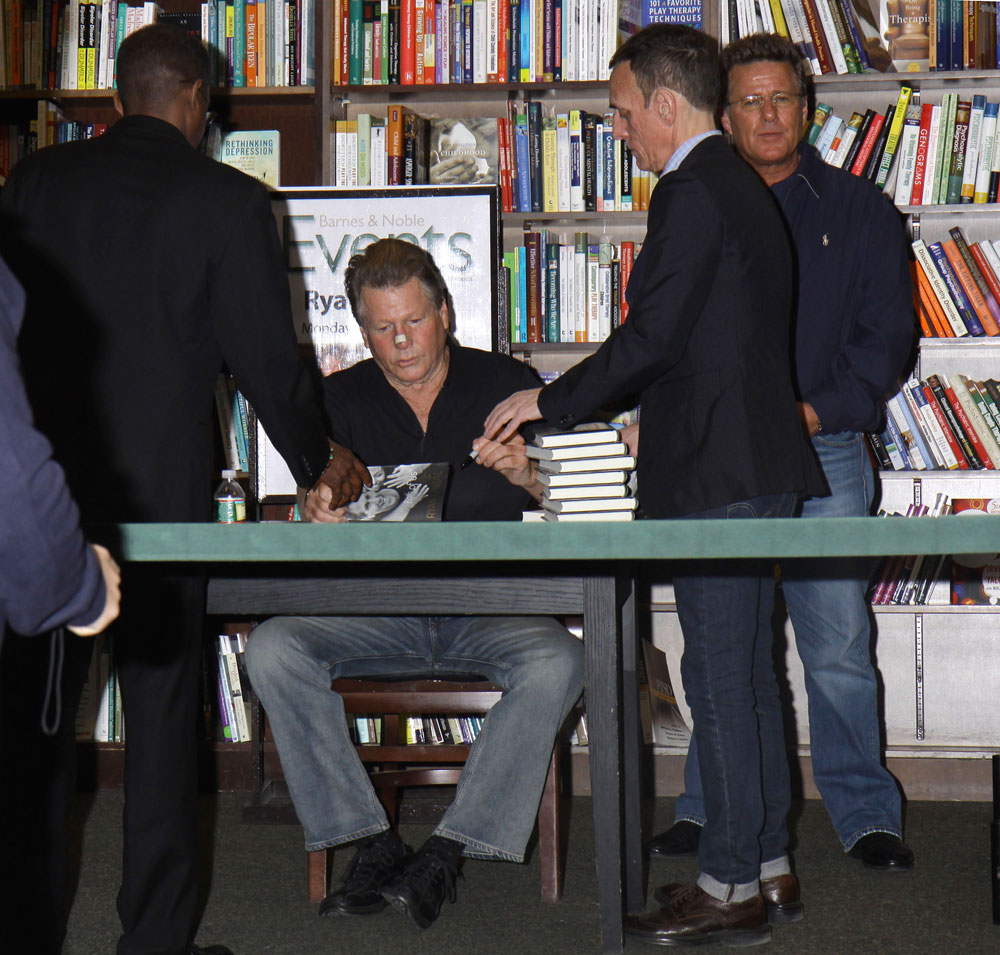 Photos are from yesterday in NY. Credit: Diane Cohen/FameFlynet Pictures