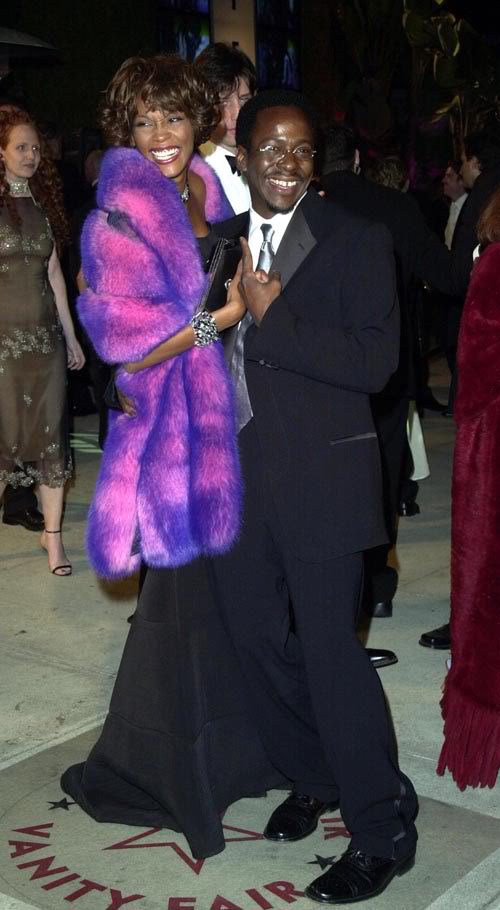 In 2001
Bobby Brown is about to have a two-part interview air with Matt Lauer on the Today Show tomorrow and Thursday. The Huffington Post has a preview for us, and of course they primarily talk about Brown's late ex wife, Whitney Houston. The way Brown's statement is worded, it sounds like he's sort-of suggesting that it was Whitney who turned him on to drugs, not the other way around. Remember when Whitney went on Oprah and said that Bobby was "her drug"? She said in 2009 that "He was my drug. I didn't do anything without him. I wasn't getting high by myself. It was me and him together. We were partners."
A lot of people blamed Bobby for corrupting Whitney somehow and turning her into an addict. She had such a sweet songstress image in the 80s when she hit the scene, and that all went downhill when she married Bobby. Of course Bobby wasn't around and had been out of the picture for years when she ultimately died from drugs. He's now trying to set the record straight, and claims that he's not the one who got Whitney hooked. Here's more, thanks to the Huffington Post:
Since the death of his ex-wife, Whitney Houston, Bobby Brown has been targeted by those who believe his "negative influence" on the legendary singer led to her tragic end. Now, Brown is speaking out for the first time since Houston's death, telling NBC's "Today" show anchor Matt Lauer, "I'm not the reason she's gone."

Brown had dinner with Houston and the ex-couple's daughter, Bobbi Kristina, a week before the singer's death and remembers a glowing Whitney who "looked really well" and exhibited a positive demeanor that left Brown even more shocked upon news of her death.

"I was hurt. I was hurt … Because, you know, me being off of narcotics for the last seven years — I felt that she was, you know, I didn't know she was struggling with it still. But at the same time, you know– listen, it's a hard fight," Brown told Lauer. "It's a hard fight to, you know, maintain sobriety that way."

But Brown doesn't blame Houston's longtime battle with drug use for her death.

"From what I feel and you know, how I saw her, the last time I saw her, it had to be that particular day. You know, it had to be that one, because that's all it takes … One hit, you know, and you know, it could definitely take your life away from you. And, unfortunately, that was it."

As for those who believe that Brown's introduction into Houston's life is what sparked her downward spiral, Brown says those negative comments coming from Houston's family, friends and fans have no grounds.

"I didn't get high before I met Whitney … I smoked weed, I drank the beer, but no, I wasn't the one that got Whitney on drugs at all … I'm not the reason she's gone." Brown says.

Though Brown tells Lauer that he has been off drugs for seven years, the singer seems to still be battling alcohol abuse. Brown pled no contest last Wednesday to his March DUI arrest. Brown will reportedly undergo a 90-day alcohol education course as well as three years of informal probation as part of his sentence.
[From Huffington Post]
At least Bobby isn't doing the hard stuff anymore, although drinking and driving can definitely kill you. I guess I believe him that he didn't introduce Whitney to drugs. Even if he did, she's responsible for her own drug use and she chose to stay with him for a long time.
Have you guys heard this other crazy story about Whitney? A former bodyguard for Micheal Jackson (who also claims to be Blanket's dad, and he looks just like the kid. There's a video here with more on that if you're interested) says that Whitney and Michael Jackson had a fling in the early 90s, and that Jackson was head over heels for Whitney and never got over her. Really, that's what this guy claims. Here are his quotes, via Wonderwall:
, "This affair will end all the myths that Michael was some kind of child molester. He was a straight man. One of the many stories that has never been told about Michael is that he had an ultra-secret affair with Whitney Houston that he never got over. He was furious when he heard she had also slept with (brother) Jermaine, but this didn't stop him holding a candle for her his whole life."

Fiddes tells the publication Jackson and Houston met in 1991, when both were at the height of their careers.

He says, "They instantly connected as kindred spirits because they understood each other's massive fame. Whitney practically moved in to Michael's ranch and they had a fling like any other young couple. But Michael said later he had always hoped the relationship had gone further, and I know he dreamed of marrying her."

Fiddes claims the romance lasted just two weeks and came a year before Houston wed Bobby Brown.
[From Wonderwall]
I don't know, I'm not really buying it. I see Jackson as having been either asexual or not interesting in adult relationships, and I'll leave it at that.
It will be interesting to see Bobby's interview tomorrow. I bet he's still in a lot of pain. There were stories that he behaved badly at Whitney's funeral, but he claims he was treated poorly by security.
In 2004 with Bobbi Kristina: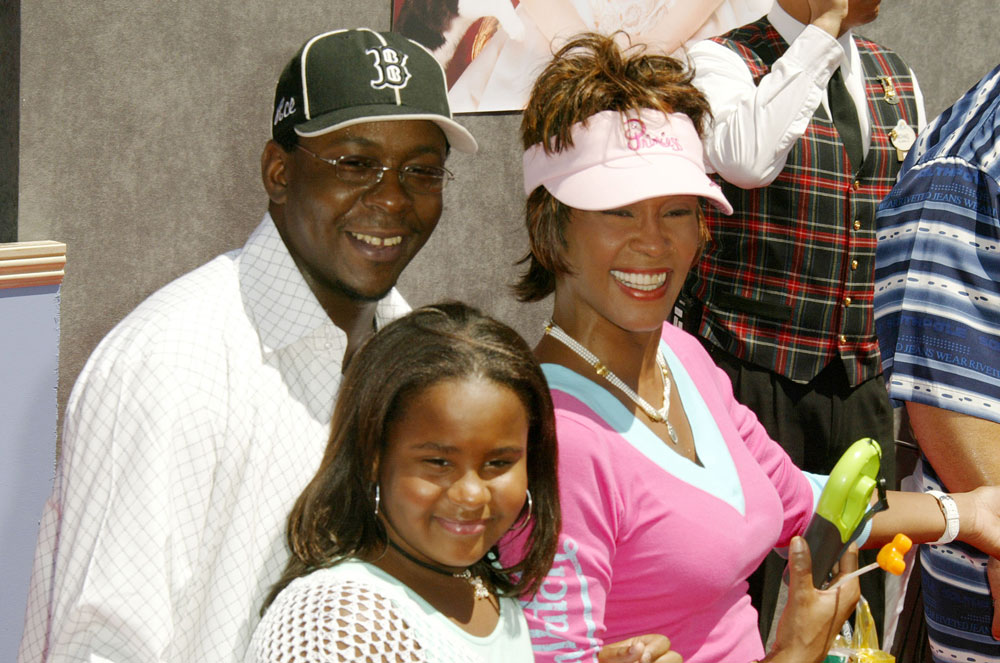 In 2000: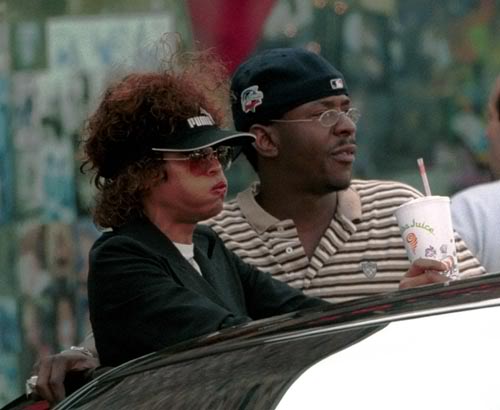 Photo credit: Bauer Griffin and Fame