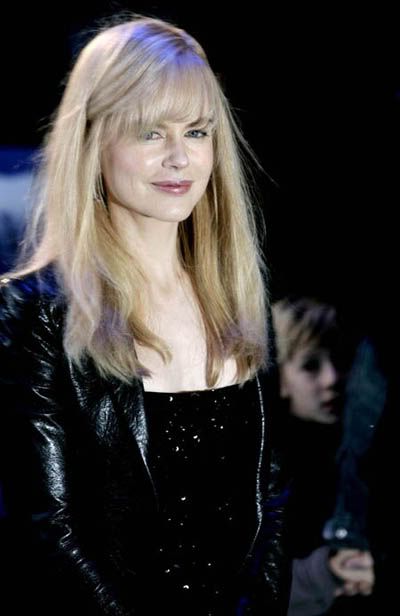 British rag The Sun reports some vague story that Nicole Kidman looked upset at the Happy Feet premiere in London when a journalist asked an out-of-line question about her husband Keith Urban's stint in rehab. They say she got visibly bothered by it, and suggest that she didn't attend the after party as a result:
Nicole, 39 — who walked up an ice-blue carpet for yesterday's premiere of animated penguin tale Happy Feet — reacted after she was asked about husband Keith Urban's rehab for a booze relapse.

The actress looked upset as she spoke to other journalists, onlookers said. She later failed to attend the film's after-party.

Nicole, who wed Keith in June, provides one of the voices for Happy Feet, the story of a dancing penguin which beat the latest James Bond film at the US box office.
It could be true that she got bothered by the question, but who knows why she didn't go to the party afterwards.
Meanwhile The Mirror claims to have an exclusive with the news that Nicole is pregnant, but they seem to just be rehashing an old rumor. She was said to have told Keith when she visited him at rehab that she's preggers, but I doubt it.
Lainey at Lainey's Gossip thinks she's some kind of manipulative super-woman and that she hires her own paparazzi, but it seems like her opinion is extreme. I think Nicole just likes to have control of her public image but that she still makes shitty choices in life and is trying to cope with them. As for not seeing her children much, which Lainey claims is Nicole's choice, it seems like Tom commandeers them for the c0s and his own purposes, and she might not have control of that.
Nicole is just dealing with her all-too-public life by putting on a happy botoxed face, and one can't really blame her.
Pictures from Hollywood's Best and Lainey's Gossip.