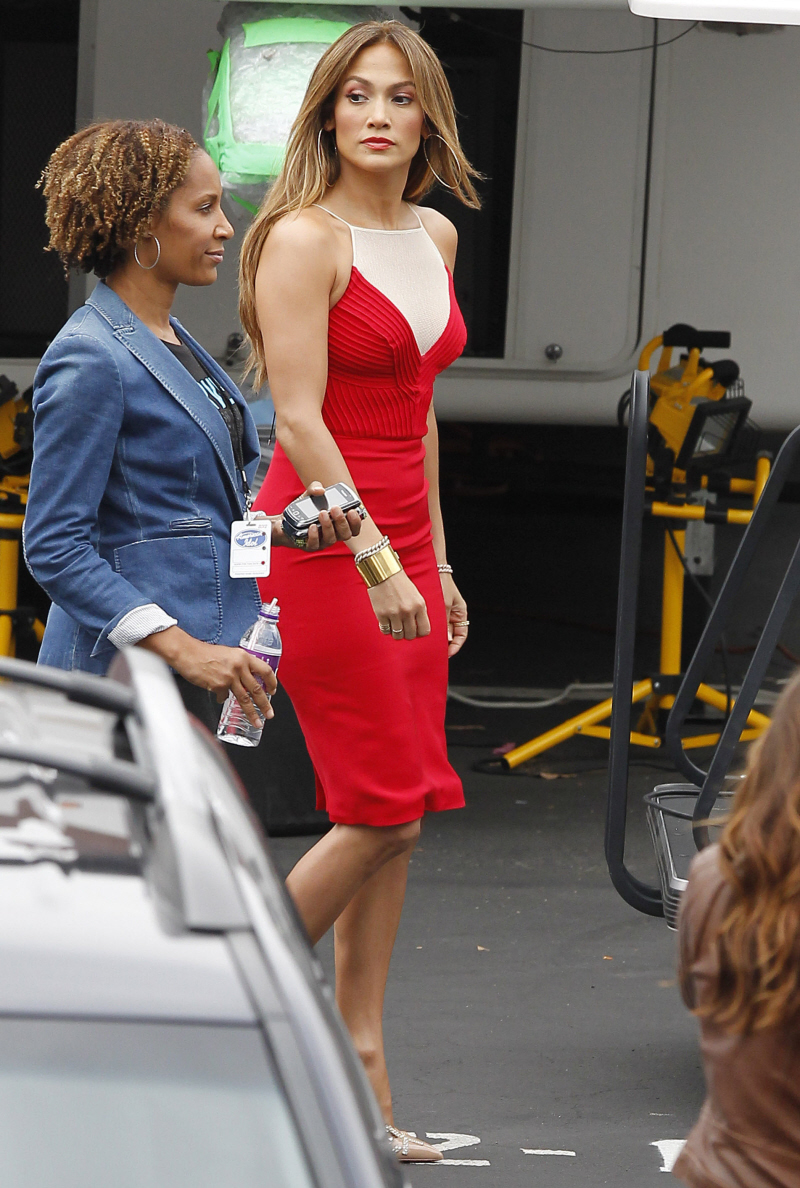 The photos of Jennifer Lopez in red are new – she was arriving for filming of American Idol. I actually loved the dress until I realized that it wasn't just a sexy little red thing – there's weird, cheap-looking white netting on the bust, up to the neck. That's horrible. So… I no longer care for the dress.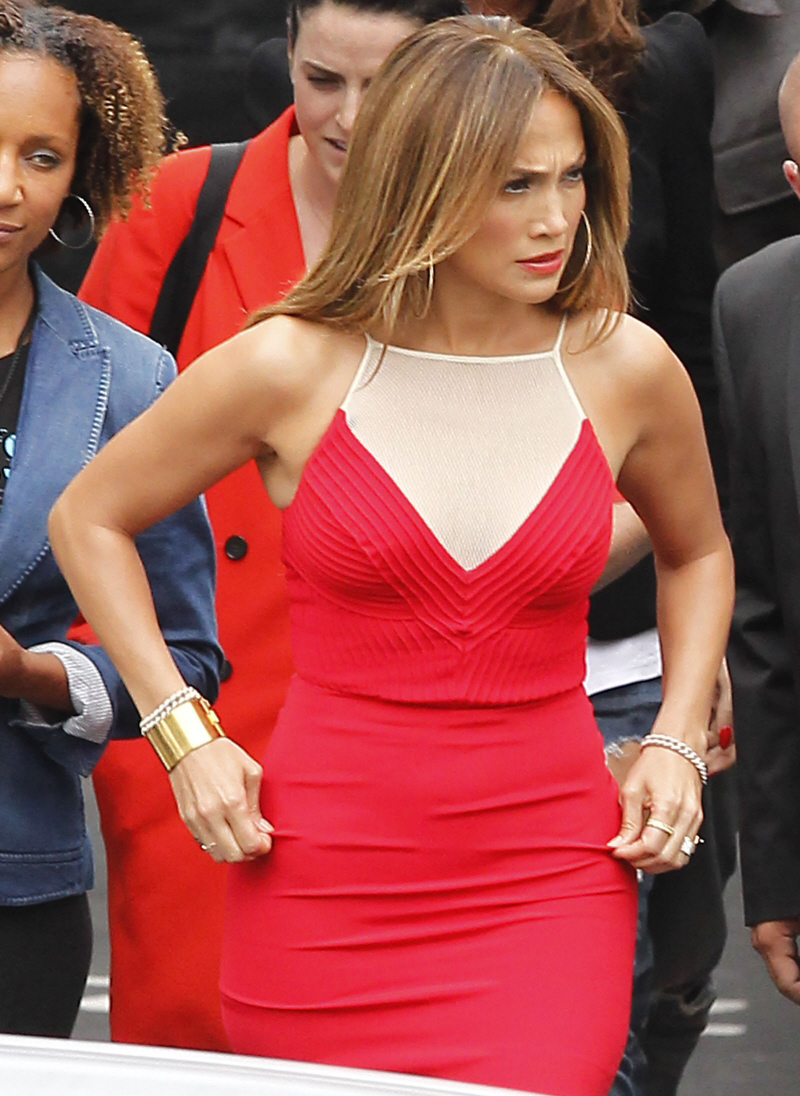 In other J.Lo news, you know how she's going on a summer tour? She (and her glitter snake) announced it a few days ago, and at the time, I totally predicted that her boyfriend Casper Smart would be named "the lead back-up dancer" for the tour and that Jennifer and Casper would dance on stage together every night. Well, I was wrong. But not by much.
Jennifer Lopez has promoted her boyfriend/backup dancer Beau "Casper" Smart. Lopez announced Monday at LA's Boulevard3 details of her tour with Enrique Iglesias, and said she'd work with choreographers including Smart and veteran tour master Jamie King. Smart was then seen outside near the Atlantico Rum bar telling reporters he was the "lead choreographer" and "in charge of all choreography." Lopez's rep told us there are four choreographers including Smart.
[From Page Six]
LMAO at "Lopez's rep told us there are four choreographers including Smart." I'm getting the feeling that the people around Jennifer are really tired of her antics. Like, I imagine her rep sighed and said, "No. Casper can say whatever he wants but Jennifer actually hired professional choreographers for her tour, she didn't just promote the facially-challenged boy-toy to be the lead choreographer for her tour. Give me a break. She just asks us to get jobs for these little boys, but I give up." But you've got to wonder what Jennifer tells Casper when they're alone.
Meanwhile, Jennifer confirmed that she's bringing her (other) kids on tour with her too.
School may still be in session, but the summer is looking particularly bright for Max David and Emme Maribel; Mom Jennifer Lopez is gearing up for her tour — and she's bringing the twins along for the ride!

"I don't know how that's all going to work. This is my first time. I'm going to see," the songstress, 42, told reporters during her Mega 2012 Tour press conference in Los Angeles on Monday.

"They'll get on the bus with me and it'll be a learning experience for both of us."
And while Lopez's little groupies may love life on the road, she explains it's off to grandmother's house the 4-year-olds will go if they need a breather.

"Luckily, there's always Grandma's house if they get really tired and stir-crazy," the American Idol judge shares. "They can go with their grandma for a few days and then come back."

Admitting she plans to "feel that out as I go," Lopez's love for her children leaves one thing clear: "I can't be away from them for too long, so they'll be with me most of the time," she adds.
[From People]
Maybe Jennifer will end up promoting Casper to "lead babysitter" and put him "in charge of all of the babysitting." RIGHT? God, Jennifer is such a mess. Not really, though – her career is probably in the best place it's been in years. I'm just distracted by her messy love life and her insistence on making this Casper Smart thing happen. I find him more offensive than one of George Clooney's girls.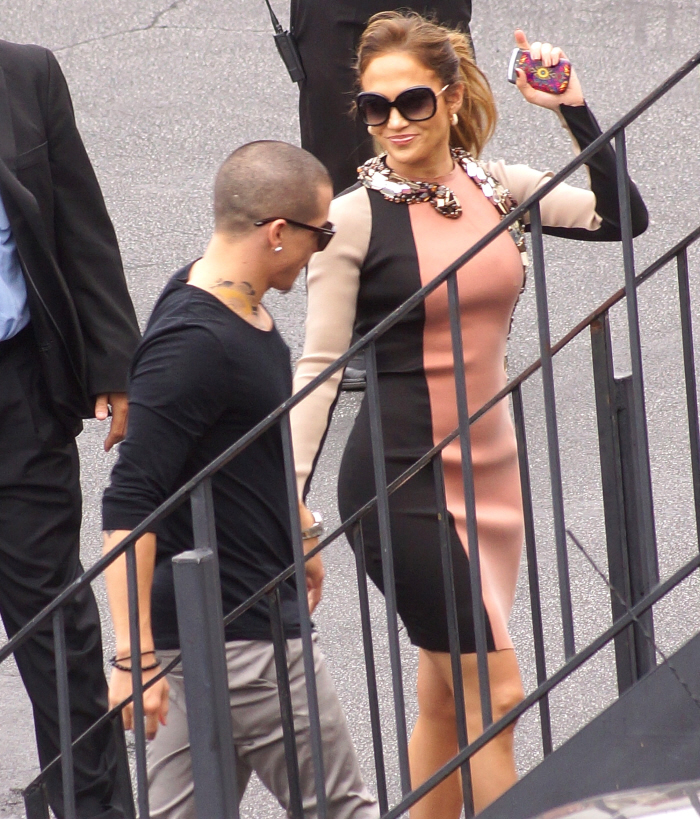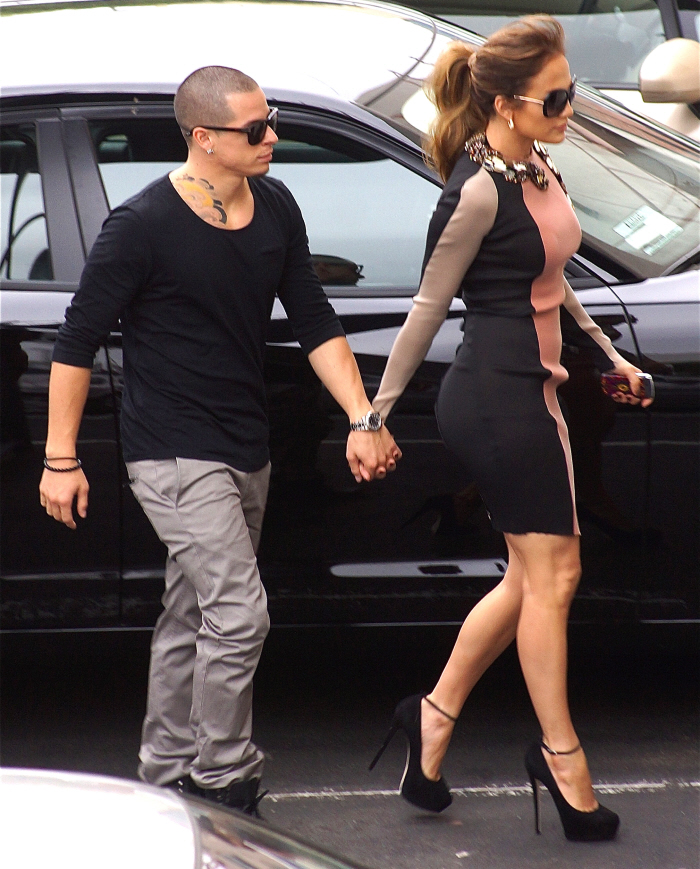 Photos courtesy of Fame/Flynet and WENN.