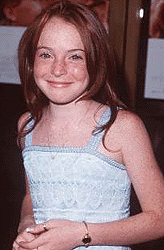 Apparently a Shanghai company devised a product for the removal of pesky freckles that really, truly to God works! Their claim:
So good, it could remove spots from fish!
Also apparently, it caused death in the fish. Unfortunately, I haven't heard PETA make an uproar about it yet probably because they're too busy harassing humans for not being cruel to animals.
People who bought the product complained of "rashes, skin inflammation, blistering, colored spots and other adverse reactions." Sounds lovely.
Magic Freckle Gel was also endorsed by Lindsay Lohan. Haha! Okay, not really, but damn that'd be funny.
Still on sale but I couldn't find it anywhere (probably because I didn't look except under the bed and in my backpack).