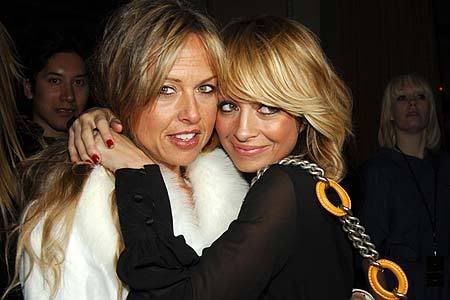 Rachel Zoe issued a response to the news that Nicole Richie fired her as her stylist, basically saying that they're no longer friends. She kind of couched it in a lot of flowery PR-speak, so it's hard to tell, but there are some mild disses in there:
Rachel issued the following statement to TMZ: "There has been a lot of speculation as to the cause of my parting with client Nicole Richie. The tabloid reports have no merit. After trying to be a good friend to Nicole, we made a mutual decision to sever our working relationship. Changes are inevitable in any business relationship. I am very fortunate to have such a wonderful life, I have been married for 10 years and have been a stylist for more than 15 years and am lucky to work with such a diverse group of women of all shapes and sizes that inspire me everyday. I have nothing but love for Nicole and wish her only health and happiness."
Nicole wasn't having that, and she posted the following "blind item" on her myspace, basically saying that Zoe has an eating disorder and has tried to make it seem as if Nicole is the one with the problem, not her:
BLIND ITEM:
What 35 year old raisin face whispers her order of 3 peices of asparagus for dinner at Chateau everynight, and hides her deathly disorder by pointing the finger at me, and used her last paycheck I wrote her to pay for a publisist instead of a nutritionist?
HINT: Her nickname is lettucecup…
[via ONTD]
I really like the way she wrote that "whispers her order" and "deathly disorder." She spelled publicist wrong, though. She would make a decent blogger.
Rumor had it that Zoe was dealing drugs to her "girls" and that she encourages them to be stick-thin so that they'll fit into the tiny samples she gets from designers.
Whatever transpired, Nicole wants everyone to know that she's over it and that Zoe is the one with an eating disorder, not her. Get to a size six, Nicole, and maybe we'll believe you.
Nicole is looking good, but maybe she does need some fashion advice, because this Beetlejuice outfit is just not doing it. At least she's keeping it under wraps though, which is more than I can say for Paris' other "friends."
Pictures from HauteGossip.