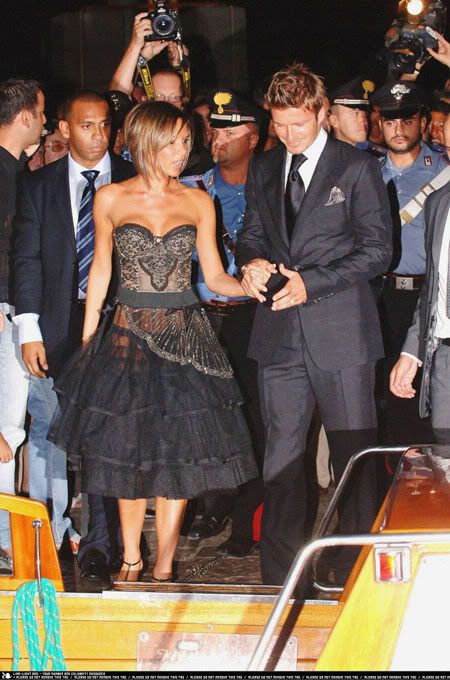 A group of Japanese film-makers were in for a rude awakening when they thought they could breach security at the Beckham's Spanish estate. They were sneaking around trying to make a documentary about homes of the rich and famous when an eagle-eyed security guard confronted them with a gun. Victoria and her one year old son, Cruz, were home, but the couple's other two children were at school and David was off training. It turned into this huge drama, and the suspicious filmmakers were carted off to the police station:

A BODYGUARD to the Beckhams pulled a GUN on three intruders in a kidnap scare at the couple's Spanish home, the News of the World can reveal.

The armed minder dramatically confronted them seconds after they slipped through a metal gate and headed towards the £5million mansion where Posh, 32, and one-year-old son Cruz were inside.

The burly guard—who spotted the three on CCTV at a security post —sprinted across the grounds into their path, pointed his pistol at them and screamed: "Stop! Stop! Don't move! I have a gun."

The shocked men put up their hands and blurted out that they were Japanese journalists filming a documentary about houses of the rich and famous.

But the guard kept his weapon pointed at them, shouting: "Give me the camera! Give me the camera!" He only lowered the pistol when one of the intruders carrying a digital camcorder gingerly handed it over.

Six armed cops in marked police cars then screeched up to the house after a call from the Beckhams' security team and took the men away.

Former England captain Becks, 31, was at Real Madrid's training ground when the 11am drama unfolded on Tuesday. Elder sons Brooklyn, seven, and Romeo, four, were at school.

The men were only released when police were convinced their story was true. A source close to the couple said: "The guard had no idea if these men were kidnappers, robbers or crazed stalkers planning to attack Victoria.
Supposedly there was a 2002 plot to kidnap Victoria so the bodyguard was not overreating. Well, at least no one got hurt.