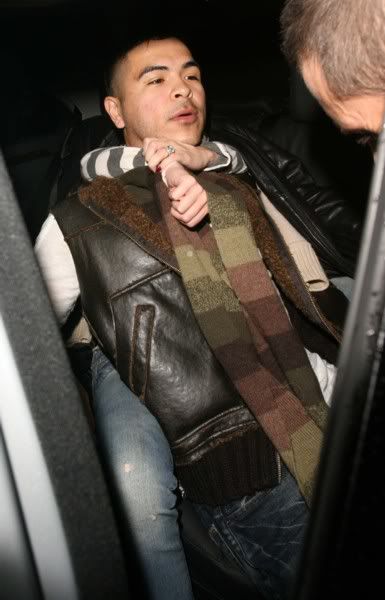 Christina Aguilera has been photographed out drunk off her ass several times, but at least she's usually with her husband and keeps it in her pants/mini skirt. She also doesn't have any kids at home to worry about, so more power to her.
She was carried out of a London club by one of her staff at 5:00 AM after having a few too many glasses of champagne with the Black Eyed Peas:
TINY Christina Aguilera is clearly a bit of a lightweight when it comes to drinking.

The Dirrty singer looked far from Beautiful as she was carried out of London's Kabaret's Prophecy club on a pal's shoulders after a private party.

And amazingly the petite star had only sipped a few glasses of Veuve Clicquot and one vodka shot.

Our source explains: "Not only is she very little but she was quite tired because she's in the middle of her tour.

"Her party still ran up a pretty sizeable £2,000 bar bill, mind you."

Sexy Aggy, 25, looked demure in a fitted white jacket when she headed for the Soho club at 1.30am.

She grooved merrily with her dancers and The Black Eyed Peas until 5am when she made her piggyback exit and slumped into a limo.
Here's Christina trying to hide under a jacket after her wild night out. Contrast the pictures below of her hiding her face with Britney's recent drunken pictures letting it all hang out.
She is shown in the header image while out on November 21 in Dublin outside another club. Pictures from Christina-A.net