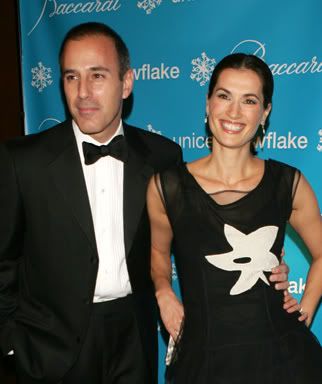 Matt Lauer and his wife, Annette Roque, picked a Dutch name for their son born yesterday, Tjis Thijs
Wouldn't you assume that's pronounced Tuh-Jiss? It's said to be pronounced "tice," similar to "lice." Oh that kid is not going to be made fun of or anything:
So we rolled our eyes at "Apple" and raised our eyebrows at "Suri" and "Shiloh." But now "Thijs"? That, folks, is the newest addition to the Matt Lauer – Annette Roque brood, according to People. The baby (a son) was born yesterday morning, and weighed 7 lbs., 4 oz., and parents and child are doing well. The name is pronounced "Tice" and is a common Dutch name (Roque is Dutch). The baby will join brother Jack and sister Romy in the household, though the child is surely already girding himself for a lifetime of frustrating and humiliating trips to the DMV and the dentist's office.
Maybe he'll be spared some humiliation with a nickname. It must have been the mother's idea since she's Dutch, and I'm sorry if I'm making fun of a name that's super-common in the Netherlands. It does sound like a nice name, but every substitute teacher is going to be struggling with the pronunciation. It doesn't seem suited to an American kid, but to each his own.
Lauer and his wife have two other children with rather common names in comparison: a son, Jack Matthew, 5, and a daughter, Romy, 3. Matt and Roque were separated last summer but have since reconciled.
Update:
All right you guys, I hear you. I left out the H by mistake, and you're right that I have no knowledge of the Dutch alphabet. Best wishes to the Lauers and little Thijs and apologies to our Dutch readers and anyone else who was offended. It's not as weird a name as Fifi Trixibelle or Apple, that's true.
"John," "JoAnna" "Sarah" and "Sirio" below all have the same IP and are all the same person.