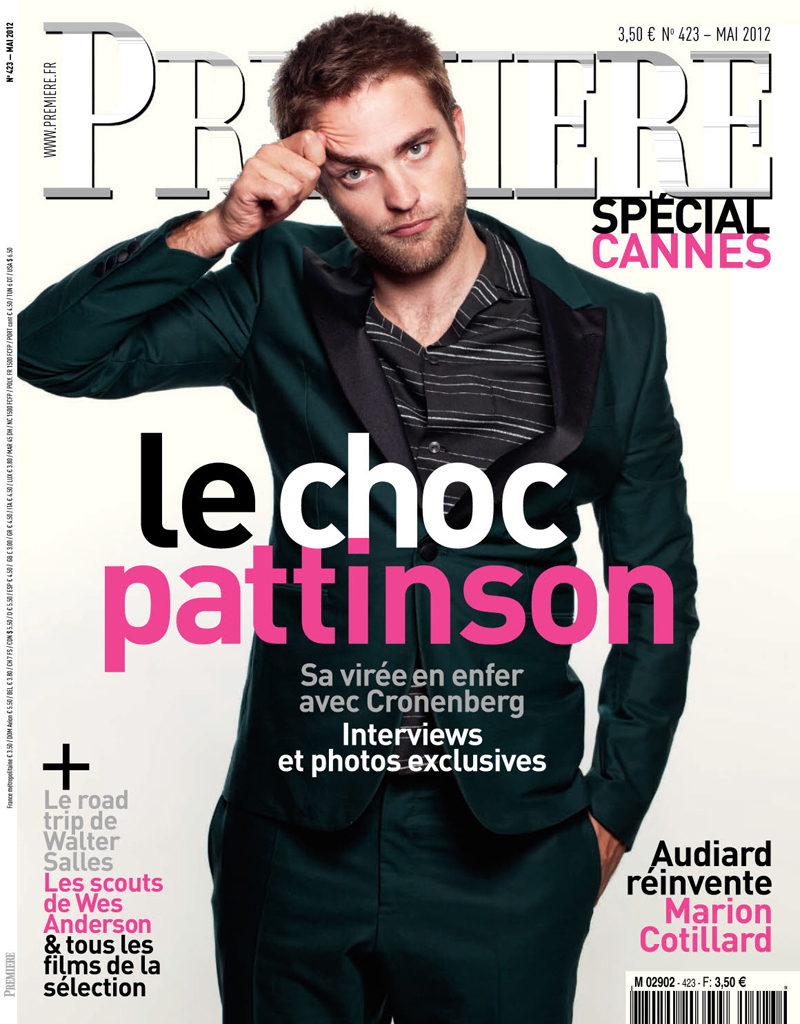 This is a really weird story, but Robert Pattinson has reportedly pulled the ferquing diva card about his nipples during his recent shoot with Premiere magazine. That is, Rob was fine with having a female model grope him while the camera clicked away but allegedly drew the line when the photographer instructed the young lady to start licking his nipples. The shoot in question contains the set of photos that functioned as a homage to the works of David Cronenberg, and Rob was totally fine with the surreal, weird, violent vibe but couldn't handle some random chick's saliva on his nips. Perhaps he could have asked Tom Cruise for some guidance on how to enjoy an implied beej with an air of detachment? Or not.
Anyway, some people are really implying that Rob is a diva over this mess, and it's rather amusing that such a huge deal is being made over nothing. After all, Rob once famously endured a 12-hour Details shoot with assorted naked models and then went onto joke about how he was "allergic to v-gina." So just leave him alone about his nipples, alright? Here's the scoop from Radar Online:
Robert Pattinson is willing to sex things up on camera and get steamy for a photo shoot, but sometimes, things are just a little TOO steamy, even for the adventurous Brit!

The Twilight hunk got down and dirty for a recent photo shoot with French Premiere magazine, but drew the line when it came to naked nipple licking, RadarOnline.com is exclusively reporting.

The bizarre photo shoot was in honor of Pattinson's new movie, Cosmopolis, and lasted a whopping thirteen hours. The shoot got pretty racy, culminating in a doubled up, half naked Pattinson posing in bed with a woman – but what ended up on the cutting floor was even more X-rated!

"Rob was asked to pose bare chested with a sexy blonde model, who happened to be topless as well," a source tells RadarOnline.com. "He did his best Blue Steel for the camera as the girl snaked all over his body, nibbling his earlobes, kissing his face and neck and pressing her bare boobs against him, but you could see he was uncomfortable with it.

"Rob was really torn — because the girl was stunning and he's a bit of a cad — he was definitely having a really good time being half naked with a hot blonde with her boobs out, but then he seemed to get all nervous and started worrying that it was just going too far."

Then came the straw that broke the camel's back!

"Toward the end of the shot the photographer instructed the model to lick Rob's nipples! That was the kiss of death — Rob called cut and went in his dressing room and made a phone call. But, he did come back a few minutes later to finish off the photo session, so everyone thought it was all good."

However, the source says, a few days later the magazine got a call demanding the naked nipple licking photos be pulled from the issue.

Guess some things are just not for public consumption!
[From Radar Online]
It's a photoshoot, sure. It means nothing. But still, I wouldn't even want the hottest dude licking my nipples for all the world to see. Some people would argue that it's different for guys because nipples aren't so taboo, but this chick was actually placing her bodily fluids on them. That probably made Rob feel uncomfortable even if he wasn't the f–cking boyfriend of Kristen Stewart. Also, some guys have really sensitive nipples, and others don't. Maybe Rob is of the former camp, and he didn't want to have photographic evidence of his genuine arousal floating around for all of posterity. If it was a Terry Richardson shoot, maybe he should expect it, but this was for a feature in the fairly well-respected Premiere magazine.
Bottom line — Rob's nipples, Rob's right to be a diva about them.
Photos courtesy of Premiere