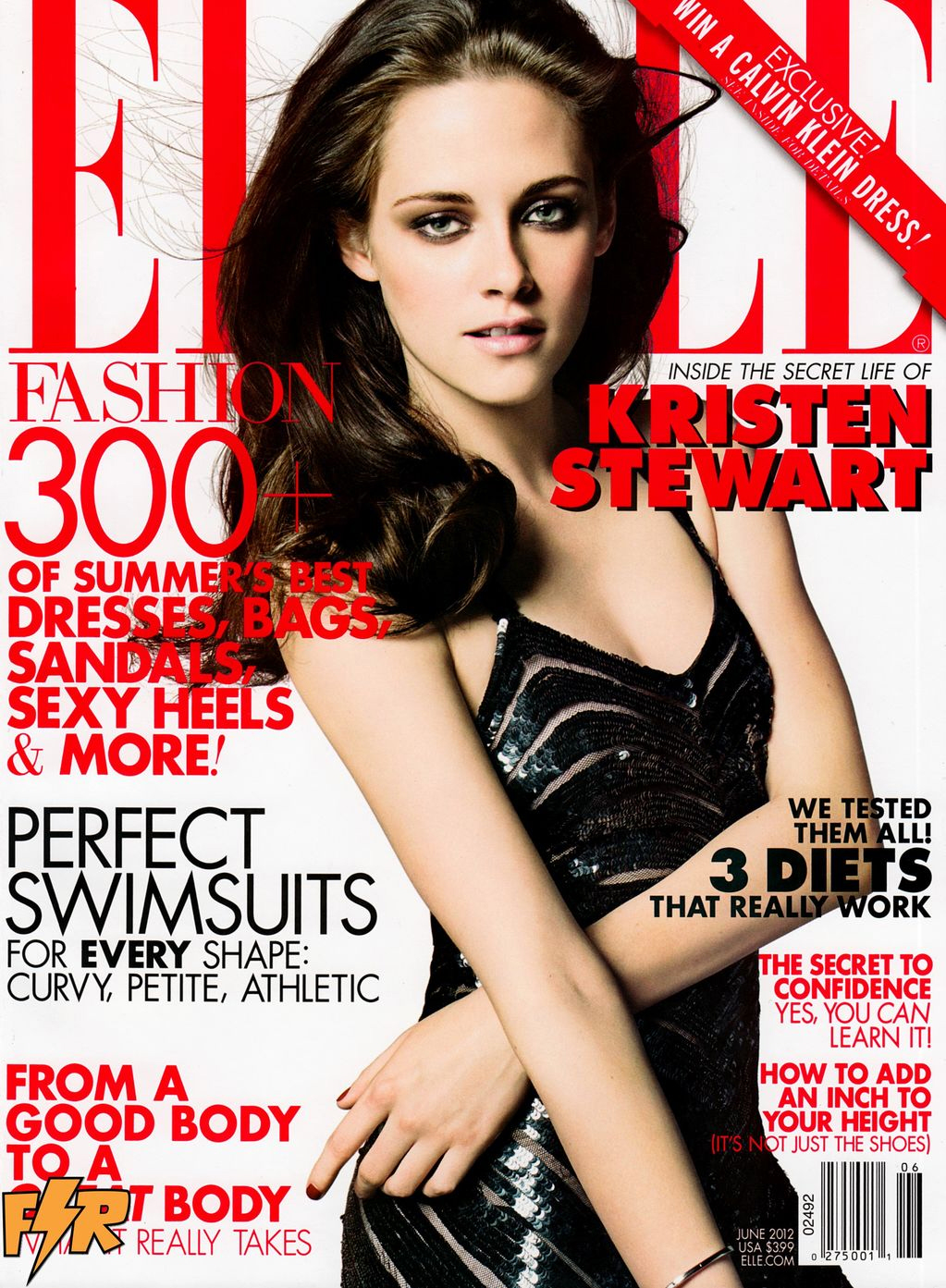 Kristen Stewart is the cover girl for the June issue of American Elle – she was also the cover girl for the June issue of Elle UK too, for what it's worth. There are two distinctly different photo shoots and interviews, so just pretend for a second that Team K-Stew hasn't completely taken over Elle and all of the international editions of the publication. The photo shoot seems very Victor/Victoria – Kristen is doing some menswear/drag-king-inspired looks, and then she goes sort of gothy-glam for other shots. I'm reminded of how beautiful she is, and how she has the figure to be an excellent "clothes hanger" for designers. Unfortunately, Kristen often seems kind of dead-eyed in pictorials, and her posture is still atrocious. As for the new Elle interview, well… God bless the Twihards. They've already transcribed the whole thing from the early scans – you can read the full piece here. Here are some highlights… the whole thing takes place in a bookstore (just an FYI for why the conversation is so book-intensive):
She loves William Styron's Lie Down in Darkness: "Have you ever read Lie Down in Darkness?" Stewart asks excitedly. "I want to play Peyton more than anything I can possibly taste or touch in my life. I want to play her so bad. Peyton is bright, beautiful, suicidal narcissist, preyed upon by her father. But Stewart, 22, sees it as more complicated than that. "Oh, dude, she f–kin' loves it! She's in love with him. I mean, I think she's in love with him. It's not his fault. They're the most f–ked-up family!… There's a script adaptation I've read and it's good," she says, continuing down the aisle. "Two people vying for the part of the father are Daniel Day-Lewis and Colin Firth. Daniel would be perfect." Stewart stops suddenly and smiles, picking up an autobiography. "Let's not be pretentious – let's buy Snooki." (She doesn't.)

She calls Robert Pattinson her "f–king boyfriend": "Oooh, Martin Amis." Stewart plucks Money from the shelf. "My copy just got soaked – my toilet overflowed." And then, "Oh my God, my f–king boyfriend just did this movie," she says, referring to Robert Pattinson while pulling down a copy of Bel Ami. "The French, they're up in arms that he did it."

The brown contact lenses she wears to play Bella: "It's like I always have sunglasses on – soulless, googly-eyed sunglasses. You can't feel your eyeballs. They ruined me."

Working with William Hurt in 2008's The Yellow Hankerchief: "He was the first guy I ever saw take a script and f–king turn it on its head. He threw us all up into the air," Stewart says fondly. "It was so cool working with him. He is so beat – he's like, On the Road. Incredibly intense. Dude!"

The book Black Hole: "This f–king store is like kismet!" she says. "I want to do this movie!" The book, about a sexually transmitted plague, "is disgusting, so gross," Stewart enthuses. "I love the first image" – she turns to a completely black page with a white vagina-shape opening in the center – "a slit. You just grow, like, holes in your body. The imagery is so weird. See" – she flips to another page – "he's looking at her hand and soon there's gonna be a little mouth in there. It's so sexual the desire is so f–king palpable, but it feels so dirty, like [the characters] are so ashamed because they're diseased, they're literally getting these holes."

Riding horses and leading the charge in Snow White and the Huntsman: Despite being terrified of horses, Stewart saddled up to lead an army of 250 mounted men charging down a beach in the rain. "I hated it," she admits of riding. "I didn't take to the whole mentality of f–king ordering that thing around – 'Go now!' You have to be an a–hole, basically. Not to say that horse people are a–holes to their horses. But you have to basically tell that thing who's boss, and I didn't want to do that. I was like, 'No, do your thing. I don't even want to be up here.'"

Child-acting and home-schooling: One role begot the next, and from seventh grade on Stewart was homeschooled, something she regrets, in a way. "Because I didn't go to f–king school, I feel I would have had a bit something extra if I had," she says. "Maybe because my life is so perfect, when I see the other side of life, it just seems like, almost like I want…" Stewart struggles for words. "You can learn so much from bad things. I feel boring. I feel like, Why is everything so easy for me? I can't wait for something crazy to f–king happen to me. Just life. I want someone to f–k me over! Do you know what I mean?" That which doesn't kill you makes you stronger? "Exactly. It's one of the reasons I want to act. I love living in different worlds, because a lot of times mine is pretty nice and easy."

She still smokes, and her car is gross: She unlocks a nondescript rental car (she can't drive her Mini Cooper without being followed by paparazzi), drops the books in back, slides into the driver's seat, starts the engine and offers up a Camel. Pushing the cigarette-lighter button, she says, laughing, "I went for the high-class rental. This car's got all the fixin's!" Scattered on the passenger side floor are a pair of plaid Van sneakers, an empty protein drink, a Coca-Cola can, and a plastic to-go container with a half eaten sandwich covered in mold. A nearly empty Snapple sits in the cup holder, cigarette buds floating in it.

She wears a mysterious ring: Stewart taps her hands on the steering wheel, her short nails lacquered in bloodred. On her thumb is a silver spoon ring. "All four of my brothers and my mom and dad have these," she says. "My mom went and got them for Christmas." And the gold ring circling her index finger? "Everyone wants to know," Stewart says slyly. She shakes her head. "Everyone knows already – it's ridiculous." As painful as it is to be so publicly pushed and prodded, how does she square wanting to be projected on a 40-foot screen? "Laurence Olivier was asked, 'Actors, what's the impulse? Why?' And he was just like, 'Look at me, look at me, look at me, …' That was his answer. But at the same time, it's like, 'Nooo, don't look at me. Look at some version that I'm going to present to you. Let me control it."
[Elle excerpts via Strictly Robsten's transcript]
The cursing is getting kind of ridiculous. She wasn't always this foul-mouthed, it's something that's happened over the past year, where every interview is laden with f-bombs. The article also quotes extensively from people who have worked with Kristen over the years, and an unsettling theme arises, although I don't know if that was Elle's intention. While Kristen's directors and costars all had nice things to say about her, there seems to be a theme of Kristen not having much respect for the script of whatever film she's doing. Everyone says that she constantly going off script, constantly changing lines, constantly trying to make the characters sound more "authentic". Which… maybe that only bothers me. I understand going off script when it's something like Twilight, but it really feels like Kristen never bothers to learn her lines for any given film.
As for the mysterious ring thing – I anxiously await the Twihards' explanation. Did her "f–king boyfriend" Rob give her the gold ring? Is it a promise ring? A wedding ring?!?!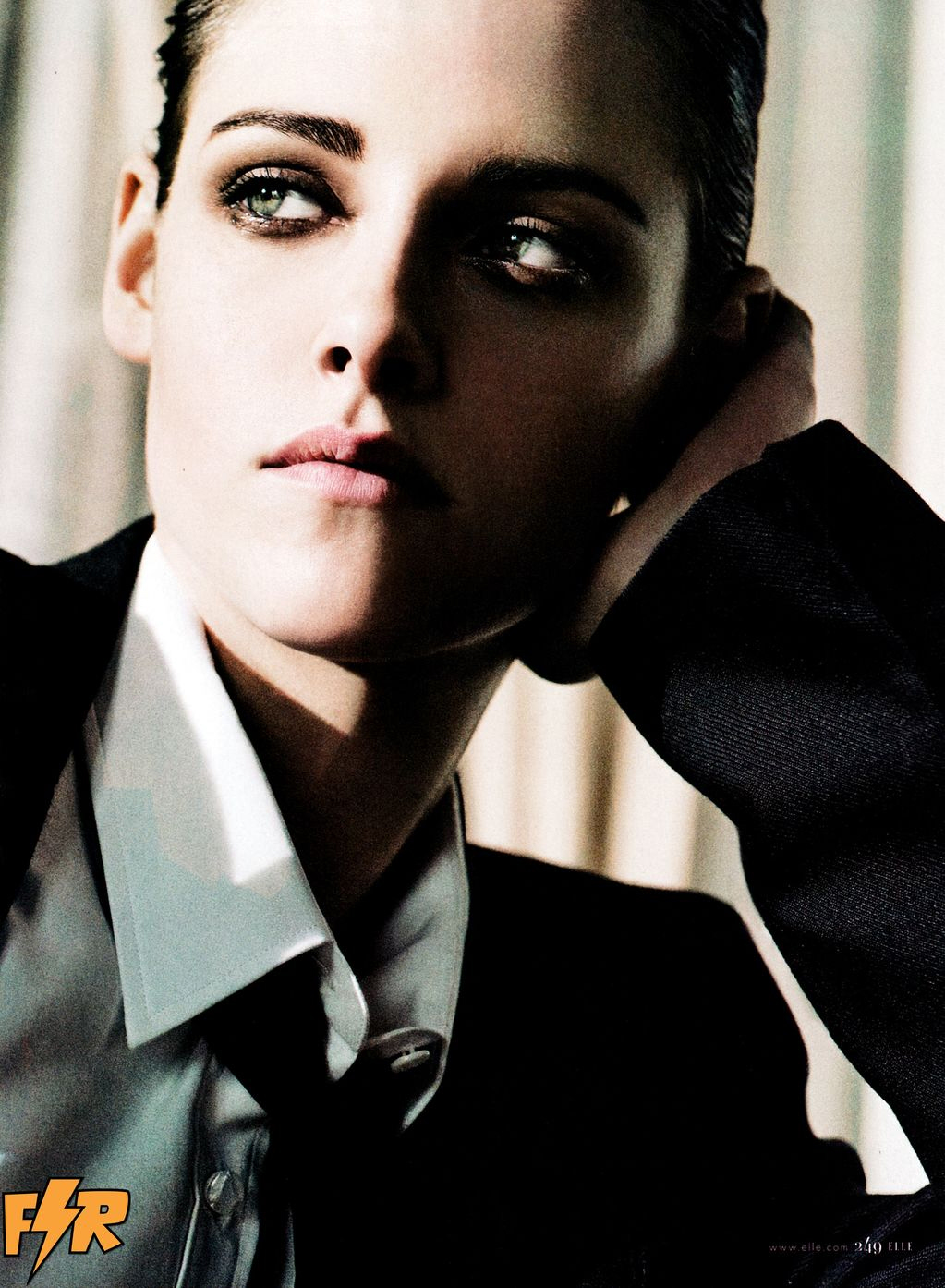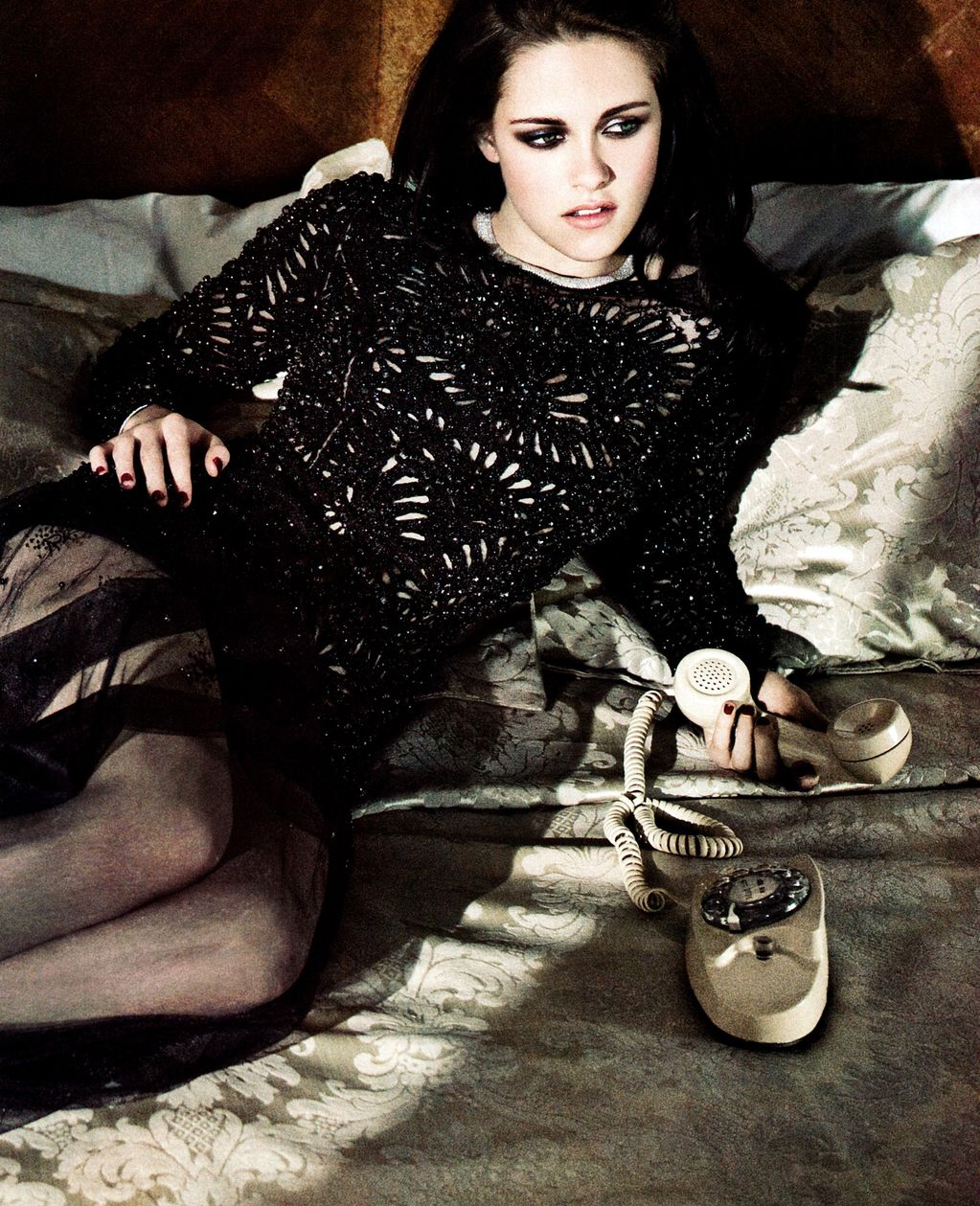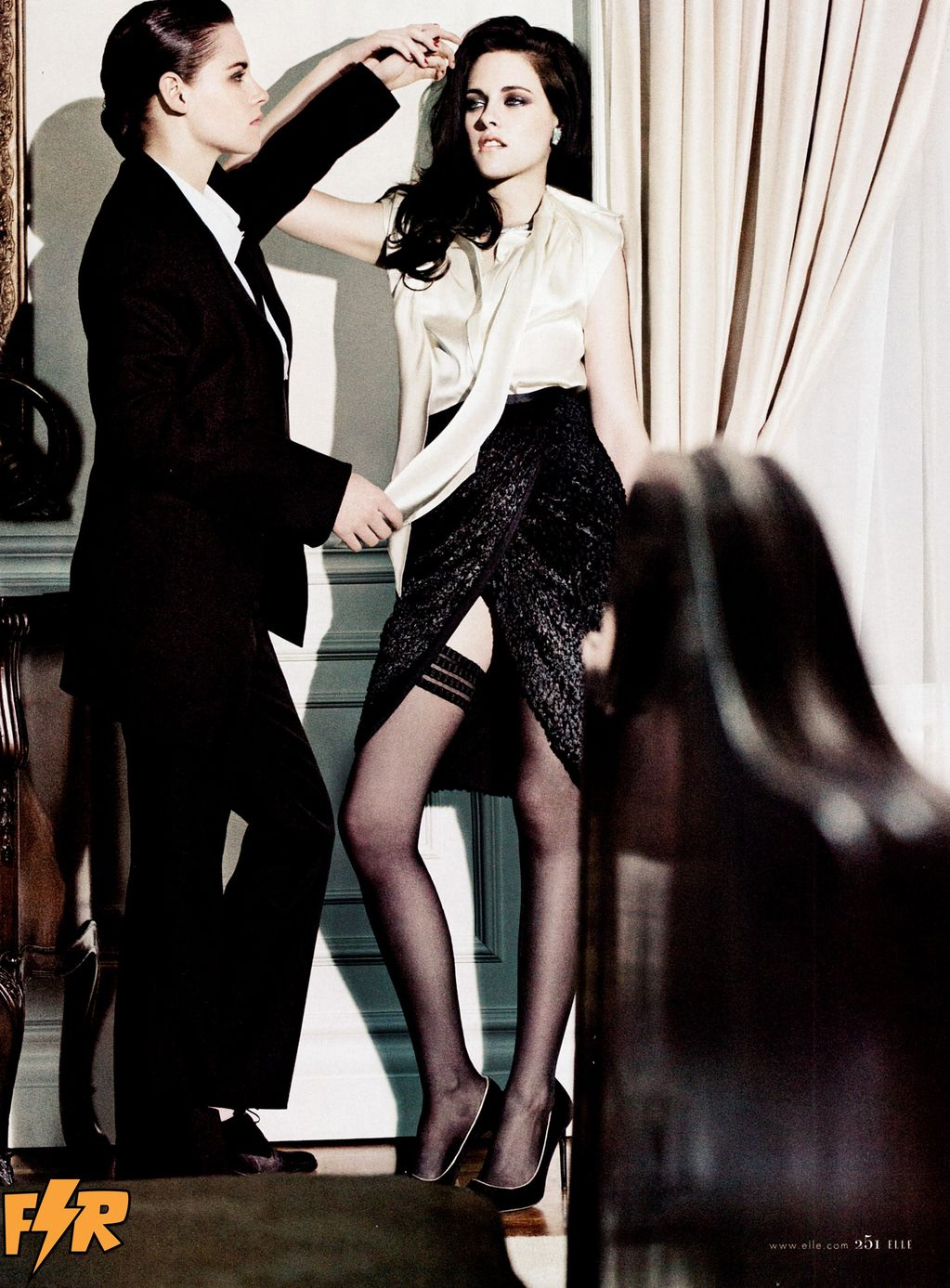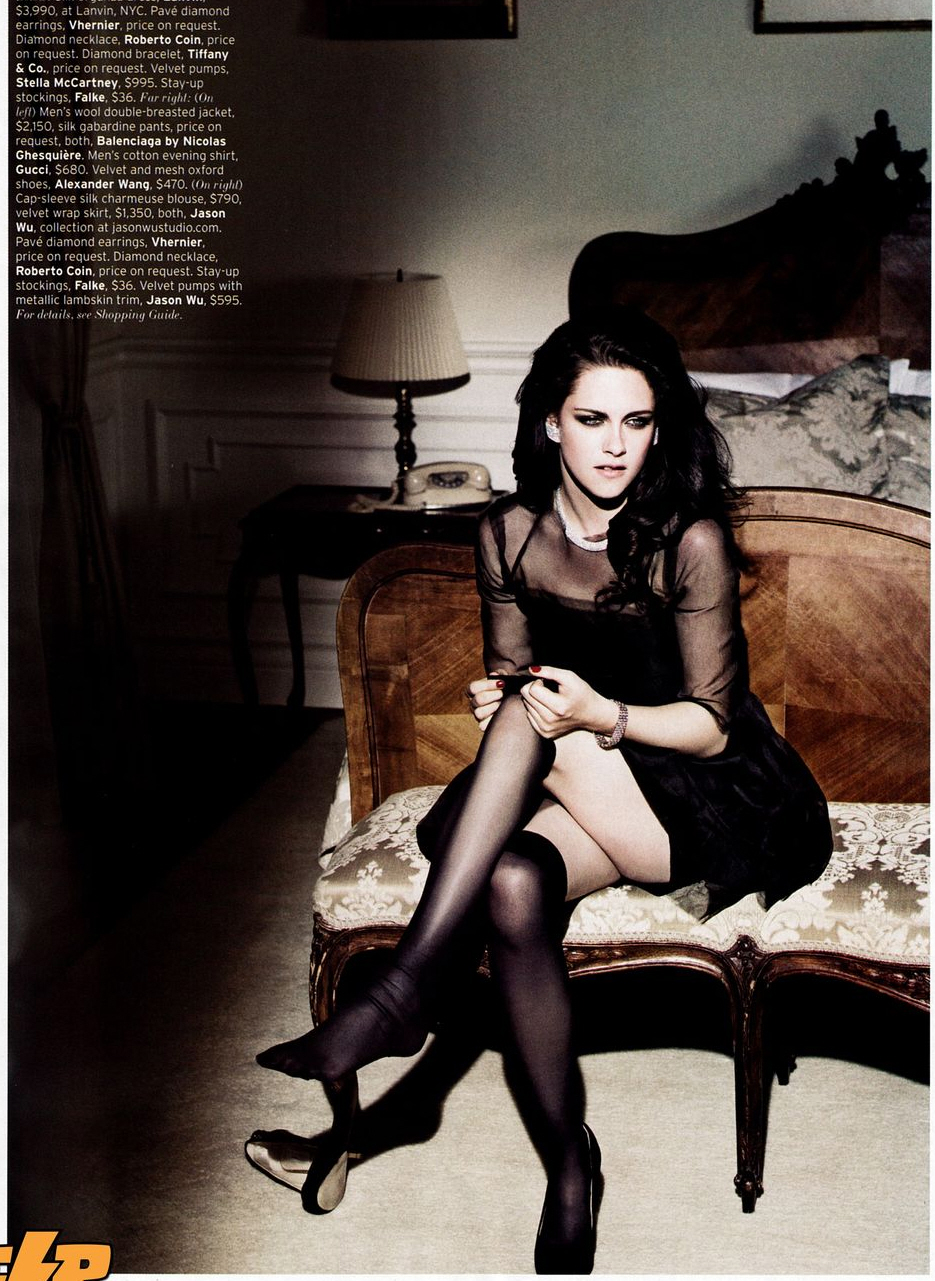 Elle scans courtesy of Tom Munro/Elle, via The Fashion Spot.