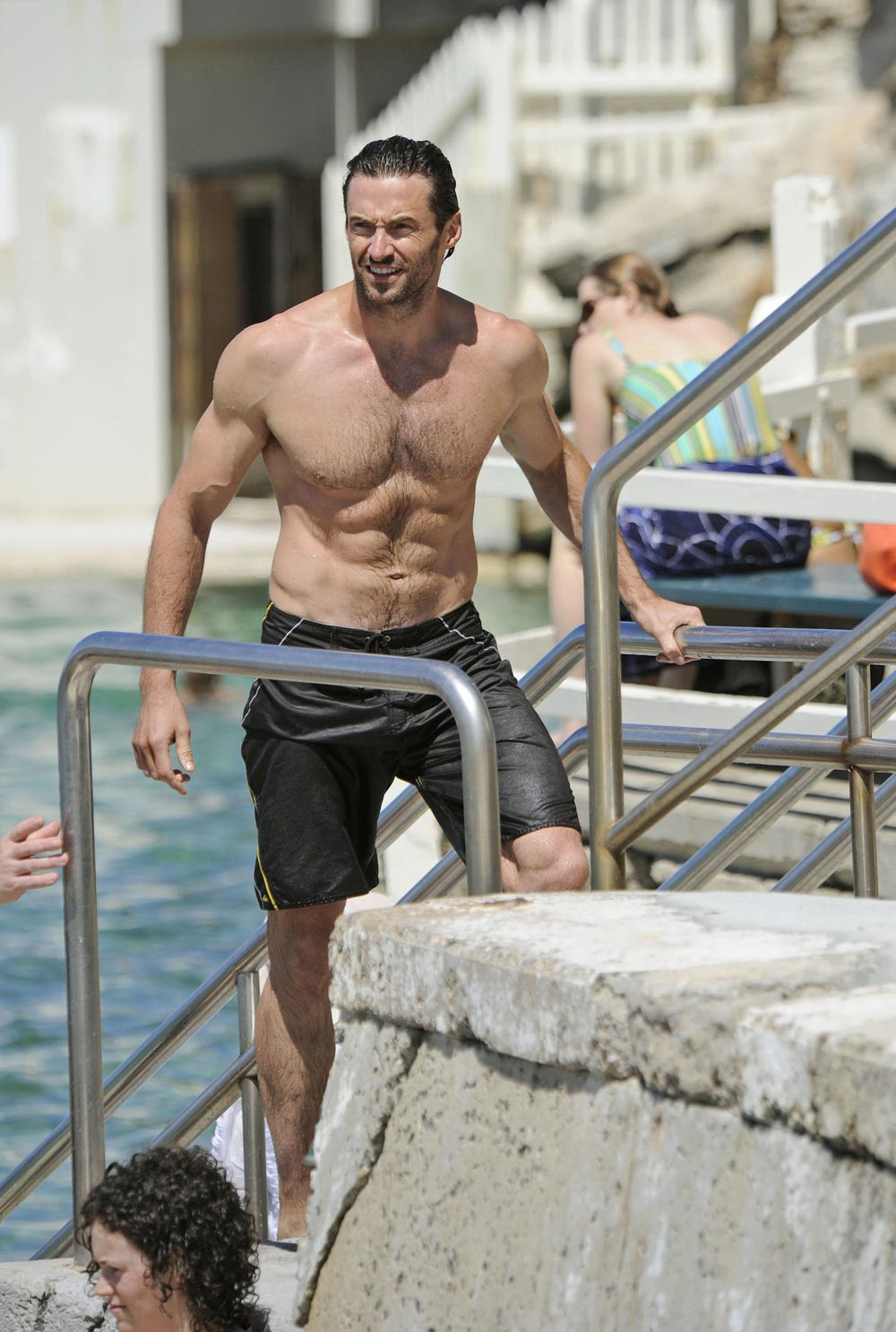 Doesn't it seem like People Magazine names a sexiest man alive every few months? I know it only happens once a year, but for some reason I thought I just heard this story over the summer. It's like there are only so many sexy men in Hollywood to chose from and the limited pool of applicants makes it seem like they're constantly just picking one and throwing him out there as a chiseled specimen of male beauty. In this case they got it right though, and hot Aussie dad Hugh Jackman, 40, is gracing the cover of People as their sexiest man alive of 2008.
Jackman has an interview published on People's website in which he gets a little personal about his bedroom habits with his wife of 12 years, Deborra-Lee Furness. If he didn't earn his sexiest title just by taking off his shirt he definitely gets our vote with some of his responses to People's questions:
You turned 40 Oct. 12 and now you're the Sexiest Man Alive. What was your wife's response?
God bless her, she said, "I could've told them that years ago!" And then she said, "Obviously, Brad wasn't available this year." And I said, "That was a joke, right?"

"Hugh is tough and romantic at the same time," says costar Kidman. "Australian men are a different breed. They're rugged and they sweat."

Your marriage is a success story.
In my early 20s, I didn't have a regular girlfriend. I was single and really happy about it. And then when I was 26, I met Deb on [the Australian TV show] Correlli. She was my leading lady. It was just undeniable. I started planning to propose to her at about three months. We are happy. Deb and my kids have been the best things that have ever happened to me, without a doubt.

How do you keep the passion alive?
It's easy with my wife. She loves the idea of me coming home in costume because it makes her feel like she's having an affair in a good way. When we met, I was cast as a prisoner with tattoos and she'd say, "Don't take your tattoos off tonight!" and I'd be like, "All right!" But what works best with her is the stockbroker look. She also says, "Do your sexy dance for me," [an '80s-like, hip-swiveling number] and that works for me.

Are you self-conscious about any body part?
When I was younger, I had chicken legs. My nickname was Sticks.

What part do people like best?
My smile. Lately my pecs. I'm being honest!

What do you wear to bed?
I didn't wear anything until my daughter was born and we had a night nanny because I was working. I walked out stark naked, and she was reading a book. Now I like boxer briefs.
[From People.com]
Hugh has the epic film Australia with Nicole Kidman coming out in the US next week. If Luhrmann knows his audience there will be plenty of shots of Hugh wet and shirtless.
Other sexy men honored in the upcoming double issue of People include Daniel Craig, Jon Hamm, Zac Efron, David Beckham, Robert Buckley, Blair Underwood, Ed Westwick, Javier Bardem, Robert Pattinson, Joshua Jackson, Michael Phelps, country singer Blake Shelton, and piano player Lang Lang. Zack from "Saved By The Bell" even gets a mention. You can see a gallery featuring the sexiest men on People's Website.
Jackman is shown swimming on 10/10/08 and 10/13/08. He is also shown out with his wife in Sydney for his 40th birthday on 10/11/08. Credit: Bauergriffin