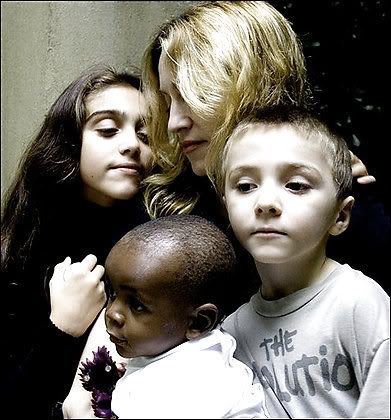 Here we go again with the Madonna adoption chronicles. The latest news is that the Malawian judge got back from vacation or a conference or whatever and issued a ruling on the Madonna adoption. He sided in favor of the dozens of human rights groups challenging the adoption, saying that they have a right to add their opinions to the adoption decision, which is expected in May. This doesn't mean that they actually get to decide if Madonna is fit to adopt Davie Banda without going through the proper channels, just that they can put their two cents in:
On Oct. 12, [Judge] Nyirenda granted Madonna and her husband, filmmaker Guy Ritchie, an interim order allowing them to take initial custody of 14-month-old David Banda. The couple were allowed to take David to their London home.

Malawi regulations stipulate that prospective parents undergo an 18-to 24-month assessment period in the country.

The rights groups, saying they were concerned the government had cut legal corners to fast-track the adoption, said regulations must be followed to protect children.

"I must stress that all along we have not been against the adoption but we only wanted Malawi's adoption laws clarified and followed to the letter," said Justin Dzonzi, a lawyer and chairman of the Human Rights Consultative Commission. "Today's ruling gives us the opportunity to clear (up) some gray areas surrounding adoption laws in Malawi."

Nyirenda said in his written order that he saw no reason to refuse the rights groups' application.

"I believe the applicants mean well and this court will certainly benefit from the applicants' researched opinions," he said.

The organizations will now be part of the government's first assessment of Madonna and Ritchie, expected next May.

In a country ravaged by AIDS, an estimated 2 million children have lost one or both parents and hundreds are adopted by foreigners every year. Madonna's adoption bid coincided with her larger project to help Malawian orphans.

The human rights groups have argued that Malawi needs to ensure the adoption process cannot be exploited by pedophiles or child traffickers.
What I think this means is that the judge wants to help the human rights groups get their views out to the public, so that it doesn't seem like Malawai just bent over backwards to accommodate Madonna after she dropped a lot of cash. Madonna will most likely be granted adoptive rihts, and I bet that they're just doing this to make it seem like they're not going to endanger orphans and send them off with every rich person that stops by and wants to take one home after a week or two.
They're not going to ask for the baby back after he's been living a life of luxury with Madonna.
In case you wonder what Madonna's true feelings are about her adoption, here's an excerpt from her Time interview publlished in early November:
Do you worry at all that you've saved this child from physical misery…

From death. Death. He would not have lived.

OK. But do you worry that you've saved him only to introduce him to a much more abstract kind of misery? There were hordes of photographers documenting his arrival in England.

Well, my other children are exposed to that and they're not miserable. I think I have a very good life, and a good life to offer David. You know, it's like the old saying, civil rights don't mean shit if you're dead. Even if I'm the worst mother in the world, I'm still better than death!
[Thanks White Trash Mom for the quote!]
In other Madonna news, no one watched her Thanksgiving eve concert on NBC, from which the crucifixion scene was cut so as not to offend. The show was ranked 78th in the Nielsen ratings.