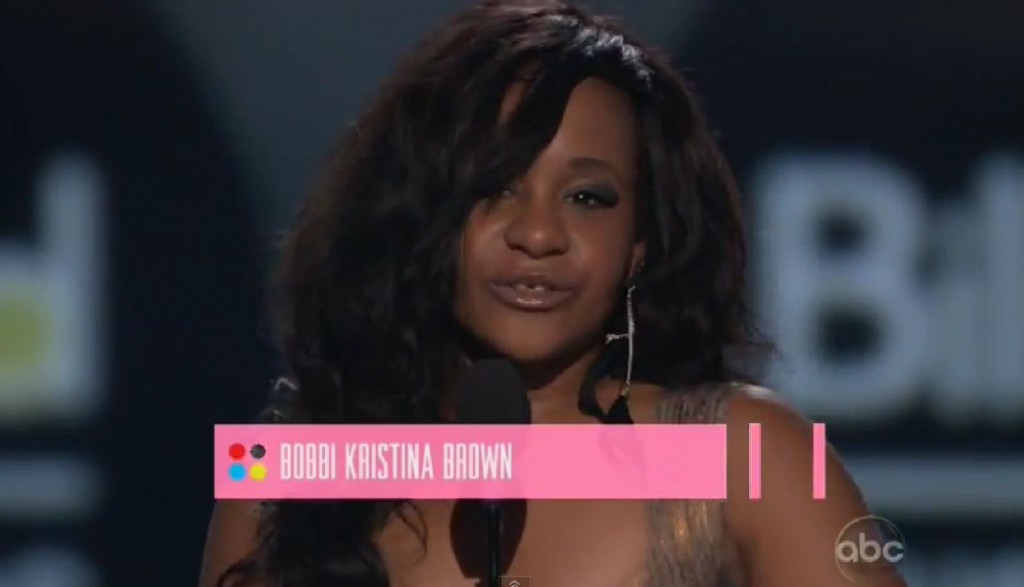 Video is below
Last night's Billboard Awards paid tribute to the late Whitney Houston with performances of her hits by John Legend and Jordin Sparks. Legend did a soulful, if somewhat shaky, version of "The Greatest Love of All" while Sparks belted out "I Will Always Love You." (Video is below.) The camera panned to Whitney's daughter, Bobbi Kristina, in the audience several times and she was understandably crying.
Whitney was posthumously awarded the Billboard Millennium Award, which Bobbi accepted on her behalf. She was accompanied on stage by her aunt, Whitney's sister in law, Pat Houston. Bobbi was very well spoken and composed on stage. She did seem a little buzzed to me, but maybe she was just overwhelmed in the moment. She's gone through so much these past three months. Here's a little more, thanks to Radar Online.
Whitney Houston's daughter Bobbi Kristina made a rare public appearance Sunday night at the Billboard Music Awards in Las Vegas to take part in an emotional tribute to her late mother…

John Legend and Jordin Sparks, who plays Houston's daughter in her final film, Sparkle, performed her hits, with Legend singing the Greatest Love of All, while Sparks amazed with her rendition of I Will Always Love You.

Following the moving memorials, the late singer's sister-in-law Pat Houston and daughter Bobbi Kristina accepted the Billboard Millennium Award on Whitney's behalf.

Pat said, "This is truly an honor. We thank you, Billboard; we thank you, Whoopi, Jordin; we love you, John. But tonight, the one person that should be accepting this award is the one person that Whitney loved most," ushering in Bobbi Kristina.

Bobbi Kristina said she "just really want to say thank you to everyone who supported us through it all.

"Not just when it was good, but when it was bad too," she said. "Thank you so much for showing that much love, 'cause she deserved it. There will never be another one, ever. I thank you so much."
[From Radar Online]
I can't imagine losing my mom when I was just 18. (Bobbi Kristina turned 19 in March.) My grandmother died when I was in my early 20s and I was devastated. It's got to be even harder when your mom is famous and you've got to get dressed up, go out to an event and make a speech on her behalf. Krissi did an amazing job, though.
Bobbi Kristina's boyfriend, 22 year-old Nick Gordon, was next to her in the audience. Like Krissi, he was wearing a pin with Whitney's photo on it. Nick walked Krissi up on stage and gave her a kiss before she went on. It was sweet, and it made me worry less about the stories that he's taking advantage of her. There was a lot of controversy when Krissi and Nick first got together, as Nick was raised by Whitney and Krissi used to consider him her "adopted brother." The fact that he looks so supportive of her makes me think differently about their situation.
Here's video of the tribute to Whitney. Kriss comes on at about 6:00.