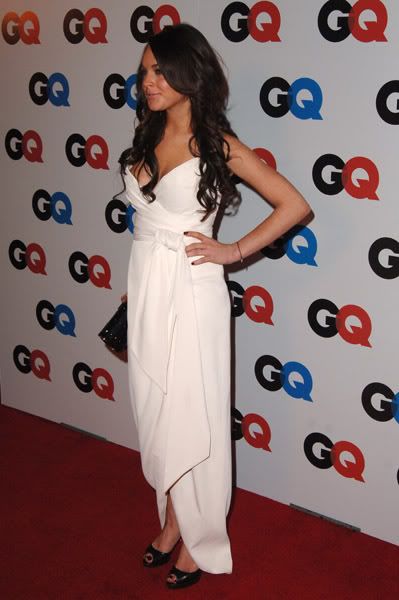 Wow, Lohan isn't defensive or anything in this appearance on The Tonight Show from November 11th. I remember reading about it at Gossip Rocks, but I didn't find it on YouTube until yesterday.
Submitter Olivia720 at Gossip Rocks says:
Dayum! I'm just watching Leno right now and Lohan is on, promoting "Bobby". She looks great, her hair looks really nice and she's got a nice white dress on. Still has that goofy bandaged wrist.

So anyway, she's really defensive and pissy and it made for a rather uncomfortable interview. She freaks out at Jay using the term "partying".

"Oooh I hate that word!"

She looks like she's at her wit's end about people asking her about this. She looks seriously pissed when Jay makes a joke about Nicole Ritchie passing out from eating half a pea. Then she says something like "would you rather have her here to talk to??" MMMkay.
Here's the video. Any shred of pity I had for Lohan for needing to go to AA disappears when watching her vain, defensive interview. Jay is not that great at keeping the interview friendly, but she should have played it off and tried to establish a rapport with him:
British rag The Sun is reporting that Lindsay owns 5,000 pairs of shoes. Remember on "Sex and The City" when Carrie was too broke to buy a condo and Carrie schooled her about how she had spent enough on shoes for a downpayment on a house? Lohan doesn't own a house and just moved into a condo with pissed off neighbors. Maybe if she wasn't so fond of shopping she would have a mansion. That would require settling down a little, so money probably isn't the issue.
The header picture is of Linds at the GQ Men of the Year awards. She seems to have laid off the cutting as she's not wearing a wrist bandage any more. I wonder if she talked to former VP Al Gore. I heard he was there and I would have been making a beeline for him, if only to get to Leo.