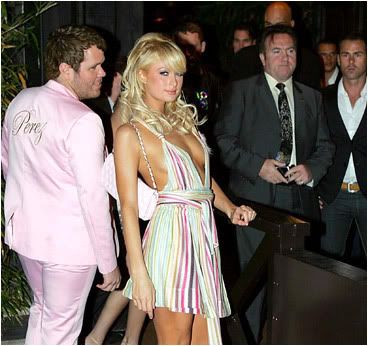 Britney's many vag slips were the drunken send off to the era of free high res candid posting. I get a message just about every day asking me to take a picture down and I try to avoid posting pictures from certain agencies I know want to keep their images exclusive. I try to be nice about it though because that's how they make a living and of course I remove everything when asked.

Perez Hilton, nee Mario Lavandiera, is kind of a snot bag to the photo agencies, and he pretty much tells them to f off when they ask him to remove an image. He writes dumb-ass comments on top of all the pictures so they're unusable by other bloggers too, so he's kind of screwing people at both ends. Maybe he wouldn't be so hated if his blog wasn't so damn popular and successful. He has 12 blogads now at $800 a week and 2 in the premium spot at $9,000 a week. That means he's making $30k this week just from blogads alone.
Most of the paparazzi agencies are asking less than $1k a month for unlimited image use. If Mario bought images here and there and spent some of his massive earnings on unlimited photo usage from certain agencies he could do it legally and get on everyone's good side. He's making $120k a month, so you think he could spring for $5-10k worth of tax deductible images.
What the hell am I giving advice for though, I'm just as guilty as he is of pilfering images. I just don't make much money off of it.
It's hard to please everyone if you're running a gossip blog, and I try but it gives me an ulcer. You try gossiping about celebrities, having an opinion, and not offending anyone. It's impossible. Perez, though, he just rubs everyone the wrong way and he's clearly not giving back.
There was a video that came out a short while ago of Splash News serving Mario papers while he stuffed his face with a muffin at the coffee shop where he works. I wasn't too worried about the repercussions in the gossip blogging sphere as the papers were just a cease and desist, not an official lawsuit.
Now the word is that the paparazzi and photo agencies have banded together and have sent him another cease and desist outlining what he has to do to avoid a federal lawsuit. They basically say they're pissed because he's so defiant when they ask him to remove images and that he has to do it now according to their requests (site has automatic sound) or they're going to sue him:
Perez Hilton is to be hit by a multi-million dollar federal lawsuit from the top seven paparazzi agencies in the US.
Splash News, INF, Ramey, Bauer Griffin, WENN, Most Wanted and Flynet have joined forces to stop Perezhilton.com from using copyrighted images.

"Perez claims he is making a fortune off exploiting pictures taken by photographers. He blatantly violates copyright and makes advertising revenue off other people's works," said Gary Morgan of Splash News.

"It is time he is held accountable for his actions. We have amassed a ton of evidence from all of these agencies detailing his infringements.

We have filed a letter to him giving him the chance to either pay up for all of his copyright violations or face the music. He only has a few days to decide."

The seven agencies have spent the last few weeks conferring over how to stop Hilton. In an unprecedented co-operation between paparazzi and showbusiness agencies, the heads of the agencies agreed to take action.
A letter was sent demanding full payment of all infringed material or face a lawsuit next week.
I hope you guys like my witty commentary, because if that lawsuit happens it's all editorials and watermarked low-res images.
Update: Sorry I got all philosophical there. It's been a long day. TMZ is reporting that Perez is being sued for $7.5 million, but I don't think that's accurate because I read through all the documents posted on Splash News Online and they basically said that he has to comply with their requests or face the consequences. There's no mention of an official lawsuit or a dollar amount.