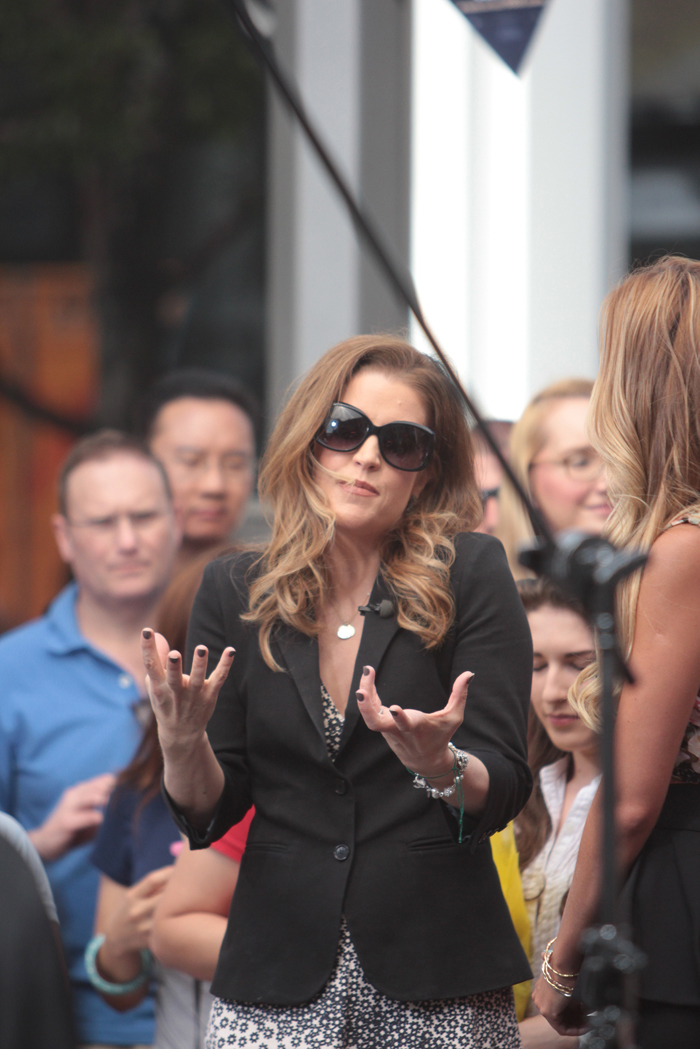 A few weeks ago, we reported that Lisa Marie Presley was beginning to break free from the clutches of Scientology, which was inferred by the fact that she told the cult to kiss her ass through some song lyrics from her new album. At the time, Jason Beghe voiced the opinion that if Lisa Marie was truly leaving the "church," then Kirstie Alley's size 6 ass could possibly follow suit as well. While I'm still wondering what Priscilla thinks about all of this, the story is still developing in regards to Elvis' daughter herself, who is dropping clues like mad.
This week's issue of the Enquirer refers to an interview that Lisa Marie gave to USA Today on 5/14 where Presley refuses to name names but speaks of a mysterious "they." Lisa Marie also stated within the interview that she was "emotionally and fiscally robbed by her closest confidants," and she is obviously referring to the CO$ in both instances. Now the Enquirer has spoken to insiders that say the CO$ fears that Lisa Marie's behavior could inspire others to leave the cult as well. Here's more telling stuff from the Enquirer story, which also talks about another new song of Lisa Marie's that basically tells the CO$ to go to hell:
The ENQUIRER has learned Lisa marie is cutting ties with the controversial Church of Scientology. As Elvis Presley's little girl gets ready to hit the road to support her latest album, Storm & Grace, sources say she's dumping some members of her entourage who gave her bad advice — or worse. She believes some of her most trusted people betrayed her and cheated her out of millions of dollars!

The 44-year-old singer admits being "devastated" by the betrayal of people closer to her. "I was slowly starting to self-destruct, and I didn't know where that was coming from," she said in a recent interview. "I got bad advice. I was insulated with no grip on reality. They were taking my soul, my money, my everything."

She confessed that she was too trusting with her money, revealing that people she had hired to look after her affairs had stolen a fortune from her years ago. "I didn't want too deal with the business," she said. "My father was like that. He trusted that people did what they said they were doing."

Along with Lisa Marie cleaning house of untrustworthy employees and hangers-on, insiders say she's also ready to sever her money-donating devotion to Scientology, the controversial church that claims celebrity members including Tom Cruise, John Travolta, Kirstie Allen, and Juliette Lewis.

"Lisa removed all mention of Scientology on her website, and the lyrics to some of her songs have caused major speculation that she's cut off all communication with the church," the source explained. On one album cut, she uses Scientology buzz words when she sings about being "transgressive" and "suppressive" while asking: "Am I a disruption to your corruption?"

Sources familiar with Scientology explain that "transgressives" and "suppressives" are code words for negative people who are enimes of the church. Insiders reveal that there's worry among Scientology leaders that Lisa Marie's departure from the church would spark other celebrity defections, particularly Kirstie Alley.

Lisa marie currently lives in England with fourth husband Michael Lockwood and their twins, now 3. Although she is financially set for life thanks to her father's estate, her music career has been one big flop after another. And pals say changing that around is the foremost thing on her mind. "Lisa Marie feels like her whole life is riding on this album and tour," said another insider. "She's exorcized a lot of her demons and has made what she feels is the best record of her career."
[From Enquirer, print edition, June 4, 2012]
The USA Today interview has also been replicated on LisaMariePresley.com as well, so there's a double endorsement of her words. It certainly sounds like Lisa Marie has seen the CO$ for what it really is — a greedy and corrupt business that sucks its members dry in both the financial and spiritual senses. I hope that she's got a gated home (and she undoubtedly does) where she's currently living in London because the city has a strong CO$ presence there, although she's sure to have less potential contact with them there than in Hollywood. I can't wait to see what comes of this story next because you know this isn't over by a long shot.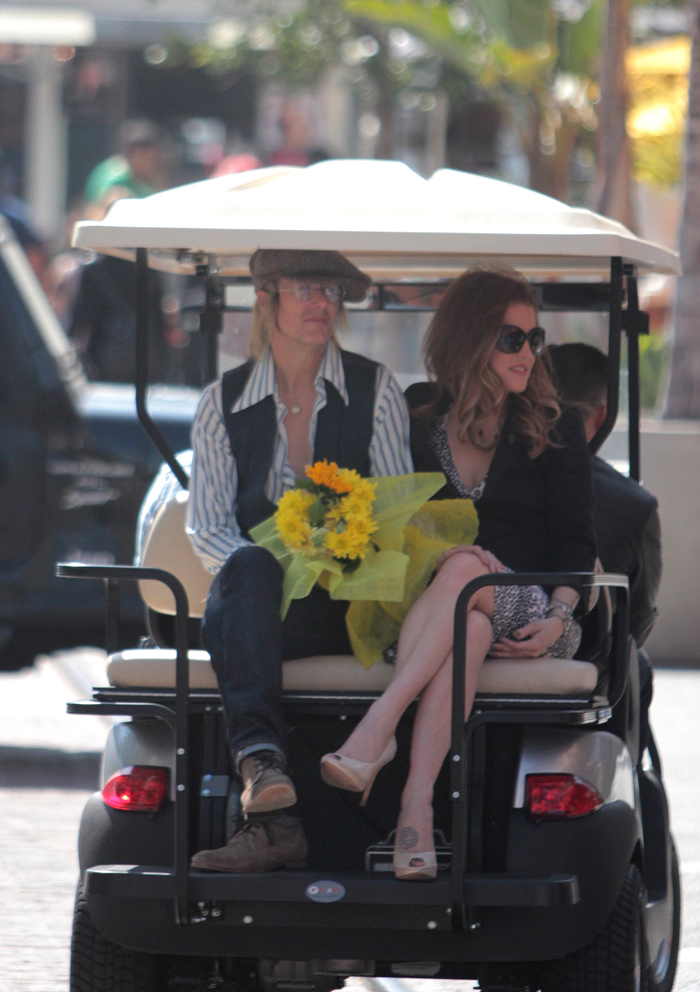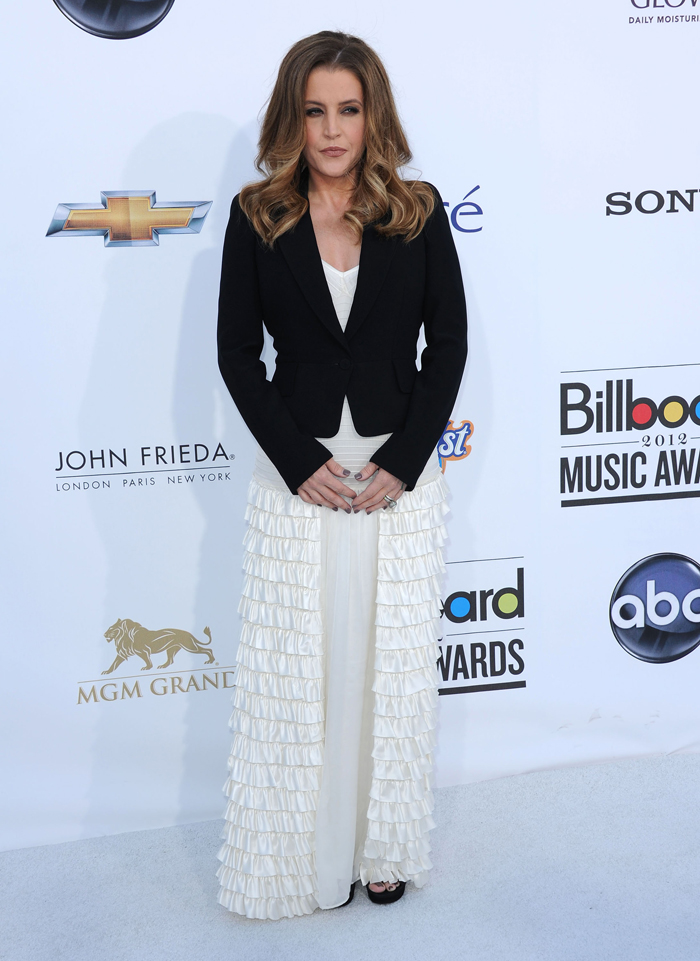 Photos courtesy of WENN