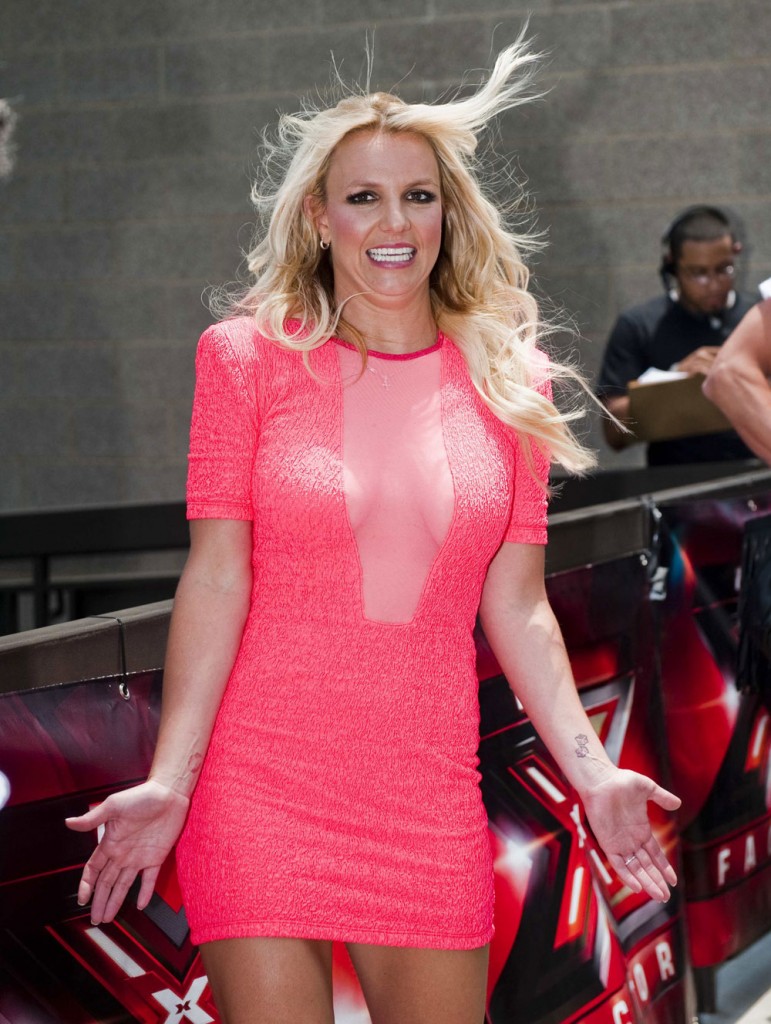 I was just about to write off Britney's "walk off" on the X Factor set as an urgent pee break extended too long after Britney got distracted by all the Snickers and Doritos in her dressing room. Kaiser clued me in to this US Weekly story claiming she'd done it again. The strange thing is, TMZ didn't carry this story. They've been crowing about how Britney is unable to do her job on the show, and how she has X Factor producers "over a barrel" because her fat contract states that she can do basically whatever she wants when she's there. But Simon Cowell and Britney just recorded a little message for TMZ telling them to go easy on her, and they are. Simon denied that there was any "walk out" in his portion of the video, and then Britney came on very quickly and simply said "Play nice Harvey." Harvey Levin is of course the managing editor of TMZ.
TMZ probably got promised some insider X Factor stories and now they're going to be "team Britney." They did mention the second walk off by Britney, but in their version Britney seemed "to be in better spirits" on her second day, and took "one short break, about five minutes, and she missed one audition … which everyone on set was totally ok with." Here's US' version of that walkoff, which is much more damning to Britney. They have a supposed eyewitness who said that this second exit by Britney seemed very abrupt and that she wasn't as relaxed as TMZ claims.
X-Factor judge Britney Spears walked off the show's set during auditions Friday afternoon–just one day after TMZ reported she stormed off "angrily" following a hopeful contestant's cover of one of her hits. (The singer, 30, slammed the report via Twitter later that day. "Britney walks off??? LOL was just taking a little break people," she wrote. "I am having the BEST time!!!")

"After a very popular contestant finished, Brit stood up and immediately walked towards the tunnel where judges enter," a show source tells Us Weekly of the pop star's dramatic exit Friday afternoon–adding that it wasn't clear what spurred the departure. "Her bodyguards [and entourage] jumped up and ran after her. She was moving fast . . . It was odd." (The witness adds that, after a little while, "she came back," as though nothing unusual had happened.)

During Thursday's auditions, the X-Factor source told Us Spears–who will reportedly see a $15 million payday for her stint on the show–seemed "uptight" compared to her fellow judges Simon Cowell, LA Reid and Demi Lovato. "Her body language was reserved," the source shared.

"Demi, Simon and LA," on the other hand, "seemed very relaxed and engaged with contestants and the audience," the witness recounted.
[From US Weekly]
Britney has done two successful tours since her incident(s) in 2008. When you see her performing it's obvious that she's lip syncing and that she can't dance like she used to (she had that knee injury, etc.) but she's toured virtually without incident. So she's capable of that. As we've talked about quite a lot, she hasn't done many unscripted interviews, and we've heard that her team insisted last year that all video interviews with Britney be pre-taped and pre-approved before airing. So now she's out there on her own and people are understandably wondering if she can handle it. Maybe we should just wait. I don't mean to sound patronizing, but it's possible she's used to doing whatever the hell she wants and isn't used to having to sit in one place and do a job for a few hours at a stretch. For 15 million dollars, she should figure it out faster than she is, you know? If that's even what's going on here.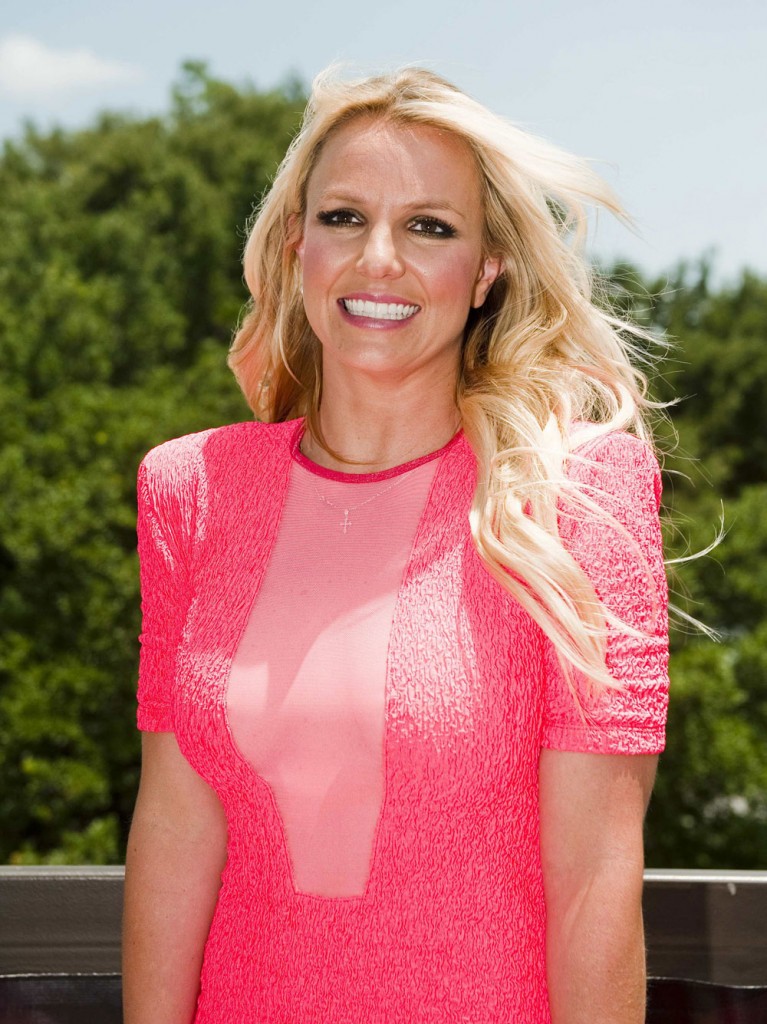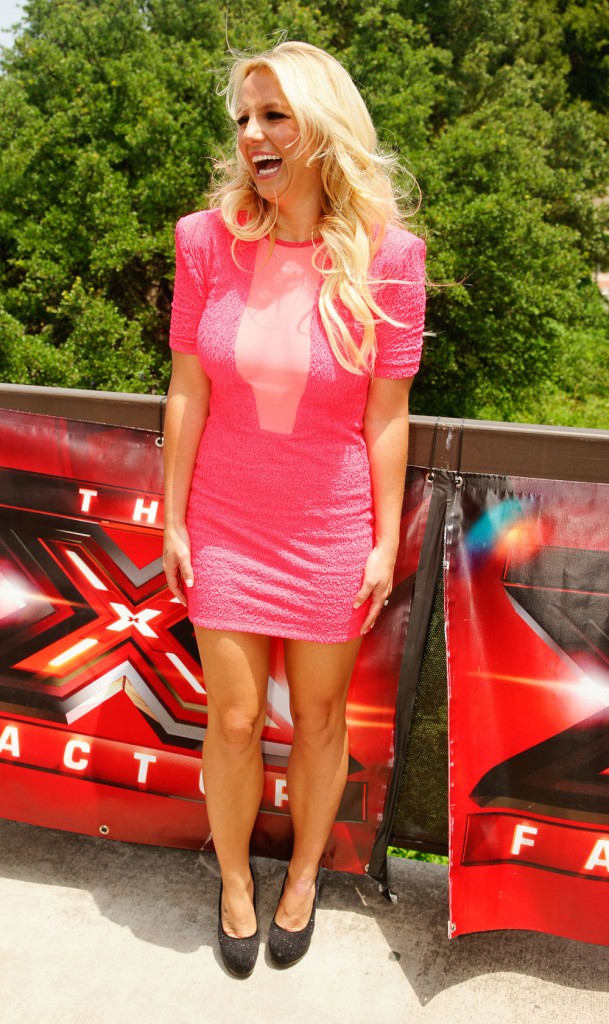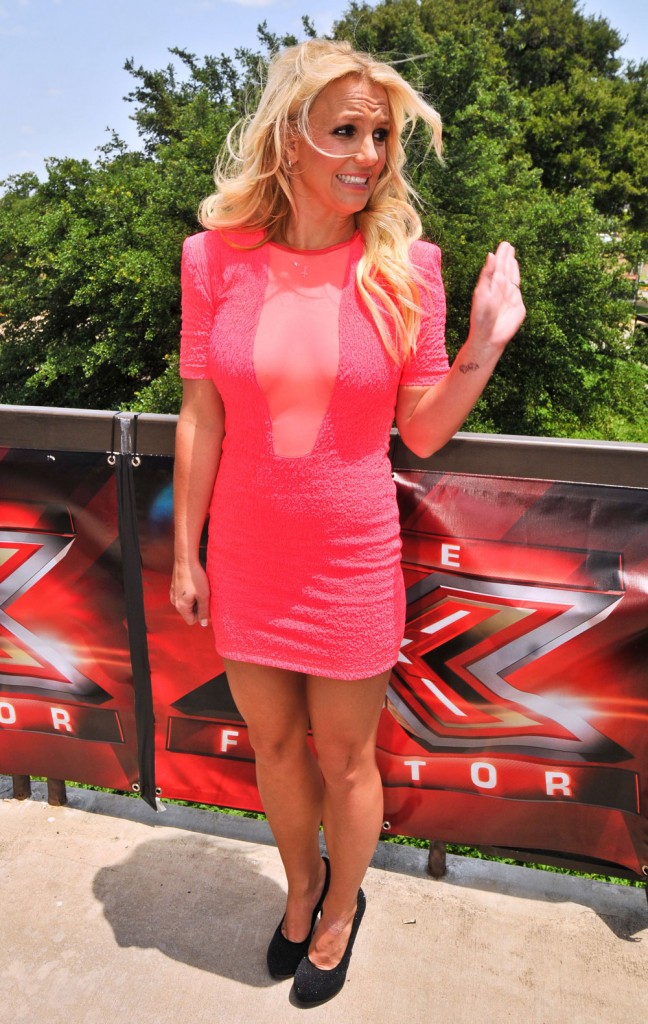 Britney is shown outside the X Factor on 5-24-12. Credit: WENN.com and Fame Flynet