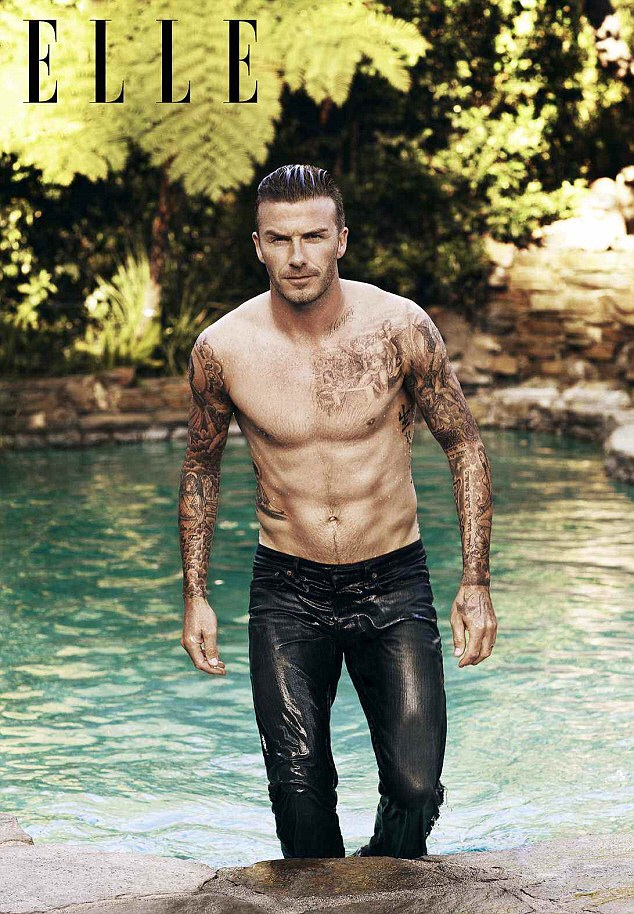 David Beckham has become the first man ever to cover an issue of Elle UK. I'm not sure if it's that big of a distinction, although I am a fan of Elle UK – they have interesting photo shoots and they aren't just phoning it in and jacking interviews from the American Elle covers. The July issue is devoted to all things London Olympics – Becks was given the high-profile task of bringing the Olympic Torch to London, and most people expect Beckham to be named to the UK's Olympic football/soccer team too (although it hasn't happened yet). As for Beckham's Elle photo shoot – it's kind of meh. I like the close-up cover, but the shirtless one is rough. His face looks angry/gross/wrong in the shirtless one.
Fixing the camera with his trademark brooding stare, David Beckham is no stranger to posing for high-fashion magazines. And with his myriad of tattoos on display, the ex-England captain becomes Elle magazine's first solo male cover star.

The 37-year-old sportsman, clad in a simple grey t-shirt, scowls artfully as one hand comes to rest on his carefully coiffured hair. While in another picture, Beckham shows off his finely-honed body and 'six pack' as he strides out of a pool – complete with soaking wet jeans.

The father-of-four, who plays for LA Galaxy, declared last month that he was 'honoured' to have the 'really exciting' opportunity to be on the cover of July Elle.

Editor-in-chief Lorraine Candy said: 'David Beckham is a national hero… He is an icon and Elle is known for featuring icons on its cover. This is a first for us on the newsstand and I believe he is loved by men and women alike. Anyway, who doesn't want to see a picture of one of the world's most handsome men on the front cover of a magazine? It will be a collector's issue.'

Beckham tells the magazine that he is so smitten with his 10-month-old daughter, Harper, he likes to give her a nibble.

"I love to bite her legs, or shoulders. It's how a baby should be. She's so beautiful," the soccer star told ELLE magazine in the UK.

Beckham and his former Spice Girl wife, Victoria, also has three sons, Brooklyn, 13, Romeo, nine, and seven-year-old Cruz.

"There's no more love for a daughter than there is a son, but it's just different," he said. "When they [boys] are kids you can roll them around and they fall to the sides and they pick themselves up and they're fine. Whereas Harper, now, she hits herself just slightly and she cries… I still think 'Oh God, I can't believe this, I've got a girl.' And to see the boys with her it's incredible. When they walk into the room, her little face lights up."

The Beckhams said they're hands-on parents, but like to have a date night once a week where they can just spend some time on their own.

"She [Victoria] comes home and shows me what she's been doing all day and what exciting dresses and bags she's got coming through. And then I say something boring like 'I got kicked today.' But we listen to each other. We try to go out at least once a week, just the two of us, a quiet dinner somewhere. It's not about wearing a nice dress or a nice suit. It's just going out and chatting and having some time together."
[Via The Mail & the New Zealand Herald]
Did anyone else squeal a little at David's description of his daughter? Goodness. THAT is what makes him so attractive. Yes, he's conventionally handsome and he has good hair and all of that. But he's sexy (to me) because he's such an awesome father. And I always believe it with him too – I have my doubts as to what he's like as a husband, but I think he just loves and adores being a dad to all of his kids, and becoming a father to a little girl has just made him so, so happy.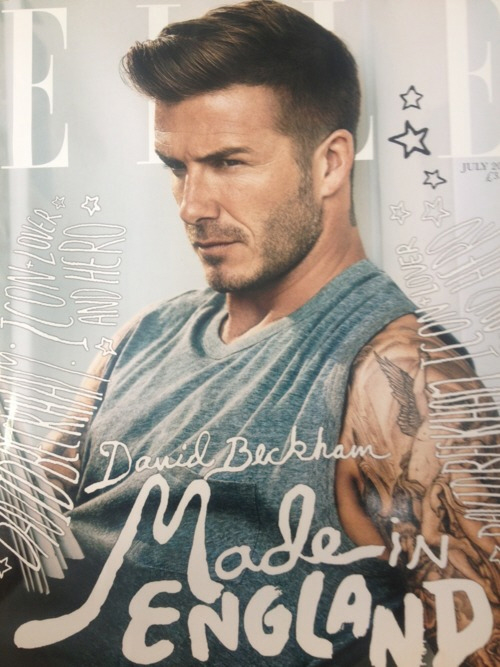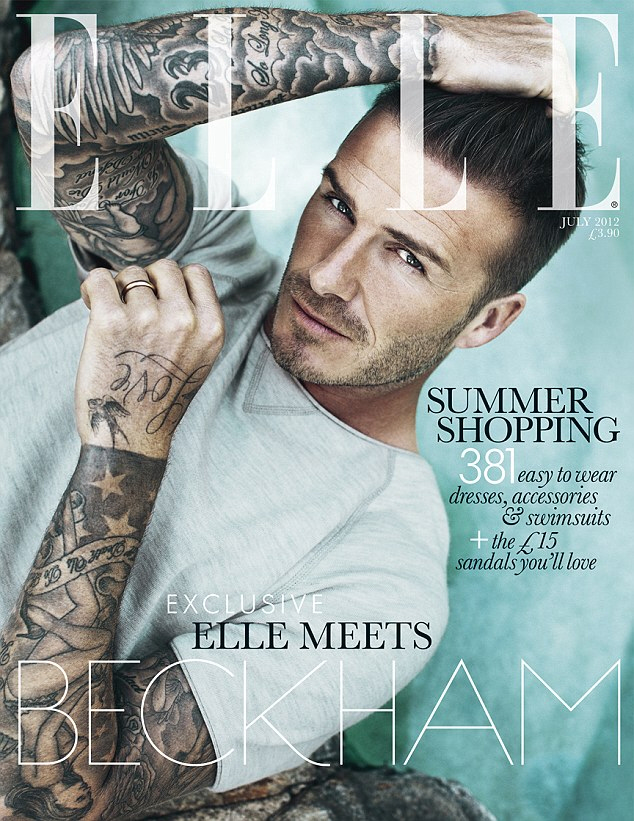 Photos courtesy of Elle UK, The Mail, The Fashion Spot.