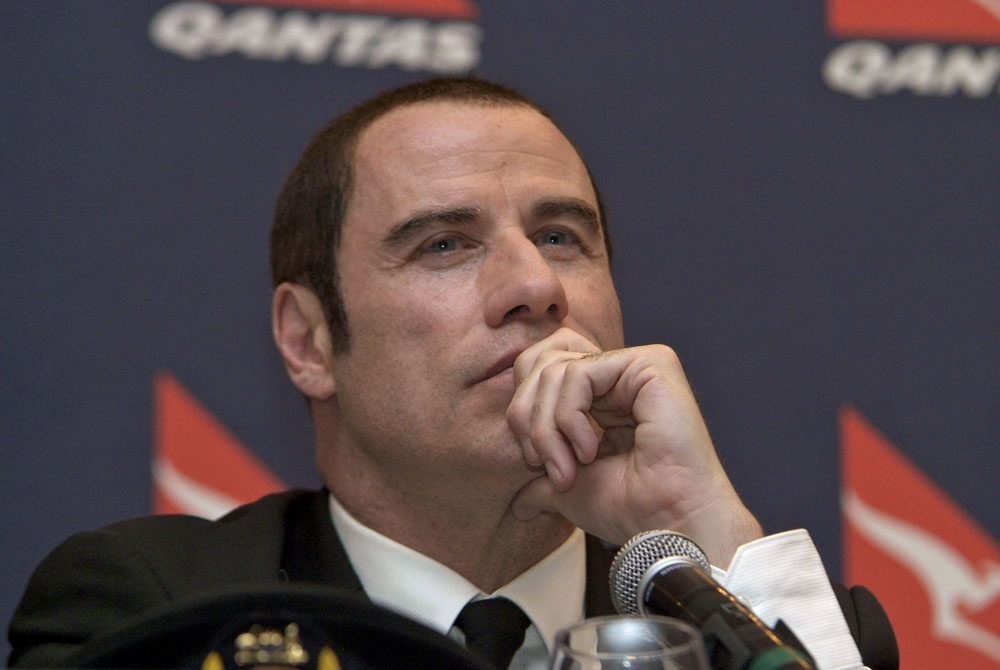 It's hard to recap all the Travolta madness, but I'll try and I have to thank Radar for making the case a lot clearer in their latest story. There are seven men who have accused Travolta of harassing and sexually abusing them. Two are currently suing him, and both are represented by Gloria Allred. The first accuser, an anonymous masseur known as John Doe #1, went over to Allred after his lawyer dropped him for getting the date of the alleged incident wrong. The second accuser, John Doe #2, went over to Allred and dumped his original lawyer. The lawyer that represented John Doe #2 at the point of his his defection to Allred is suing Allred for allegedly pilfering his client.
So now there are two men who are lawyered up with Allred and seeking restitution from Travolta. Radar lets us know that one of the men is "quietly" discussing a settlement with Travolta, one that will be sealed and ill forbid the man from revealing details of his encounter with the predatory creep, under penalty of being sued. (And having men in dark suits from Scientology visit his house and follow him around, although that has probably already happened.) Here's more, and this incident occured within the last two years, which is withing the statute of limitations for civil lawsuits:
John Travolta's attorney is currently in settlement talks with one of the men who has accused the actor of sexually groping him, RadarOnline.com is exclusively reporting.

As we previously reported, a total of seven men have come forward accusing the married star of various unwanted sexual advances. Two of those men filed lawsuits against Travolta, which were subsequently dismissed when they fired their former attorney, Okorie Okorocha, and hired famed civil rights attorney Gloria Allred.

"John Travolta's lawyer is currently in settlement talks with one of the accusers. The goal is to have a settlement reached very quietly and quickly because John just wants this scandal to go away," a source close to the situation tells RadarOnline.com. "No money has been paid yet, but it's almost a done deal. It will be an out of court settlement and John Travolta's name won't even be in the agreement to ensure complete confidentiality, along with a clause that states if the man ever goes public with his story, he will be sued for at least twice the amount of the settlement."

John Travolta Second Sexual Assault Accuser Documented Alleged Attack In Emails To Bosses

Travolta's team has vehemently denied all of the allegations to date.

Three of the seven men accusing the Pulp Fiction star of sexual misconduct are masseurs. The accuser who's currently in talks with Travolta's lawyer alleges that the actor groped him in the last two years, which is within the statue of limitations to file a civil lawsuit.

"If the accuser who is in talks with John's lawyer right now is unable to reach a settlement, he is absolutely prepared to file a lawsuit against him," the source says. "The man isn't intimidated by John's celebrity status and just wants the actor to be held accountable for his actions."
[From Radar Online]
As Kaiser reported last week, along with the two men represented by Allred, there's also one more Travolta accuser who has lawyered up, a gym employee. So that makes three men who may either get settlements from Travolta or who may go on to sue him. Whatever amount he pays and stipulations he makes to keep these victims quiet, this story is out there. He's never going to escape it, and for good reason. He hurt a lot of people, and he got away with it for way too long. We've heard the details in the National Enquirer for years, and now we can be assured they were based on real stories, and real people who were hurt.
I would love it if Kelly dumped John finally, but she knows what she signed up for. Even if she's no longer living with him as The Enquirer reported, I doubt she'll file divorce papers.
According to Rob Shuter in the Huffington Post, John Travolta is "the most sought after interview among top TV journalists." Do you think he'll give an exclusive to his good buddy Oprah? She'll go easy on him, but he'll probably owe her a lot more than he's comfortable with.