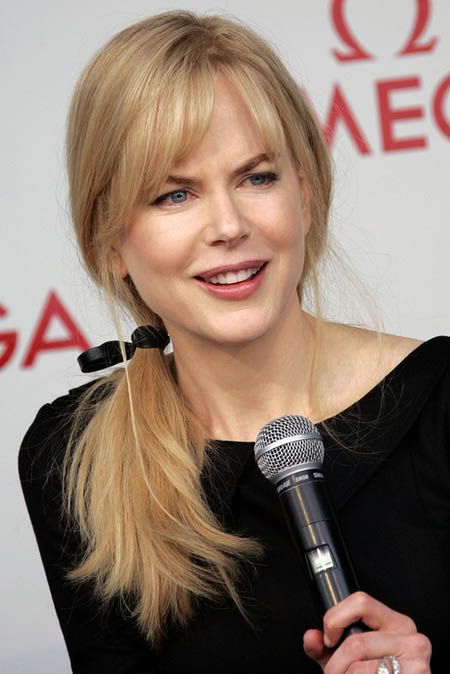 I thought this was a joke when I first read it on aggregate news engine WeSmirch (from which I get a lot of stories – props to them.) Page Six is claiming the "biggest proof" that Nicole Kidman is trying to get pregnant is the fact that she's sporting bangs now. She was said to be pregnant for like the past year for various reasons, so I thought they were being funny, but no, The Post says that it's evidence she's laying off the Botox to prepare her body for pregnancy. Bangs are the newest hair trend, couldn't that be the reason she changed her style?
NICOLE Kidman is not pregnant – yet. She's said to be trying with her husband, country crooner Keith Urban, even though Urban is still in the Betty Ford Clinic. The biggest proof Kidman is trying to conceive is her latest haircut: She just got bangs to hide her forehead. As a Hollywood insider said, "If Nicole is pregnant or trying to get pregnant, she will have to stop all Botox treatments like Courtney Cox Arquette did when she was pregnant. It would show most on her forehead." A rep for Kidman didn't return emails.
Kidman told reporters at the "Happy Feet" premiere that she wanted to have a bunch of kids running around and her hair flowing down to her waist on a tropical island like in some Gauguin painting. I thought that quote was made up because it sounded pretty hackneyed, but who knows.
Meanwhile Keith Urban, Nicole's husband of five months, is out of rehab. Now they can focus on that pregnancy that all the tabloids are rooting for:
Country singer Keith Urban is out of rehab and has reunited with his wife of five months, actress Nicole Kidman, Us reports exclusively. The couple had brunch on Sunday at the Polo Lounge in Los Angeles.

They were last seen together on November 12, outside of the Betty Ford Center in Palm Springs, where Urban was being treated for alcohol abuse.

Urban had been in the in-patient rehabilitation program since October 19 and was expected to stay there for 35-40 days. Urban's rep said the singer is "still undergoing treatment."
Pictures are of Kidman at an Omega event in Geneva, Switzerland. She does look to have gained a little weight and looks healthier. Pictures found at Saving Face Forum and from Celebrity Nation.