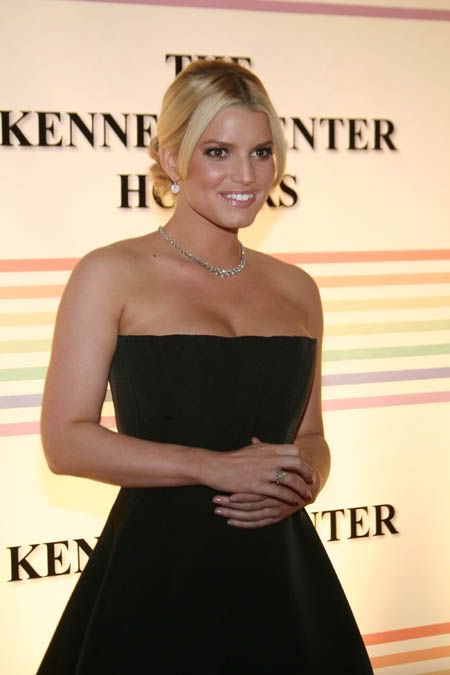 Jessica Simpson must not be used to singing to a house full of bigwigs. She choked up during a performance at the Kennedy Center Honors and left the stage abruptly at the end in the middle of her number. She sang Dolly Parton's "Nine to Five" with Dolly in attendance. Once she came back on afterwards it was clear she had been crying:
Singer-actress Jessica Simpson was in tears last night after flubbing a song she was performing during the Kennedy Center Honors.

Simpson was on stage to sing Nine to Five as part of the tribute to Dolly Parton, one of the evening's five honorees. Simpson ended her performance abrupty with the words "so nervous" and quickly exited the stage. The stunned audience remained silent, giving her no applause.

Simpson appeared to be crying when she and other singers in the tribute returned to the stage.

CBS will broadcast the show Dec. 26 at 9 p.m.

In addition to Parton, the evening's other honorees were movie director Steven Spielberg, singer Smokey Robinson, composer Andrew Lloyd Webber and conductor Zubin Mehta.
Here are pictures from the night in question. Who wouldn't be intimidated performing Dolly Parton's number right in front of her. I heard that Dick Cheney gave her a little sneer too.
Pictures from Hollywood's Best.