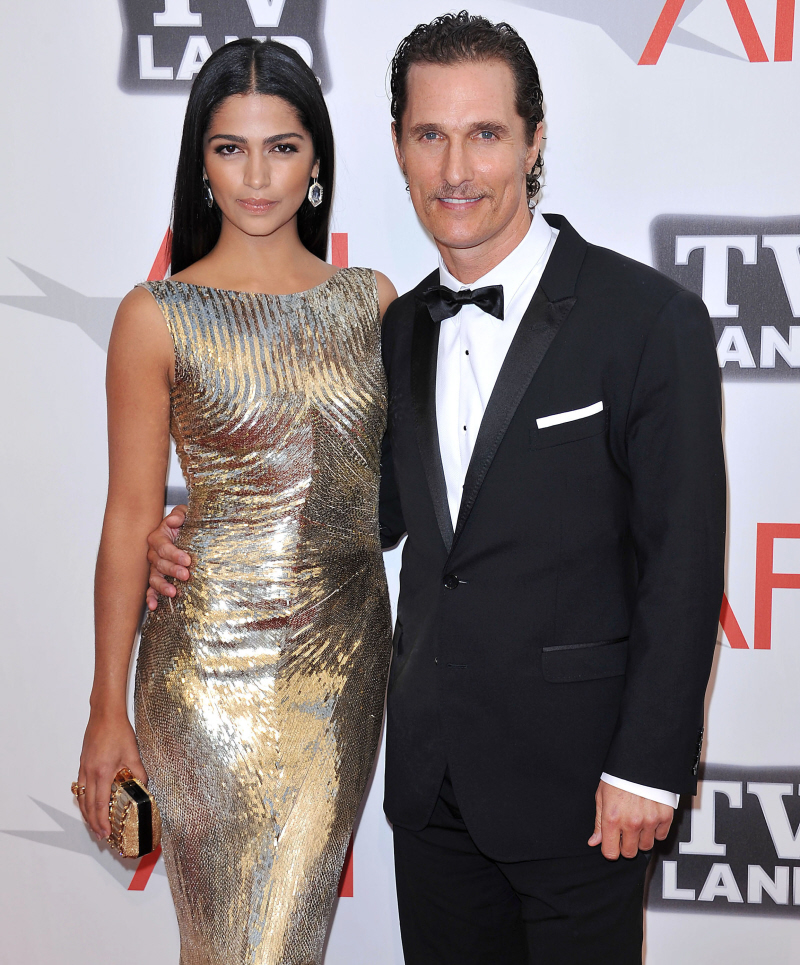 I wasn't expecting this so soon. People Magazine and Us Weekly are reporting that Matthew McConaughey and Camila Alves had a secret ("secret") wedding last night in Texas. Camila and Matthew have been together for six years, and they have two children together – Levi (nearly 4 years old) and Vida, who is 2 and a half. Matthew is 42, Camila is 30 – I don't think I realized how young she is. It was just last week that I saw a new interview with Camila in which she claimed she wasn't even close to planning the wedding, but I guess that was just to throw everyone off the scent. The wedding seemed to be kept very low-key and the guests didn't even know they were coming to a wedding. People Magazine will have some of the wedding photos in next week's issue. Here's a bit more about the couple:
Everything's bigger in Texas — especially celebrity weddings! Texas native Matthew McConaughey and his love of six years Camila Alves tied the knot in Austin Saturday, multiple sources confirm to Us Weekly.

"There were about 100 of his close friends and family there," one wedding guest tells Us of the "high-end," campout-themed soiree. "[The ceremony] was very emotional. There was a moment when . . . [Matthew] leaned down and whispered something in [Camila's] ear and you could see a tear coming down her face. Everyone let out a collective sigh."

Following the ceremony, guests — including Woody Harrelson and filmmaker Richard Linklater — celebrated all night long, camping out in state-of-the-art tents set up on McConaughey and Alves' property.

"It's definitely a campground, but they weren't exactly roughing it," one source explained. "They have showers, restrooms, and air conditioning. It's very unique, high-end camping."

Alves and McConaughey, 42, who met at a bar in Los Angeles in 2006, have two children together, Levi, 3, and Vida, 2. The actor proposed to his Brazilian-born love this past Christmas.

"Just asked Camila to marry me, #MerryChristmas," the Magic Mike star tweeted December 25, posting a sweet photo of the newly-engaged pair sharing a smooch.

"I found the woman I wanna make a family with, hopefully live our life out together," he declared to Esquire magazine in March 2011. Still, the head-over-heels pair saw no reason to rush things, because, as Alves told ET Canada this past March, they already felt like a married couple.

"We've been living a married life for over six years now," Alves, 30, explained. "We have homes together, we have family together, we have kids, we've built a life together. So we've been living a married life this whole time."

Added the Shear Genius host, "A lot of people, sometimes they're so stuck on 'I gotta get married, I gotta get married,' that they forget that the really important thing is to have a healthy home, a healthy family, a healthy family for your kids and to have everything going in a good, peaceful way."

As young as her children are, Alves admitted her kids were excited when their parents decided to make their union official.

"Levi actually understands what it means now that mama's going to have the same last name as they have, so that's neat!" the model explained.

As for plans to expand their brood?

Teased Alves, "We'll see!"
Although I'm a bit surprised with the timing, I'm not surprised Camila and Matthew made it down the aisle. I think most people already assumed they were married anyway, so this is just formalizing their relationship even more. And can I just say? I can remember a time when Matthew was one of the hottest guys around. Yes, children, I survived the 1990s, and there was a point in my life where I was attracted to Matthew McConaughey. Not so much anymore. But I still wish him well, and I think their wedding sounds really nice. Congrats to the happy couple!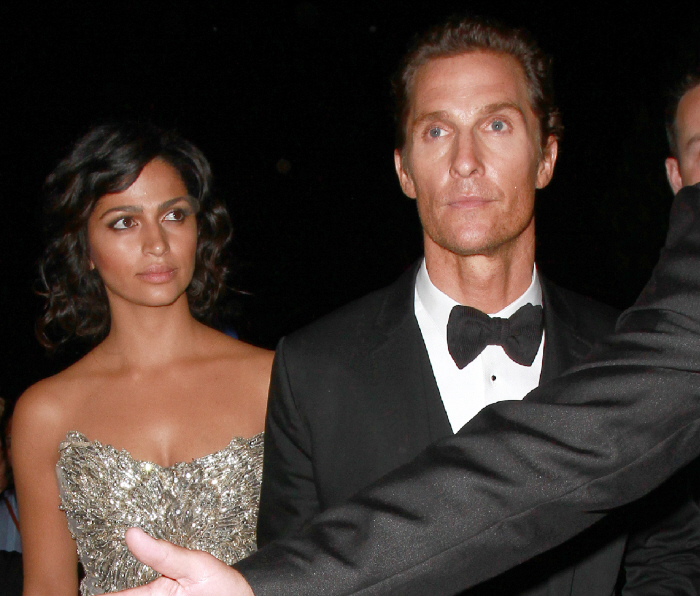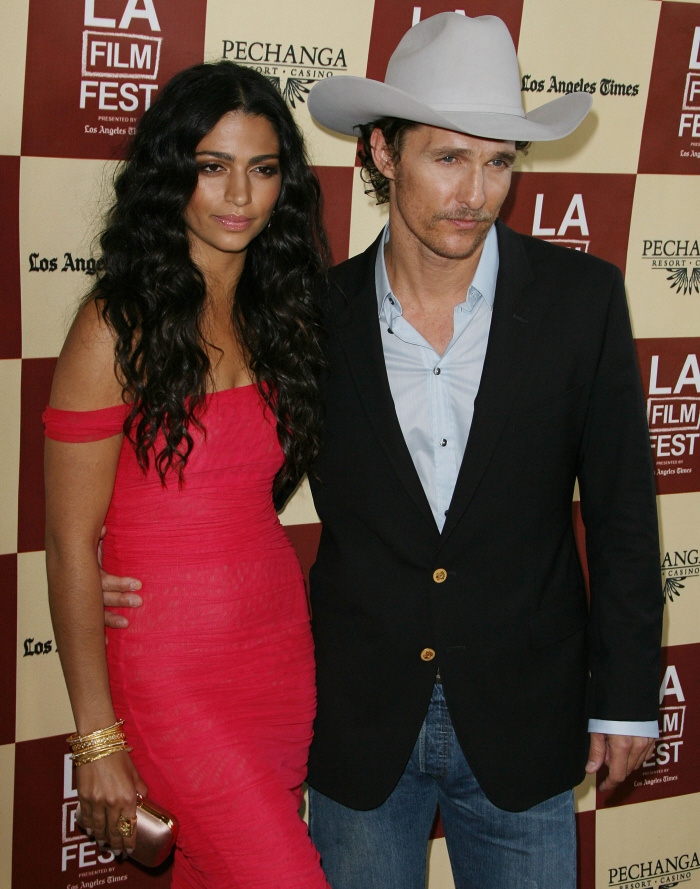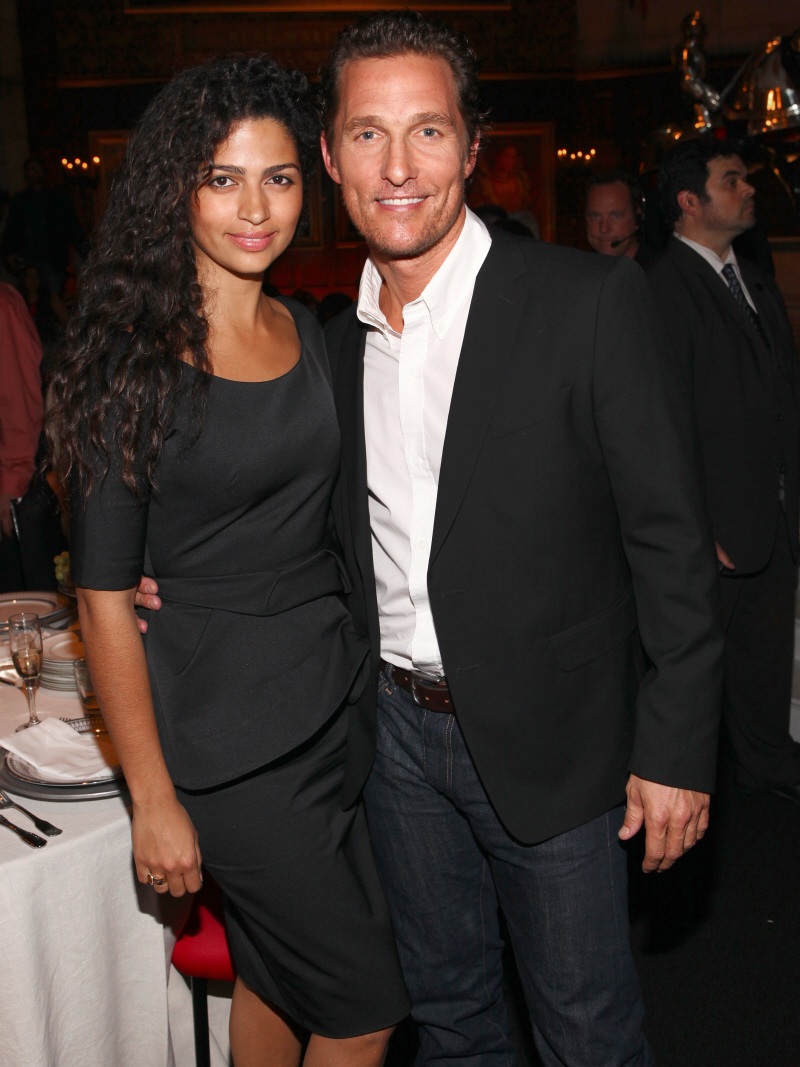 Photos courtesy of WENN.