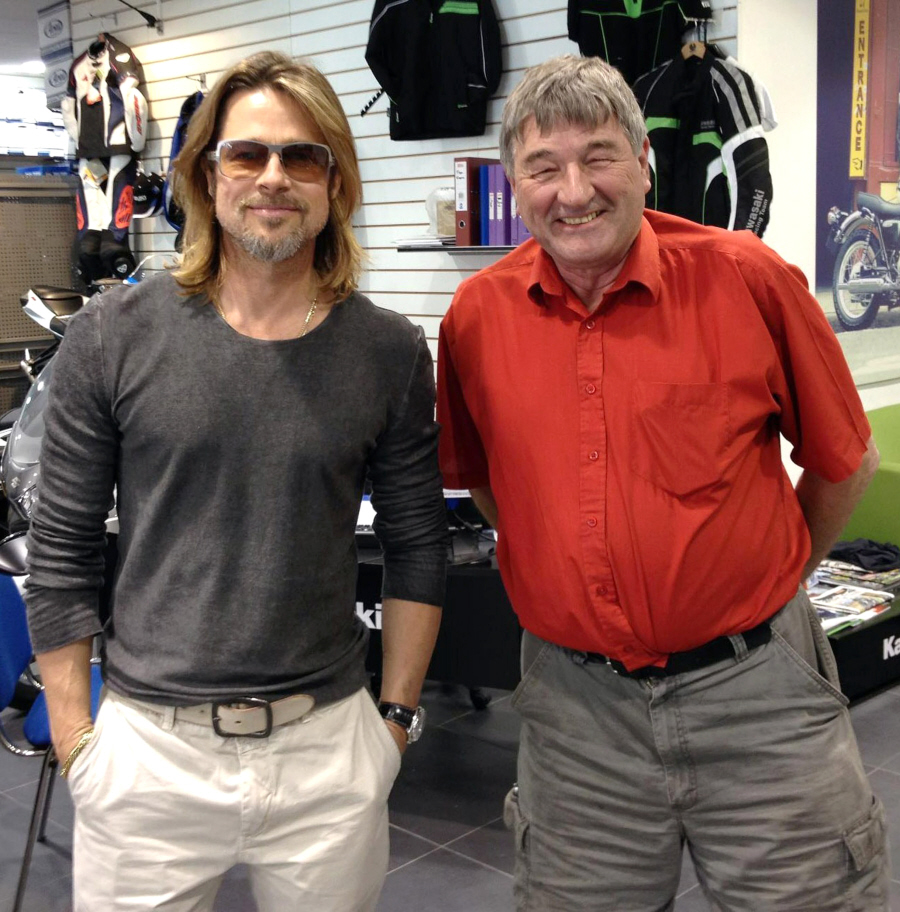 These photos just popped up at Fame/Flynet, and I became enchanted by them immediately. According to the photo agency, "Actor Brad Pitt visits a Honda Goldwing specialist motorcycle shop in London, England on June 13, 2012. The Hollywood actor posed with staff of HGB Motorcycles in Ruislip during the brief visit." Is it just me or does Brad look really sexy here? It's the hair – it looks sort of blown-out, but it's not girlishly fluffy. It's an interesting length on a man approaching 50 years old, but Brad really makes it work. All I really needed was one of these photos, the idea of "motorcycle shopping" and I had already formed a little sexual fantasy involving Brad, Michael Fassbender and a motorcycle ride in the English countryside. Mmmm… English country threesome. Nice.
Brad is keeping the long hair for a little while longer, at least. You know why? Because he has to go back and film even more scenes for World War Z. WWZ filmed for months and months last year, all over Europe. It was the neverending film shoot. And now the ending has been rewritten and Brad has to go back to work AGAIN and do reshoots – although the time estimate on the "reshoots" is five to seven weeks, which is more like half a film production. And even then, it might be a disaster:
Forget sometime scary-skinny near-missus ANGELINA JOLIE, BRAD PITT has some real ZOMBIE problems! AS The ENQUIRER reported previously Brad had been producing a zombie thriller "World War Z" which seemed destined for a big money making franchise. But now, sources say, not only is the film A STINKER with its release date pushed back to 2013 but the tawny Brad may be to blame.

"Can we take this genre movie and use it as a Trojan horse for sociopolitical problems, and what would the effect on the world be if everything we knew was upside-down and pulled out from under us?" Brad told The Hollywood Reporter last January, as he seemingly had classic disaster flick "The Poseidon Adventure" on his mind – but substituting flesh eating denizens of the brain snarfing undead for Shelley Winters.

But a source now told THR that Brad's film is now "a nightmare from top to bottom".

The troubled production dragged on for months as a novice SFX director battled with the cinematographer and the logistics of shooting all over economically ravaged Europe took its toll. Meanwhile Brad and his producing partner were busy prepping a small indie film that preemed at Cannes, "Killing Them Softly".

By the time they were ready to re-focus their attentions on the zombie flick "the disaster was already well in the making," the production insider divulged.

Yet a Paramount exec said "The footage from this film looks fantastic, but we all agreed it can have a better ending. Getting the ending correct is essential, and we are in that creative process."

But Brad is positive his zombie apocalypse gore fest will garner kudos, "I know my boys are going to like it."
You know who did the script rewrite? Damon Lindelof. The man who screwed up Lost and bungled the Alien reboot, Prometheus. So… expect a three-hour opus in which Brad Pitt wanders around talking about faith versus science, basically. Beyond that, Indie Wire reports that director Marc Forster was unprepared to helm such a massive, big-budget film, and the whole disaster is already costing the studio more than $170 million reportedly. Let's hope Brad The Producer can begin to rein in some of this BS.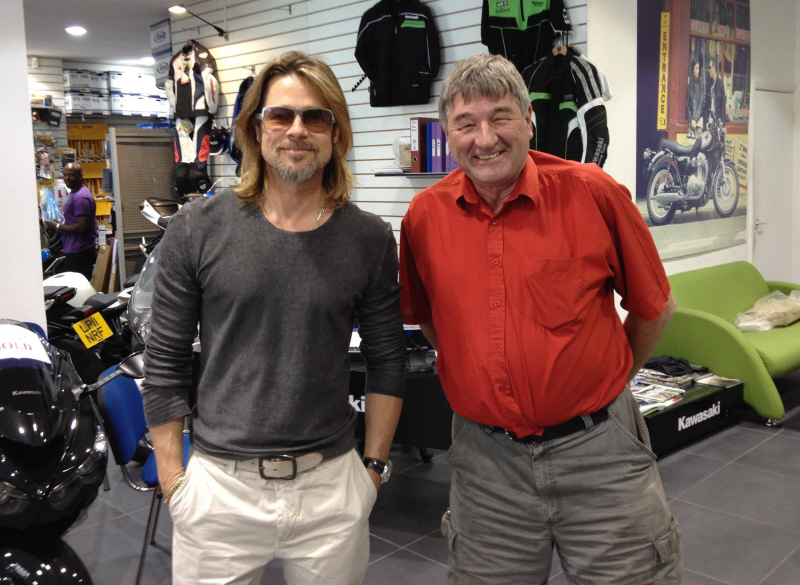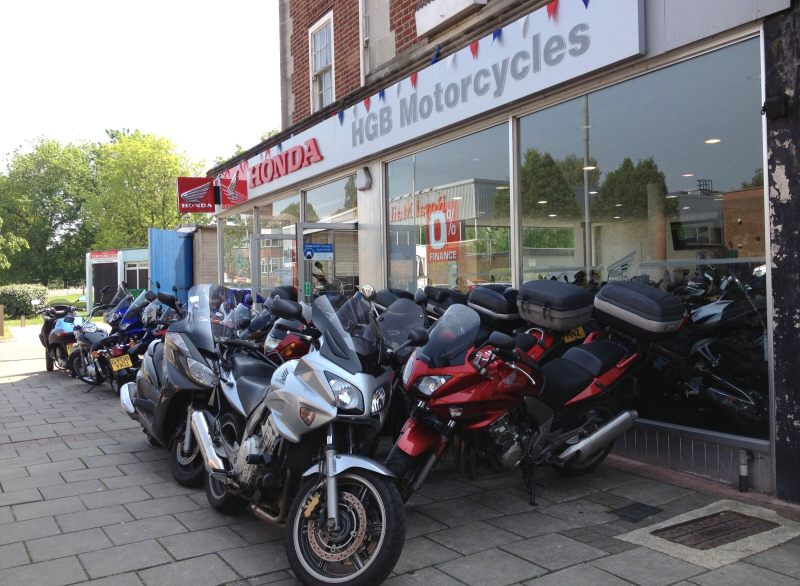 Photos courtesy of Fame/Flynet.