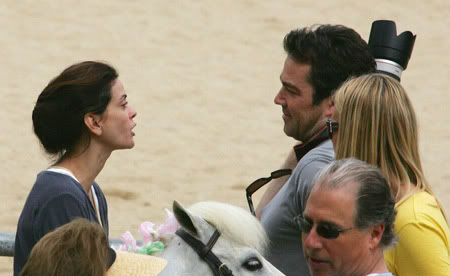 Every relationship advice book I read when I was single said that the best way to get guys is to live it up, have a great time, and not act like you're desperate. You're supposed to date more than one guy, not open up too soon, and make them chase you. The way Teri Hatcher is going, she's going to be single for a while or she's going to end up in a lame codependant relationship.
She told her story about being violated by her uncle as a child in a partial bid to get back at George Clooney for not changing his stripes to stay with her for more than a month. Now she's going to release a memoir chronicalling her sad love life.
* Her second marriage, to actor Jon Tenney, held on for nine years, but was so devoid of passion they didn't even make love on their honeymoon. Hatcher claims to know exactly when their 8-year-old daughter, Emerson, was conceived, because she and Tunney "had sex once that year, on Valentine's Day." A rep for Tunney didn't return a call by deadline.
* After their divorce in 2004, Hatcher set off on "a parade of bad dates." There was a handsome millionaire who was "already in a long-term relationship with cocaine." There was a freak obsessed with prostitutes. And there was a "creepy lawyer" who offered her "$50,000 to go to a convention with him. Like an escort!…"
"If I thought getting divorced was going to open up an arena of endless sexcapades, I was wrong," she says. "I never thought I'd be [over] 40 and have no one to go to dinner with, nor someone who loves me and whom I trust, but here I am. Sad but true."
Meanwhile Teri injured her eye on the set of Desperate Housewives after a lightbulb exploded, scratching her cornea. She sounds rather sorry for herself in her statements about it:
"I was taken to a wonderful eye doctor, and now am wearing a most glamorous eye patch over the right half of my face.
"I like to look at the positive, and the good news is the cornea is the fastest healing tissue in the body.
Teri – this is not the way to get men! You have to fake it until you make it. Please cheer up and look at the positive. Some people still think you're sexy, but your attitude just ruins it.
Here she is with her daughter and ex husband at a horse event two days ago. [via] The guy must realize that he dodged a bullet.