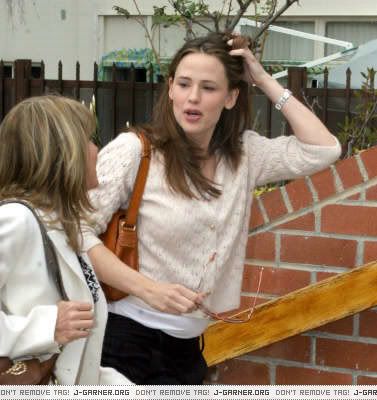 Jennifer Garner has said that her ABC show Alias has run its course, but that she's sad to leave her character Sydney behind. It sounds like she's making the best of the situation:
"It definitely feels appropriate," Garner says. "To me, this show had a finite amount of stories that we could tell. The only reason I say that is not because of the writers, because they're geniuses, but part of their genius is that they shove a ton of story into every episode. So we've told, in five years, what some people would do in seven seasons.
"So, it feels like it's time. We've done Sydney right, and now it's time for her to go off into the sunset. But that does not mean that my heart doesn't break, and I'm not going through a total identity crisis, because I am."
Garner also missed doing her own stunts while she was pregnant, and was thrilled to get the change to jump off a ten-story building while filming the show last wekend:
She explained, "I haven't done any of that stuff since I've been pregnant, so I told the stunt coordinator, 'Let's do it, AFTER I put the baby to bed.'"
The star leaped off the ABC office building last Saturday while filming the final season of her hit TV series.
Garner added, "When am I ever going to get the chance to jump off of the ABC building again?"
Garner is a positive, friendly person and sounds so gracious in her comments about the series. Jennifer Aniston, Gwyneth Paltrow and Eva Longoria – take a note!
Here is Garner going to lunch with a friend at Spago. [via] (Pictures are low-res. Sorry about that.)