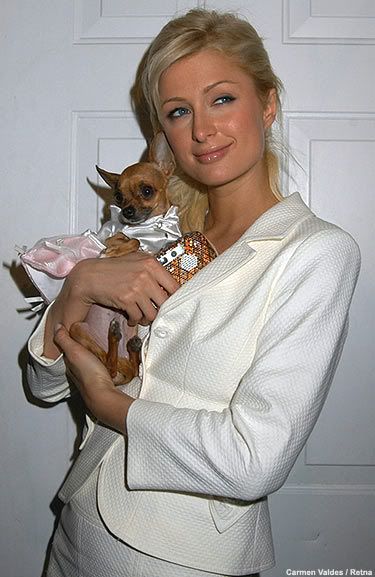 Word is that Paris Hilton wants her own convenient accessory children to tote around for the paparazzi that follow her. That way, she can mix it up and won't have to keep switching friends to get coverage.

The partying heiress says that hanging around with her new best friend, Britney Spears, and Spears' two tykes has made her want to reproduce.

"It's been my dream to have four babies by 30," the 25-year-old heiress announced, reports Life & Style Weekly. And Hilton thinks she's highly qualified for motherhood, explaining: "I look after animals, so I'd have a lot to give my kids."

In fact, looking after kiddies has become so appealing to Hilton that she recently cut short a night out with Spears, announcing to friends, "We're going home to the babies. We miss them."
Since when is Paris a competent pet owner? She complained about having to take a limo with her many pets for a six hour drive when an airplane barred her from bringing her goat on a plane. In news that was likely fabricated, she was also said to want a baby kangaroo too, but was discouraged from buying one when she was told they can grow up to be violent animals. She even had a monkey taken away from her after it bit her repeatedly.
She would make a fabulous parent. She should call up Madonna and ask for tips on how to fast-track an adoption of the cutest kid available by mail order. With Britney as her role model for motherhood, is it any wonder she thinks it's a good idea?