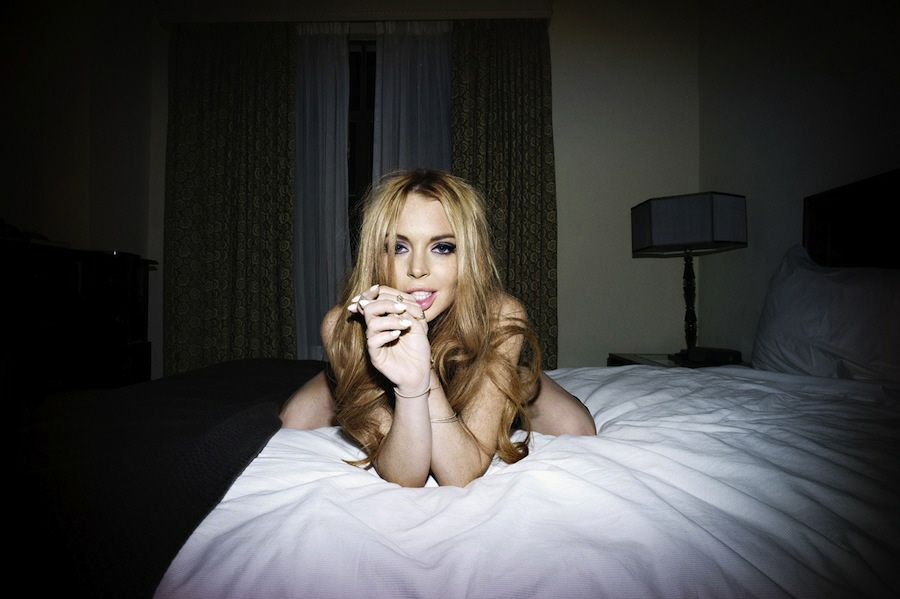 If you believe it, I'm only seeing this NSFW-ish photo shoot for the first time today. Back when she was a ginger… maybe a month ago?… Lindsay did a "photo shoot" with L'Officiel Homme. I saw one of these pics before, but I thought it was from that years-old photo shoot she did where she was copying a famous Kate Moss shoot. I also thought the whole thing looked pretty Terry Richardson-ish, but as it turns out, this shoot was done by someone named Olivier Zahm. Do you have any thoughts on the whole "taking photos of a scantily-clad crackhead as if you're viewing her from night-vision goggles"? It's creepy, right? It's also creepy because Lindsay looks pretty druggy in these pics. I get the feeling that this is her life – she gets undressed and creepy men take photos of her in her Chateau Marmont hotel room.
Anyway, remember Lindsay's car crash? I know, I know – that was like five cracktastrophes ago. Lindsay (herself) crashed her rented Porsche into the back of an 18-wheeler, then lied to the cops about it, and then nothing. Because the LAPD issued the Cracken a "Get Out of Jail Forever" Pass. Well, insurance companies have higher standards than the LAPD – and it seems like Lindsay's insurance for Liz & Dick is jeopardy. Sort of.
Lindsay Lohan was PROHIBITED from driving while shooting "Liz and Dick," because the insurance policy the production company took out made it crystal clear — Lindsay was not allowed to get behind the wheel … TMZ has learned.

Sources connected with the production tell us … the insurance company that issued the policy — which would take a major hit if Lindsay couldn't complete the film — was extremely reluctant to take the risk. The insurance company set numerous conditions on its coverage, and one of them was banning Lindsay from the roads which have landed her in big trouble multiple times — DUIs, car accidents, and on and on.

Sources tell us … the honchos producing the movie knew Lindsay was driving in violation of the policy, but it appears no one cared — that is until Lindsay crashed a Porsche on Pacific Coast Highway, with a production SUV following right behind her.

As for the consequences, we're told so far the insurance company hasn't attempted to cancel the policy or take other action. For its part, the production company has made it clear to Lindsay — she is NOT to drive for the duration of the filming.
So… the insurance company should and could pull Lindsay's policy because they set out in super-explicit terms that IN NO WAY should anyone let the crackhead drive, and when the crackhead drove, no one is doing anything. Like, I understand Lindsay's enablers – her mother, her sister, her publicist, all of them – I understand why they cover for her and lie for her. But why does everyone else? Why is it that absolutely NO ONE in Los Angeles is willing to demand that Lindsay follow the rules, and when she breaks said rules, make her face the consequences? Ugh.
Photos courtesy of L'Officiel Homme.