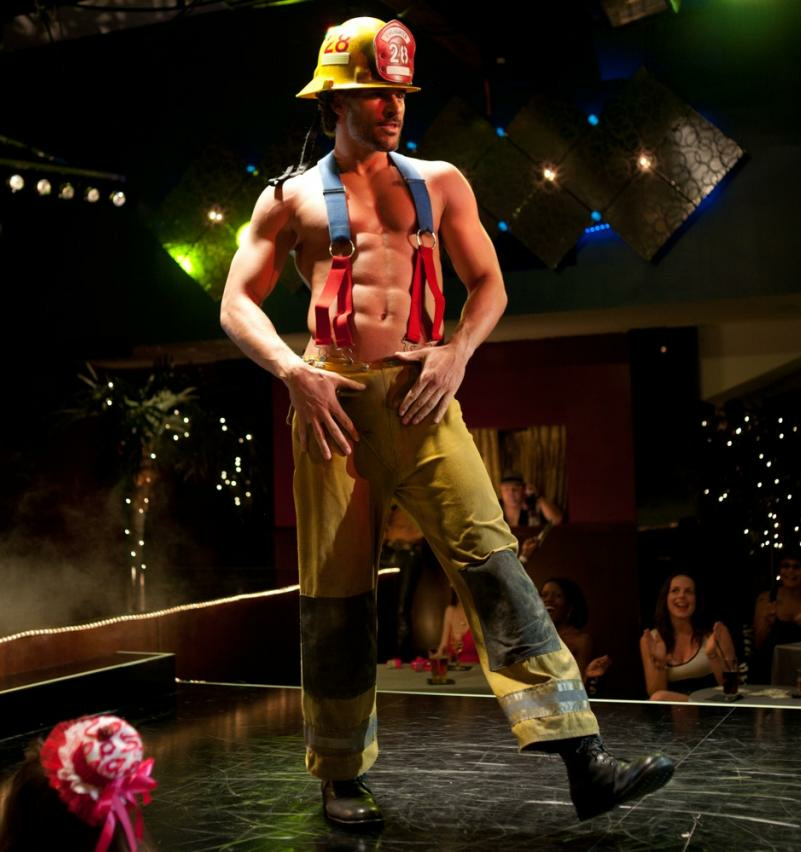 I pretty much think Joe Manganiello is a dumb beefcake. And I pretty much think Demi Moore is just dumb. So would a possible pairing of these brain-cell-impaired people bring me joy? Not so much. British tabloids are claiming that Demi and Big Joe are possibly in the middle of something. Allegedly, Demi and Big Joe met a few weeks ago, and… that's basically it. They met at a party. They talked for a while. Demi flirted and invited Joe back to her home to enjoy some Whip-Its. And the rest is history…
She's had a very difficult year after splitting from Ashton Kutcher and being admitted to rehab for 'eating disorder and addiction issues'. But now Demi Moore is getting her life back on track, and has apparently hit it off with a new man – True Blood star Joe Manganiello.

According to reports, Demi, 49, and Joe, 35, were spotted enjoying each others company at the after-party following the premiere of the actor's new movie That's My Boy at Los Angeles' Napa Valley Grille earlier this month.

A source told heat magazine: 'They looked amazing together. Demi was getting a lot more attention than a lot of the younger girls in the room, and Joe was seen waiting for her before they went off and hung out together at the party. They had amazing chemistry.'

The pair first met when they both signed up to appear in the movie Magic Mike, in which Joe stars as stripper Big Dick Richie. And despite Demi pulling out of the film following her breakdown, the pair have reportedly kept in touch.

The source added: 'Demi has finally got her groove back – and it's all thanks to meeting Joe. She's feeling confident again and, more importantly, sexy.'

However, it remains to be seen what Demi's ex Ashton Kutcher makes of her new relationship, as he actually starred alongside Joe in an episode of sitcom Two And A Half Men last year.

Meanwhile, it has also been claimed that Demi has gained nearly a stone after sticking to a new healthy eating regime. The actress had sparked concern with her worryingly thin frame when she dropped to less than seven stone ahead of being admitted to rehab. But now Demi, who was spotted at her daughter Tallulah's graduation on June 7th, is looking much healthier after adopting a new eating plan.

An insider told heat: 'Back then Demi was basically living on Red Bull but now she's eating balanced meals that include protein, complex carbs and organic vegetables. She's also been swimming and doing yoga every day and has gained just over a stone.'
"She's feeling confident again and, more importantly, sexy." UH. Why is the idea of Demi "feeling sexy" the most important thing? Demi had to go to rehab and her recovery is still fragile, but YES. The most important thing is that Demi feels sexy.
So… is there any truth to this report? Eh. It feels like a plant from Team Demi, and I say that because Team Demi is where PR goes to die. They don't know what to do with her, so they're just throwing her (fictitiously) at random, young beefcake. The fact that she goes for consistently younger men is only a symptom of a larger problem I have with Demi. That larger problem? Demi thinks that if she acts 22 years old, dates young dudes, and goes under the knife in a vain attempt to look 22 years old, that somehow she'll be 22 and it just doesn't work that way.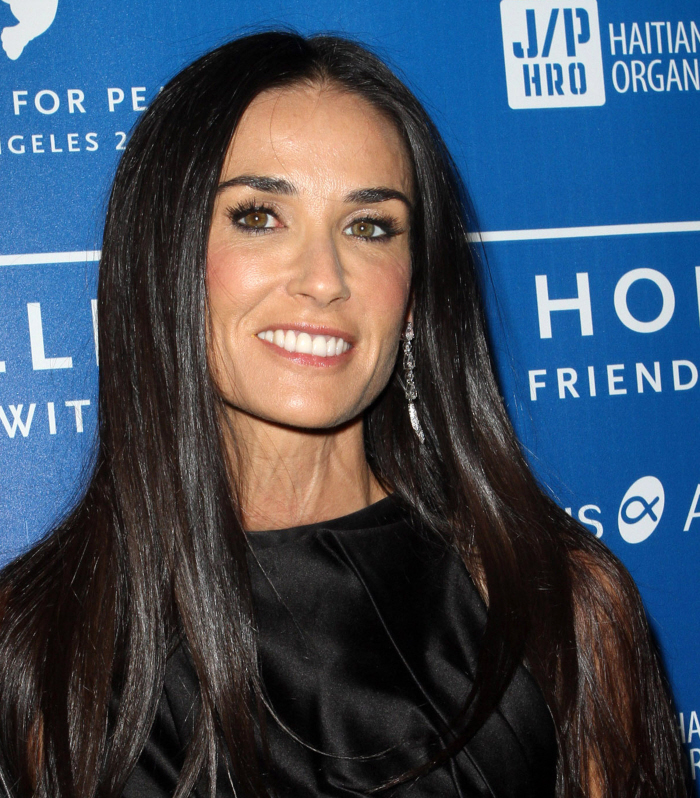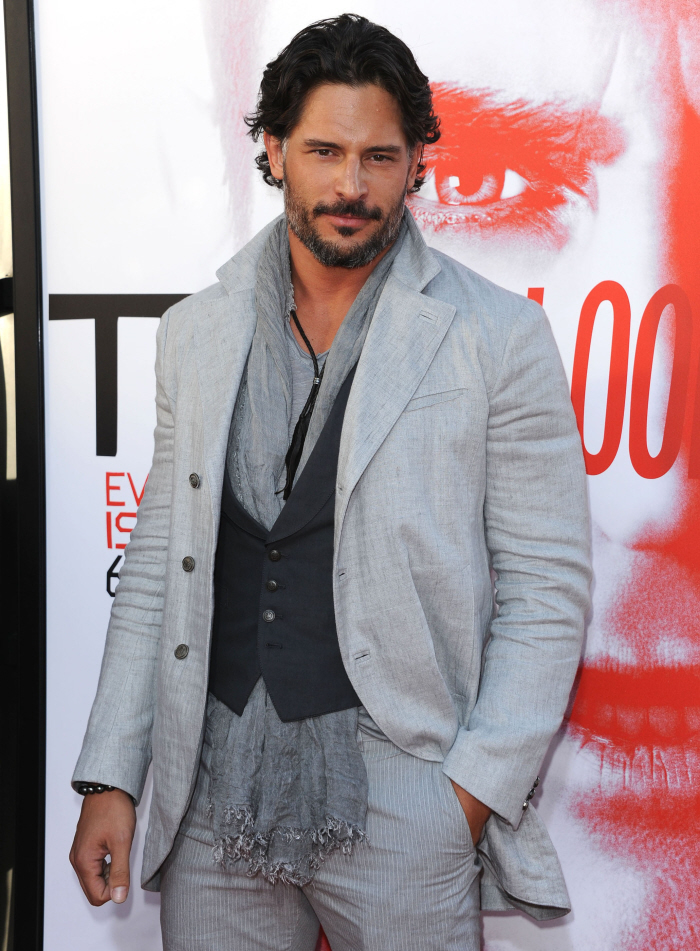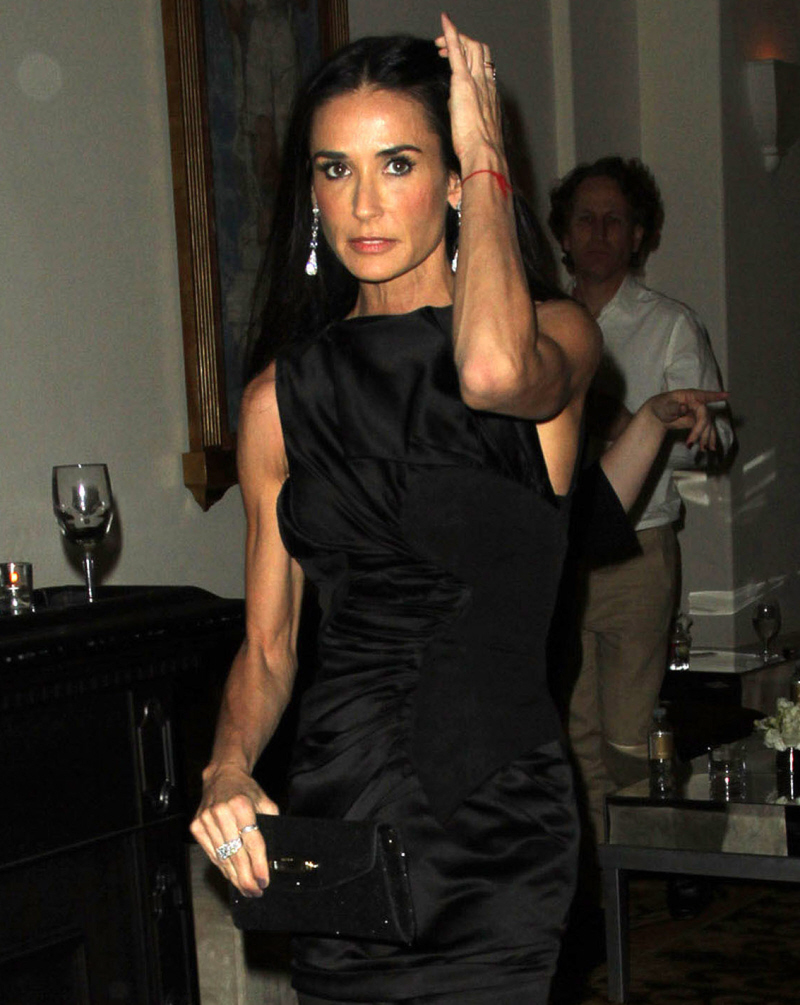 Photos courtesy of WENN, EW.