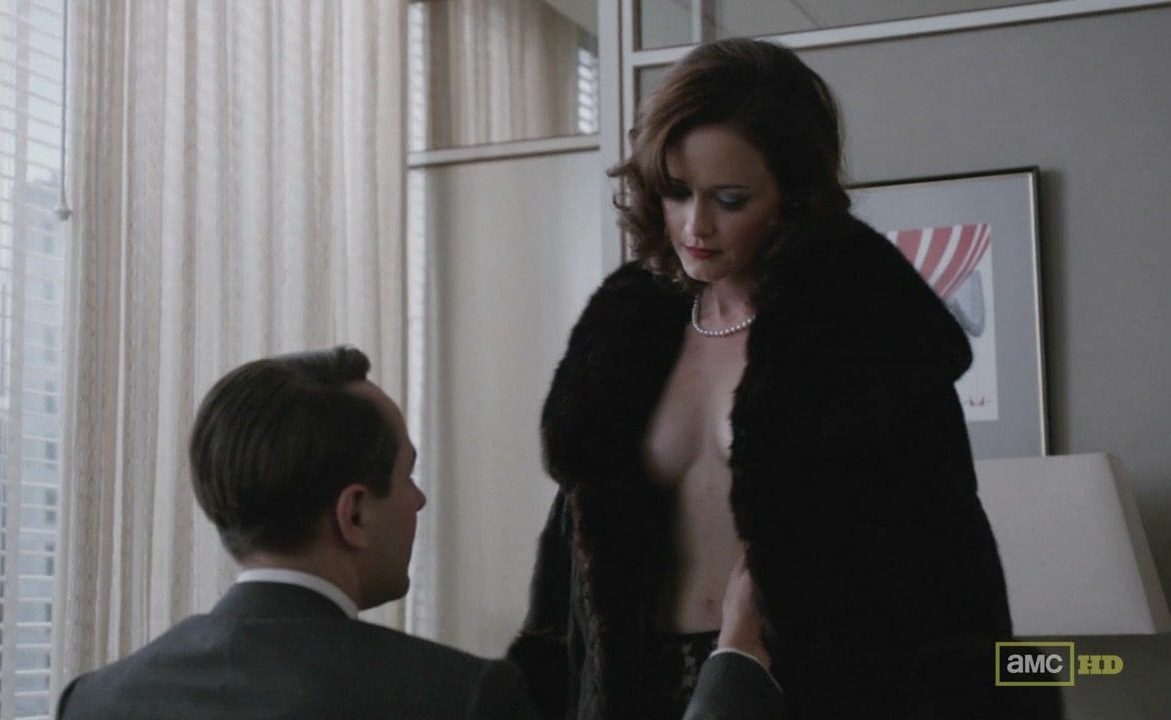 Now that I'm more than a week out from Mad Men's Season 5 finale, I feel like I'm seeing the season as a whole more completely. It's amazing how much faith I have in Matthew Weiner – yes, he does take some detours and we don't always know where things will end up for these characters, but I still hold that Mad Men is like a living novel – how we speak of it, how we write about it, what we think about these characters, the debates, the disappointments, the triumphs… it's not a normal TV show. The investment is different.
One of the "WTF?" detours that Mad Men took this season was the Alexis Bledel storyline. Alexis appeared in a handful of episodes as a sexy, bored young housewife named Beth Dawes – obviously too young for her older, insurance-salesman husband and ripe for a torrid affair with Sterling Cooper Draper Pryce's resident sleazy pimp, Pete Campbell. SPOILERS!! Pete became obsessed with Beth, even convincing himself that he was in love with her, I think. Maybe he was. But in the end, their affair was wiped clean from her memory using a convenient storyline straight out of some Sylvia Plath nightmare. At first I thought Alexis seemed much too young for the role. But in the end, I understood the choice. Weiner wanted an actress who combined a child-like "doll" quality with a young woman's powerful sexuality plus a dash of insanity, and Bledel filled the bill admirably.
It seems Bledel's costar thought so too – according to a report from The Mail, Vincent Kartheiser (who is a laid-back, grungy hippie compared to his Pete Campbell character) and Alexis Bledel are now a thing.
It seems Mad Men is proving to be something of a dating agency in real life. For actor Vincent Kartheiser, 33, was 'seen smooching' with actress Alexis Bledel following her guest stint on the hit AMC show.

The 30-year-old Sisterhood of the Traveling Pants favourite played a depressed housewife who had an affair with his smarmy character Pete Campbell. Her character memorably appearing at his office wearing nothing but a fur coat and pearls.

While that dalliance did not end well, it seems he has become very friendly with the Gilmore Girls star away from the cameras, as they were seen getting very friendly on a flight from New York's JFK Airport to Los Angeles.

A source told Crushable: 'They came over to the gate right as I was boarding and I saw him first. His hair is fuller and he's got a beard, but I recognized him right away. Then he walked over and a girl with him sat down and it was Rory Gilmore. They are not sitting in first class but him right in front of her in middle seats. Guess they booked last minute. He was leaning over the back of his seat talking to her and leaned over and kissed her.'

It will be the first high profile relationship among the cast of the show since it began in 2007. The MailOnline contacted the Vincent and Alexis' representatives, but has yet to receive a response.
I don't hate this pairing. Probably because I've never seen an episode of Gilmore Girls, thus I don't have any strong feelings about Alexis Bledel. To me, she's just a cute, age-appropriate girl who seems to be good for Vincent Kartheiser, who I actually like a great deal. I hope this is real. I hope they're a real couple and they stay together for a while.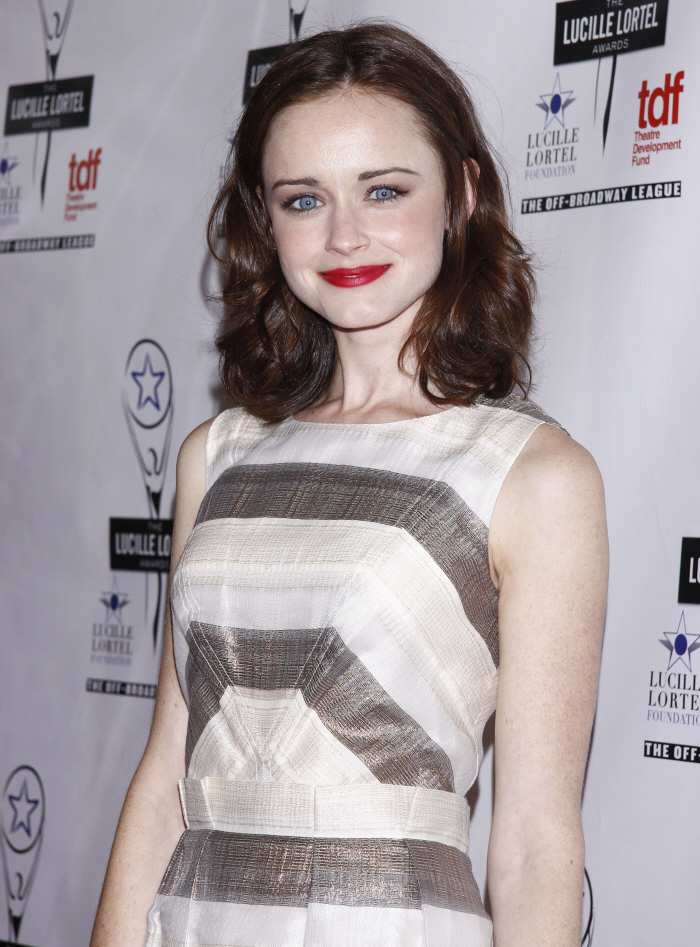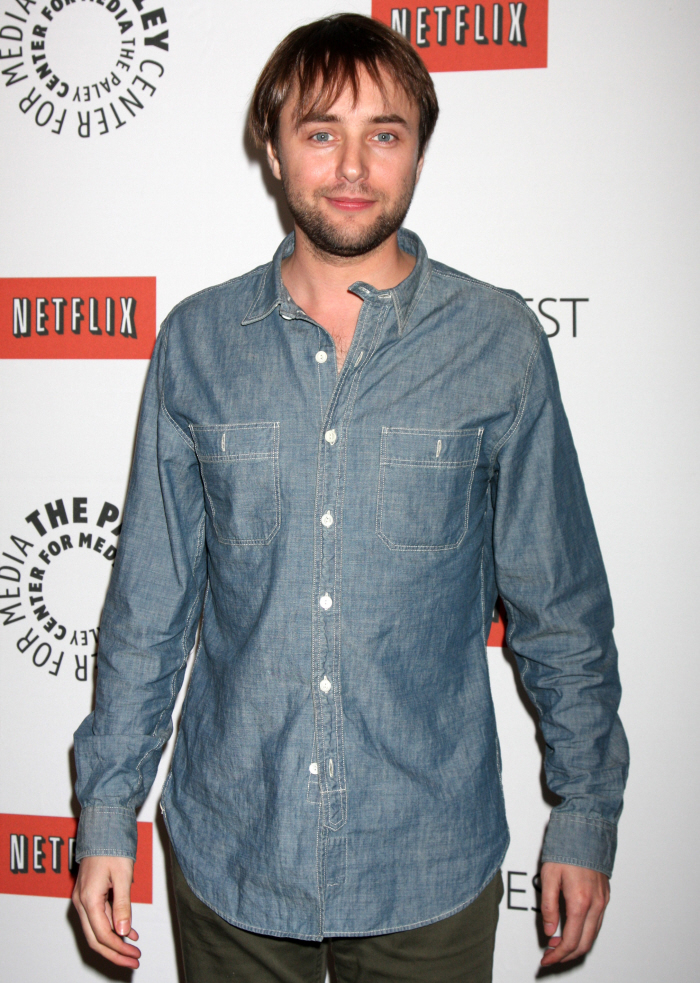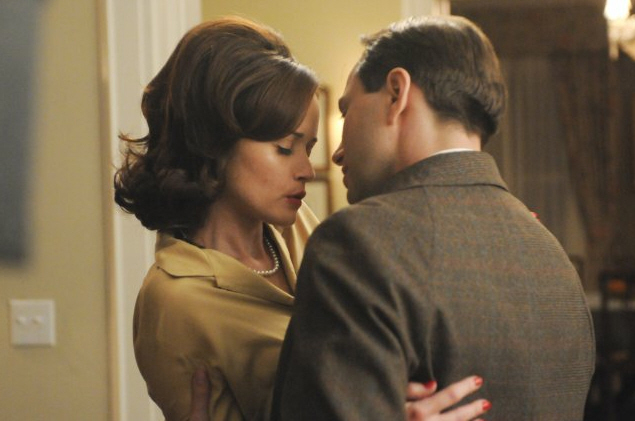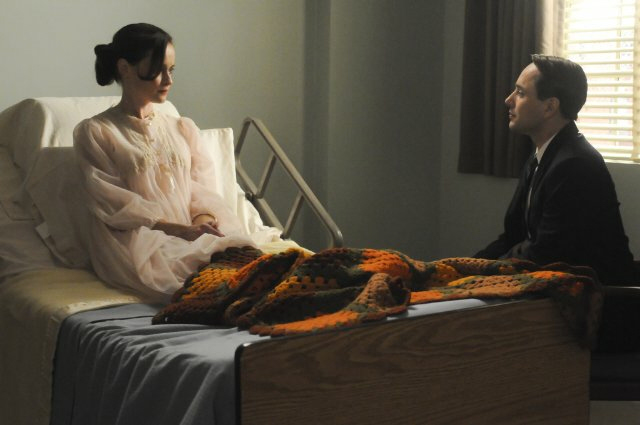 Photos courtesy of AMC/Mad Men and WENN.