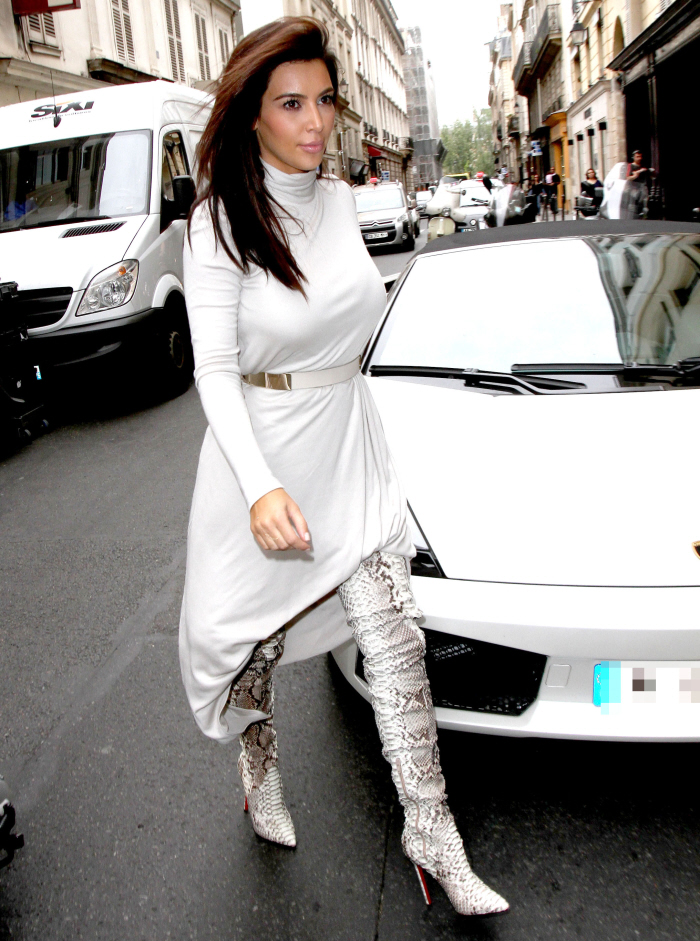 PETA has had a hate-on for Kim Kardashian for years. Kim made all of the PETA's "Worst Celebrity" lists because Kim wears fur and leather and all kinds of animal-related gear. Plus, Kim is actively trying to remake her face into that of a cat, so PETA has really had enough with her. Back in March, a not-so-rogue PETA activist even flour-bombed Kim on the red carpet for her latest perfume launch – the activist supposedly yelled "FUR HAG" at Kim before dousing her in flour, although Kim was not wearing fur at the time. She was wearing leather though… but I guess "leather hag" sounds more like an issue in the gay biker community. Anyway, this is just a long way of saying that Kim and PETA aren't going to be getting along any time soon. Kim stepped out in Paris wearing these python boots (the photos in this post) and PETA issued a press release before the photos had even made the gossip blog rounds:
Kim Kardashian and Kanye West have already won the title of PETA's most hated couple for their fur-loving ways and now the undiscerning fashionista has ruffled the feathers of the animal rights group yet again, RadarOnline.com can exclusively reveal.

The Keeping Up With The Kardashians star strutted down the boulevards of Paris on Tuesday in a pair of thigh-high Christian Louboutin python boots, which retail for $5,495 and are banned in her home state of California.

"They'd go well with a Dalmatian-fur coat, which is also illegal to sell in California and immoral to sell anywhere else," Wendy Wegner, a spokesperson for People For The Ethical Treatment of Animals tells RadarOnline.com in an exclusive interview, in a damning comparison to evil Disney character Cruella de Ville.

The most recent scaly stand-off is the latest in a long line of collisions between Kardashian and PETA, which has included her being slammed in a giant billboard for wearing fox fur, and resulted in Kim being flour-bombed by a supporter during a red carpet event last March.

According to the California Penal Code Section 653o it is unlawful to import python into California for commercial purposes, to posses with intent to sell, or sell within the state. However, it is not illegal to purchase python in another state and carry it over.

After PETA called out Reese Witherspoon for carrying a Chloe Paraty python and leather purse last November and sent her an educational video about how cruel it was, the Water For Elephants star ditched the offensive accessory.

It seems unlikely the tough-skinned Kim will do the same though as she's shown a blatant disregard for their opinions in the past!
I remember that Reese Witherspoon thing – go here for a refresher. Reese was carrying a gorgeous Chloe python bag in LA, and PETA climbed up her ass about it. Then, a few days later, PETA claimed that Reese had "given up" the bag, although I thought that story reeked of BS. I also remember being surprised that the state of California has a law on the books criminalizing the sale and purchase of python skins/leather. You can wear python stuff – you just can't sell it or buy it in California. It seems kind of random and not all that easy to enforce, but whatever. Obviously, Kim bought her boots outside of California, and she's wearing them in a completely different country, so I'm not sure what PETA's goal is other than to publicly bitch it ("raise awareness").
Also: Am I alone in being more offended by the horrendous fashion overall? The boots are fug, but the dress with the belt? That's hurting my eyes.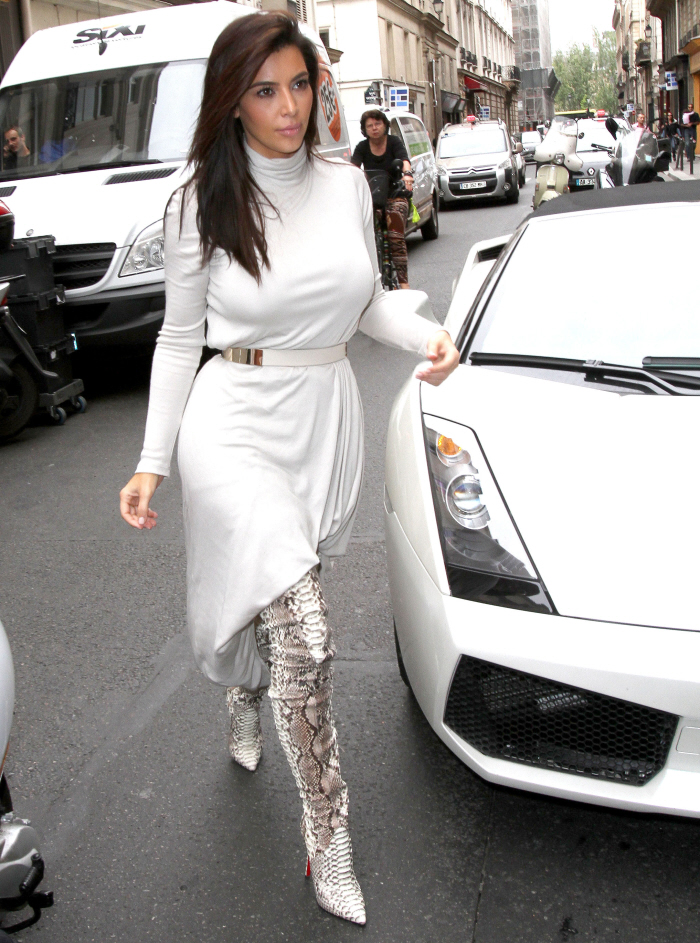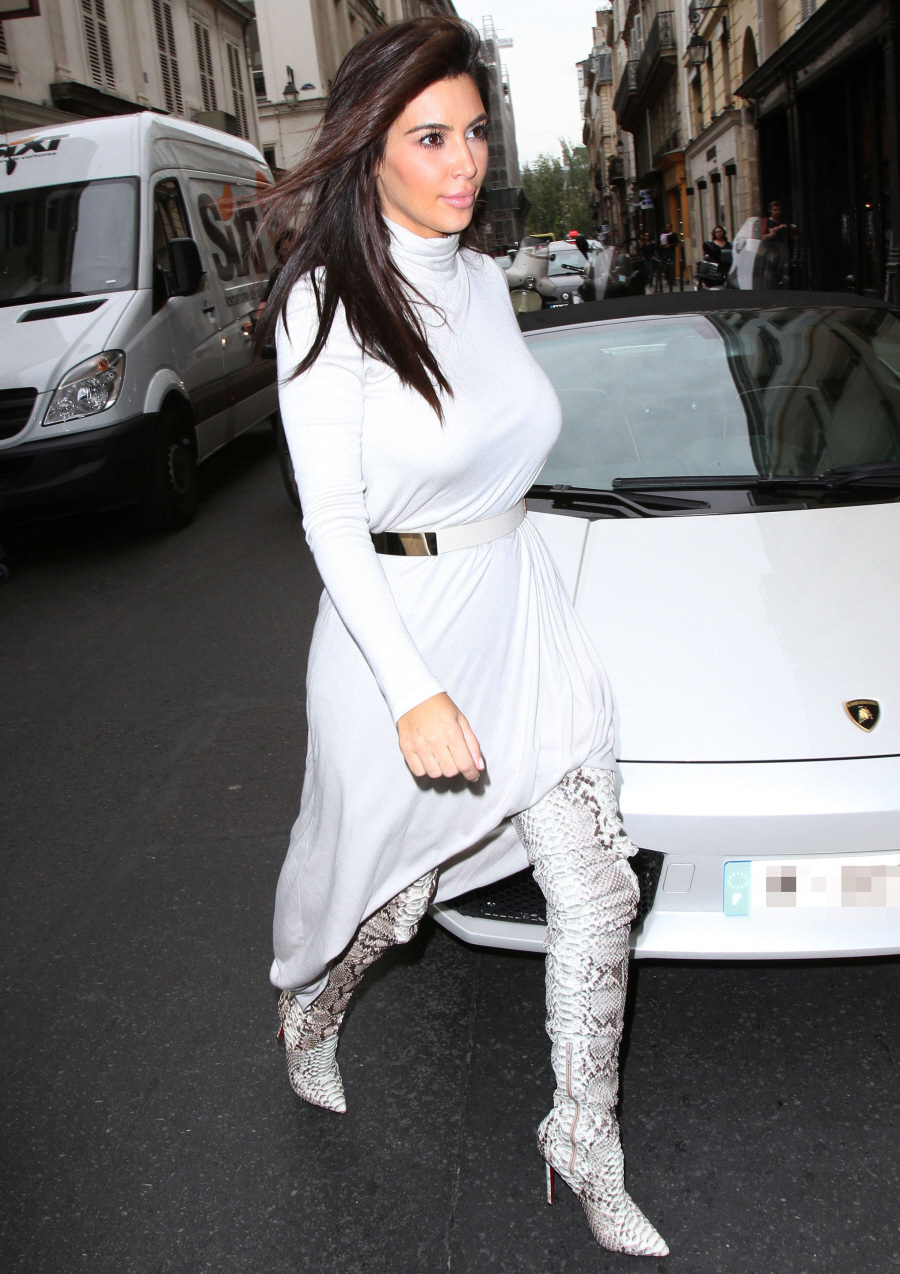 Photos courtesy of WENN.