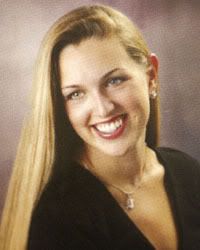 Star magazine claims that not only were Vince and Jen still together up until Thanksgiving, but that Vince cheated on Jen with a 20 year-old Texas college student he met a Budapest restaurant. I know it sounds weird, but go with it – Star even has evidence of an edited blog entry and an supposed e-mail this woman wrote her friends bragging about how she bagged Vaughn.
Star says that they told Jen's reps this story was about to come out, and that's when they announced the split. That doesn't convince me that they were still together, just that Vince got with a college chick:
Jennifer Aniston and Vince Vaughn had not split up before Thanksgiving. In fact, the former Friend tried to convince her on-again, off-again boyfriend to make the 12-hour flight from London (where he's been filming the comedy Fred Claus) to L.A., to join Jen for the holiday. When he turned her down, she ended up alone joining best friend Courteney Cox-Arquette and hubby David Arquette.

As for Vince, he hopped a three-and-a-half-hour flight to Budapest. On Nov. 25, while dining in a local restaurant with two pals, Vince befriended three female students at a nearby table — including Laura Mallory Lane, 20, a junior at Trinity University in San Antonio, Texas, who was on holiday while studying abroad in Rome.

HOTEL-BOUND
The group proceeded to have a cocktail-fueled evening that ended with Vaughn and Lane (who goes by her middle name of Mallory) in bed together — all of it documented in an e-mail entitled, "I shacked with Vince Vaughn" that Lane sent to 22 of her Gamma sorority sisters two days later, says a source!

When the bars had closed at 2 a.m., Mallory wrote that the group ventured back to Vaughn's hotel and Vaughn asked her to stay for another drink — which she did. "I did not feel pressured at all," Mallory wrote.

"We talked some more (and yes, we talked about Jen), and one thing led to another and obviously we were messing around before too long. We didn't have sex, but it was just as good :)…"

Nevertheless, it wasn't a good thing for Jen. Star alerted Jen's reps to our story and lo and behold the couple announced their final breakup!
I tried to google specific phrases in that woman's blog post, and I looked for her blog using different keywords in her name and location and couldn't find anything. It's possible she took it down or it's just too hard to locate. (Update: reader Jess has better google skills, here's her blog.)
This e-mail is also kind of hackneyed and suspect. Ooh, they hung out all night and made out but didn't have sex. Isn't that a cliche? I mean, I know I had a few of those encounters in college but it doesn't sound really legitimate to me.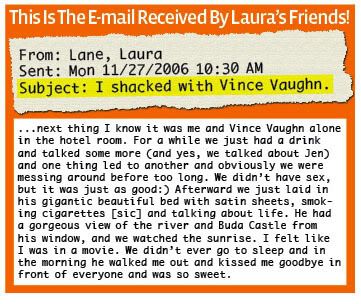 Here's the blog entry. All of these images are from Star and I cannot find the actual blog here's a link to her blog
12/4 original entry mentioning Vaughn: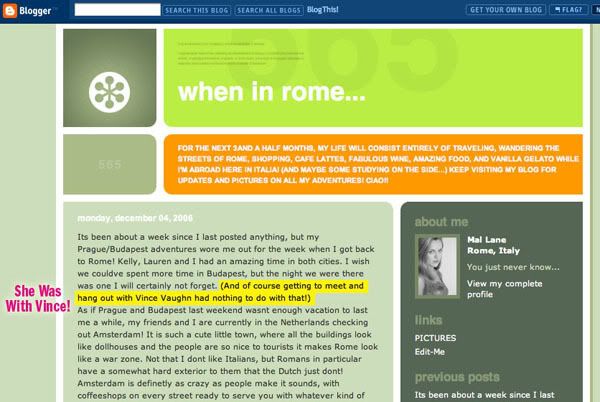 12/6 edited entry deleting Vaughn. It seems a little strange that there's a double line break where that text would be, but she could have put it in there when she erased the other text:


So either:
1. This story is bogus, there is no college woman and someone made this up to make it seem like Vince and Jen were still together and to make Vince look bad
2. Vince and Jen were really together and keeping under the radar and he did cheat OR
3. Vince and Jen were not together for months as everyone suspected and Vince just hooked up with this random chick with a big mouth.
I'm voting for 3.
Update: Thanks to reader Jess' excellent googling, we have a link to the blog in question. Here's the post from this Monday where she deleted the line about Vince, and there is one newer post with a cute picture of her posing with her friends in Prague. (I was only there once, it was beautiful.) There are currently four comments on the Vince Vaughn post asking about her encounter with him. I'm betting she'll take the blog down within a few days.