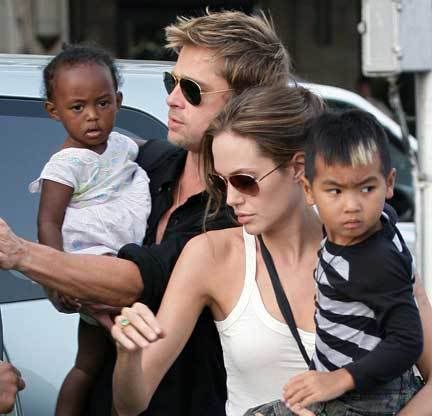 It's nice to hear a positive story about the Brangelinas. Life & Style reports that their security team is being kept in line and they're behaving graciously while they're in New Orleans for Brad to shoot his new film, The Curious Case of Benjamin Buttons.
Angelina is said to have told her security brutes to step off when they tried to bar a hotel worker from entering an elevator with her. She said hi to a surprised shopper at Saks, and she's visiting Brad on set with the kids between takes. Brad also went to a bar and happily posed for pictures with the locals. That's not really sensational news, and maybe that's why none of the other gossip rags are carrying it:
An insider at the 4-star InterContinental Hotel, where Brad and Angie are occupying the entire 14th floor, tells Life & Style, "One night, I was about to step into the elevator when a big, surly man said nastily, 'You can't come in here!' Then I heard a woman's voice say, 'For goodness sake, let her do her job!' I entered the elevator and it was Angelina Jolie! She grabbed both my hands and said she was so sorry for the way her security guy had treated me!"

The down-to-earth family begins its busy days with a healthy meal of spinach omelets for Brad and Angie and cereal for the kids, says another hotel insider.

And even though Brad works long hours — some days from 8 a.m. to 2 a.m. — Angie makes sure the kids get to see their doting dad.

"One day she stayed in a building opposite the set, feeding the kids while Brad was shooting," says an on-set insider. "He would go across in between takes to check on them. It was moving to see how close they all are."

Locals have another reason to be impressed with Hollywood's reigning royalty: Brad and Angie are determined to help the city recover from Hurricane Katrina.

"Brad told us he's really committed to helping rebuild the city," says one local insider, who met Brad when he went to a neighborhood bar to watch the New Orleans Saints play the Atlanta Falcons.

"He was really kind and posed for tons of photos," says the insider. "People loved it – especially because he was rooting for the Saints!"

Angie impressed the locals just as much when she was spotted shopping at Saks Fifth Avenue with the kids.

"She's so normal – and so damn beautiful," said one shopper. "She was really sweet and said hi to me. I couldn't believe how pleasant she was."
If all that is true it seems like Brad and Angelina are taking a page from Johnny Depp, who is known to be the nicest most fan-friendly celebrity. Depp, on the other hand, has insisted on having the biggest trailer on the set of his new movie in London, Sweeney Todd, and wants it decorated to look like a Moroccan harem at a cost of $50k. Brangelina is approachable and Depp is a diva. I'm all confused now.
Don't their kids look annoyed in that header photo?
Thanks to Just Jared for these pictures of Brad Pitt bald on set, and We Smirch for the story. Header image from Life & Style.