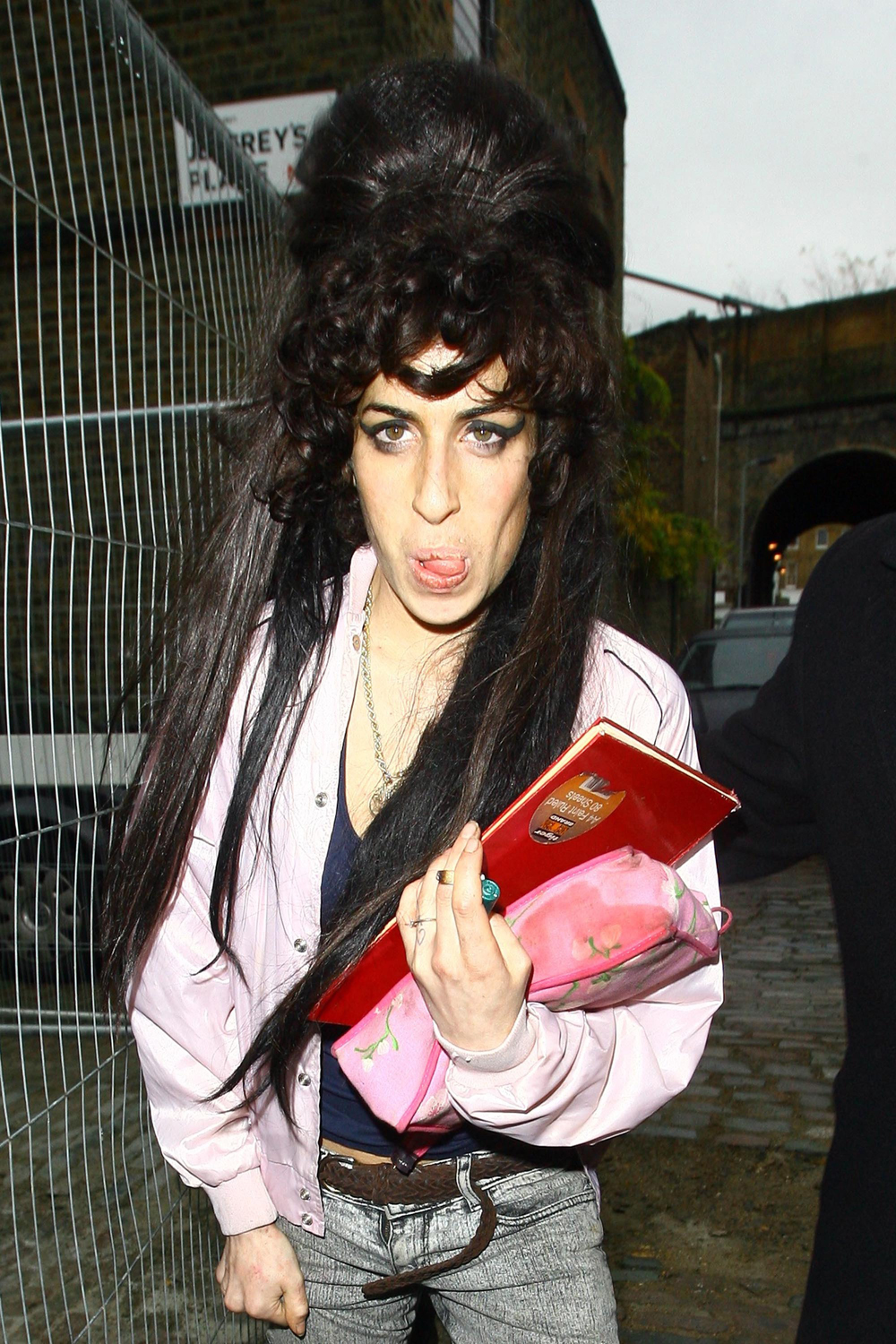 Amy Winehouse has finally admitted that her marriage to loser husband Blake Fielder-Civil is over. According to News of the World, Amy's told her friends that Blake's left her for a German model. It's utterly ridiculous that he would leave her. As is the notion that Blake would think he can do better than Amy.
AMY Winehouse has sensationally admitted her marriage to jailbird Blake Fielder-Civil is FINISHED. The troubled Back To Black singer revealed her husband has left her for blonde German model Sophie Schandorff. Drug-tortured star Amy dramatically confessed: "It's over. There's no way back for us now. It was never going to last. We were only together for SEX. I fancied him like mad, like no one else I've ever known. But it's not enough, is it?"

Amy stunned pals with her bitter acceptance that the 17-month marriage will end in divorce. And she shocked them by revealing astonishing secrets of their wild sex life including LESBIAN ROMPS and sordid THREESOMES. One told us: "It's a watershed for Amy. She's been up and down for weeks but finally accepts the reality. "She still loves Blake on many levels but she sees there's no future.
[From News of the World]
You know anytime your relationship is based on LESBIAN ROMPS and THREESOMES it isn't going to last. I love the way British tabloids capitalize any word they find important. Like names, places, and dirty things.
I'd say that this sounds like a good step forward for Amy and a logical reaction, but anytime I say that and think she's taken a few steps forward, she does something stupid or crazy within a week and I look like a fool. So I'm no longer making any "maybe she's getting better/moving on/making progress" type of comments about Winehouse. Hopefully it's true, but I get the feeling she'd take Blake back in a heartbeat. Even though she's the talented and wealthy one, she always seemed to need him more than he needed her.
Luckily for Amy, it'll be a while yet before she has to worry about Blake having the inevitable THREESOME with Sophie Schandorff. He's stuck in rehab, according to the Huffington Post.
A British court on Monday rejected an appeal by the husband of singer Amy Winehouse against his sentence for assault and obstructing justice.

Blake Fielder-Civil was sentenced in July to 27 months in prison for beating up pub manager James King and then offering him a bribe to keep quiet about it. Fielder-Civil, who had spent nine months in jail awaiting trial, was released earlier this month on condition he live at a drug rehabilitation center.

Two Court of Appeal judges turned down an appeal against the sentence. Judge Christopher Pitchford encouraged Fielder-Civil to continue his drug treatment, saying it was only if "these attempts are successful that he has a worthwhile future."

Fielder-Civil, 26, said after the hearing that he was "disappointed but not really surprised."
[From the Huffington Post]
Blake was appealing his original sentence for his assault and witness tampering charges. Since the judges ruled against him, he'll have to stay in rehab.
For a while they were going to let Blake out of jail and live with his mother – he wouldn't even have to be in a rehab facility – as long as he promised to stay away from Amy. He steadfastly refused – twice. So he stayed in jail for an extra while. What devotion. I guess that's all out the window now. It'll suck for Amy and I'm sure she'll be heartbroken and partake in an extra serving of crack, but in the long run being away from Blake will only be a good thing.
Here's Amy leaving her house with her security team last Tuesday. She's wearing several tags on her wrist that appear to be from the hospital, one reading 'Amy Civil.' Images thanks to WENN.